Peace, thoughts of Swami Sivananda
"As of today, I won't say a single nasty word against anyone." Reflections on the peace of Swami Sivananda. Information provided by the Sivananda Vedanta International Yoga Centre in Madrid.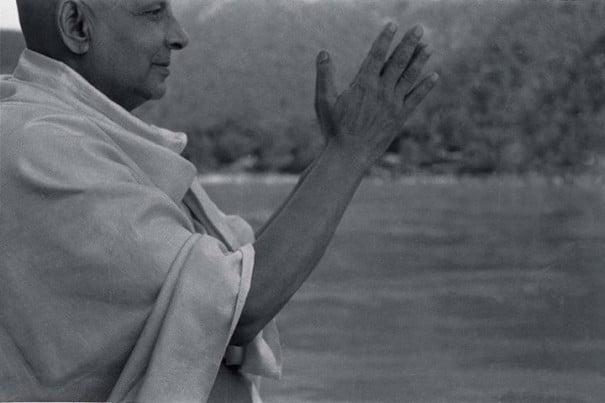 Peace, our birthright
Peace is a quality of the soul.
Peace is a state of stillness.
It consists in being free from disturbance, anxiety, agitation, out of control or violence.
Peace is harmony, silence, calm, rest, rest.
It is the absence or cessation of the external and internal war.
Peace is the natural and happy state of the person.
It's his birthright.
War is your misfortune.
Everyone wants peace and claims it.
But this one doesn't come easily.
And even when it does, it doesn't last long.
The Place of Peace
Peace is at the heart of the unwilling people who have controlled their senses and minds.
Greed, passion, jealousy, envy, anger, pride and selfishness are the enemies of peace. Annihilate these enemies with the sword of dispassion, discernment and detachment, and you will enjoy perpetual peace.
Peace is not found in money, property, houses or possessions.
Peace does not dwell in external things, but within the soul.
Money can't provide you with peace.
You can buy a lot of things, but you can't buy peace.
You can buy a fluffy bed, but you can't buy the dream.
You can buy good food, but you can't buy the appetite.
You can buy tonics but you can't buy good health.
You can buy good books, but you can't buy wisdom.
Refrain from external objects.
Meditate and rest in your own soul.
You will then achieve lasting peace.
Nothing can provide you with peace but yourself. Nothing can provide you with peace but victory over your inferior being, triumph over your senses and your mind, over your desires and your longings. If you have no peace within yourself, it is useless to look for it in external objects and sources.
Inner peace
Perfect security and full peace in this world cannot be enjoyed, for this is a relative plane. All objects are conditioned by time, space and causality. They're perishable. Where, then, can you seek full security and perfect peace? You can find it only in silence, in the Immortal Being. He is the embodiment of peace. He is beyond time, space and cause.
La paz verdadera y más profunda es independiente de las condiciones externas. La paz verdadera y perdurable es la quietud maravillosa del Alma Inmortal interna. Si puedes descansar en este océano de paz, todos los ruidos habituales del mundo difícilmente pueden afectarte. Si penetras en el silencio o en la calma maravillosa de la paz, silenciando la mente bulliciosa, refrenando los pensamientos y abstrayendo los sentidos que tienden hacia el exterior, todos los ruidos molestos se desvanecerán. Ya puede haber coches pasando por la calle, niños gritando a voz en grito, trenes que pasen cerca de tu casa, carros, molinos funcionando en la vecindad: ninguno de esos ruidos te molestará lo más mínimo.
La paz es vital para el crecimiento
La paz es la posesión más codiciable de esta tierra. Es el mayor tesoro en todo el universo. La paz es el factor más importante e indispensable para todo crecimiento y desarrollo. Es en la tranquilidad y en la quietud de la noche, cuando la semilla surge lentamente del suelo. El capullo abre en la profundidad de las horas más silenciosas. Así también, en un estado de amor y de paz, las personas evolucionan, crecen en sus respectivas culturas y desarrollan la civilización perfecta.
Reforma individual y transformación social
Refórmate a ti mismo y la sociedad se reformará por sí sola. Expulsa lo mundano de tu corazón y el mundo cuidará de sí mismo. Expulsa al mundo de tu mente y el mundo estará en paz. Esa es la única solución. Esto no es pesimismo, sino un optimismo glorioso. No es escapismo, sino el único modo de afrontar la situación.
Sumérgete en la Paz
Alberga sólo pensamientos positivos
Habla despacio
Utiliza palabras suaves que no hieran
Permanece en silencio
No ofendas a nadie
Decide: "A partir de hoy no diré ni una sola palabra desagradable contra nadie"
Sé amable.
Acepta que la no violencia absoluta es imposible
Incorpora la no violencia en todos los actos de tu vida diaria
Reemplaza el odio por el amor
Information provided by the Centre international de Yoga Sivananda Vedanta of Madrid

T 913615150 www.sivananda.es

On Facebook centro.yoga.sivananda.madrid

En Twitter @yoga_sivananda