Books / Tibetan Yoga of movement, Chögyal Namkhai Norbu
Tibetan yoga of movement. The art and practice of Yantra Yoga It is a complete introduction to the Yantra Yoga, one of the oldest traditions of yoga in the world. Padmasambhava introduced her in Tibet in the eighth century and was then transmitted by an lineage of masters to its current holder: the master of Dzogchen Chögyal Namkhai Norbu. Edit: Kairos.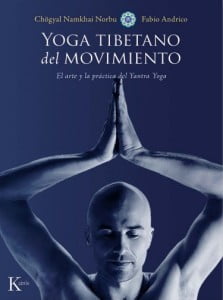 Yantra Yoga includes many positions similar in form to the of Hatha Yoga but different in the way they are practiced, especially in the coordination of movements and breathing.
In this book, Chögyal Namkhai Norbu and Fabio Andrico They presented three preliminary groups of movements and the twenty-five sequences of movements (yantras) Basic, with instructions detailed and accompanied by illustrative photos. Simple exercises of preheating, rhythmic breathing instructions and suggestions on routines of practice, followed by a list of health benefits and basic principles of Tibetan medicine are also displayed.
The author
Chögyal Namkhai Norbu It is one of the main teachers of Dzogchen. After having taught for more than twenty years in the Eastern University Institute in Naples, today is dedicated completely to the transmission and preservation of Tibetan culture and Dzogchen teachings.
He is the founder of Dzochen Community, which has centers of study and practice around the world. He is the author of numerous books and articles, notably his classic The Crystal and the way of light (published by Kairos).