Sudhakar Powar, prestigious Ayurvedic doctor free Conference
"Ayurveda, a philosophy of life for maintenance of health". It is the title of the free Conference Dr. Sudhakar. R. Powar, will on 24 September in Madrid at the Yoga School of Las Tablas.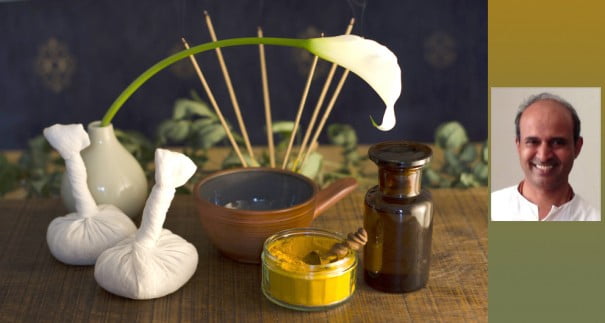 Medicine Ayurvedic is an ancient science that originates in India 5,000 years ago. It is one of the oldest medical systems in the world officially recognized by the who. However, it's much more than a medical system: is a philosophy of
life, in which people have an active participation in the maintenance of their health, their quality of life and your happiness.
For Ayurveda, each person is unique but at the same time inseparable from the universe that surrounds it. This view makes recipients an Ayurvedic treatment refer to improvements in their symptoms as a somewhat superficial, compared to the feeling of mental and spiritual well-being they acquire. Anyone who has been in contact with Ayurveda can remain indifferent to its philosophy. It is the seed that grows and transforms to each person at the right time.
Who is Sudhakar. R. Powar
He studied at the University of Bombay BAMS for Ayurvedacharya, Yoga diploma grade; and the Balaroga (Pedriatria) University of Varanasi. Knowledge in the matter of Dr. Powar is the product of University knowledge and family tradition of Vaidyas (Ayurvedic medical) of different generations.
He has more than ten years of experience in academic and industrial research. For more than fifteen years, he has worked in different institutes Ayurvedic of prestige, in clinical aspects, at the service of the patient and as a teacher.
He has participated in various forums and you conferences international, and his works have been published in prestigious magazines of Ayurveda. Feels involved in the dissemination and education of Ayurveda inside and outside of India, as for more than fifteen years, comes regularly to Europe to disseminate knowledge.
He has taught courses of therapy and Ayurvedic (Abhyangam) massage, Dinacharya and nutrition Ayurvedic since 2004 up to 2009 in the Santa Madrona EUI of the "la Caixa" Foundation (UB). Barcelona. In 2008 he was awarded by the Golden Rose of Jericho in recognition for his contribution to the humanization of care and the development of training in natural therapies.
Currently developing his clinical practice in New Bombay and the teacher in the Department of postgraduate studies in Kaumarbhritya Shree Dharmasthala Manjunatheshwara Ayurvedic Medical College, Hassan, India. He is co-director and Professor of the Master in Ayurvedic therapy that is taught in the EUI Sant Joan de Déu since year 2012.
Dr. Powar thus refers to Ayurveda:
"The Ayurveda offers the same or perhaps more emphasis on maintaining and promoting health than to cure the disease." To achieve this purpose, the medicine Ayurvedic recommends various and simple health practices that help to maintain the balance, but the fact that they are simple not makes them less effective.
For example, drink a glass of hot water with honey and lemon in the morning on an empty stomach and do a regular type of breathing of pranayama practice to balance the energy of the water, or kapha is recommended. If this is so regular, preventable diseases arising from an excess of this energy such as water retention, sinusitis, allergies, asthma, the formation of tumors, some types of arthritis, thromboses, etc.
Ayurveda also recommends various regimes to maintain a State of perfect health and cure diseases such as the daily routine, the routine seasonal, periods of purification, etc.
But the most interesting of Ayurveda is that, to maintain the internal balance and harmony, offers a great diversity of non-pharmacological treatments such as the use of postures of yoga, exercise, cold and heat therapy, techniques of breathing, use of spices and common dietary items. So my goal is to disseminate this knowledge; I think that it is good that people can use these simple practices to maintain and improve their health, their expectation and quality of life and reduce their dependence on drugs."
Conference Dr. Powar
When: 24 September 18.45-19.45 hrs
Where: School of Yoga in the tables
Free Conference
info@escueladeyoga.org
More information:
http://www.escueladeyoga.org/index.php/talleresc/24-septiembre,-conferencia-ayurveda,-una-filosof%C3%ADa-de-vida-para-el-mantenimiento-de-la-salud-detail