IX Congress of Yoga Costa del Sol
From 18 to 20 September
se celebra en el Palacio de Ferias y Congresos de Marbella el IX salón de practicantes, profesionales y amigos del yoga. Nueve años ininterrumpidos por los que han pasado más de 300 profesores de yoga y cerca de 10.000 visitantes. Escribe Víctor M. Flores.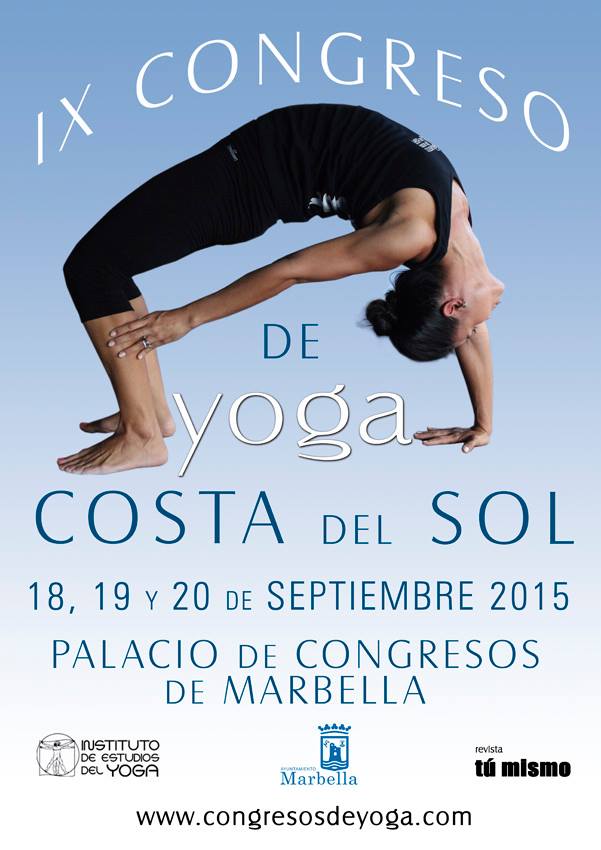 Este Congreso de Yoga de la Costa del Sol hasta el día de hoy lo convocamos anualmente. Responde a la imperiosa necesidad de crear un agora, un punto de encuentro entre practicantes, profesionales y amantes del yoga en el que los más grandes y los más pequeños, los más afamados y los más desconocidos tienen voz. Bueyes y vacas sagradas al lado de dioses de barrio: el yoga como vía de libertad y de liberación tiene que ser accesible, tiene que ser difundido, tiene que ser compartido y disfrutado.
Este año contamos con grandes novedades. como la ampliación de los horarios, así como visitas de destacados profesionales como Gustavo Plaza (Yoga de la tradición de los Himalayas, Ecuador), Sergio Baranov (Zyiong Shin, Rusia), Susana Garcia white (Invocando a Bhuneswari, Madrid) y otros profesionales como Harkirat Kaur Khalsa, Inga Maria Kreisheimer, Juan Carlos Márques, Nati Deprati o Naylin Nuñez… Serán más de 50 horas de actividades gratuitas y tres talleres de pago simbólico, con un precio entre 5 y 15€
Mantenerlo así es un gran esfuerzo por parte de todos los organizadores, pero sin la buena voluntad de los participantes sería imposible llevarlo a buen puerto debido, a los oleajes de la existencia. Este congreso no se hace con pocas manos, sino con muchas y con muchas voces pero un sólo espíritu.
Por parte de los organizadores, el Yoga Studies Institute (http://www.institutodeestudiosdelyoga.com), os damos la más cordial bienvenida y os invitamos a esta gran fiesta en la que todas las caras son ya conocida.
Puedes conocer más detalles en: http://congresosdeyoga.com o seguir sus actualizaciones por FB: Senge Dorje.
The Yoga Studies Institute es el responsable también junto a la revista Tu-Mismo of the Yoga Mediterranean Congress (en febrero, Valencia) y del Congreso de Yoga Centroamericano (en noviembre, Granada-Nicaragua). Se dedica en exclusiva a la formación de profesionales y a la difusión de esta disciplina.
Este Instituto es independiente de cualquier linaje y no sigue a ningún gurú. En sus encuentros invita a todas las escuelas tanto contemporáneas como clásicas.
Os deseo horizontes despejados.
Victor M. Flores (Senge Dorje) es impulsor de este congreso, escritor orientalista y fundador del Instituto de Estudios del Yoga, Actualmente reside en Nigaragua.