Swami Jyothirmayah teaches us to build the own happiness
The world happiness report, prepared by the United Nations, said that in Spain, people are losing the joy. Looking for solutions, a group of citizens and NGOs led by the art of living Foundation has come to the rescue of happiness under the slogan "Be happy". Wednesday, July 1 Swami Jyothirmayah lead the open workshop on how to build your own happiness?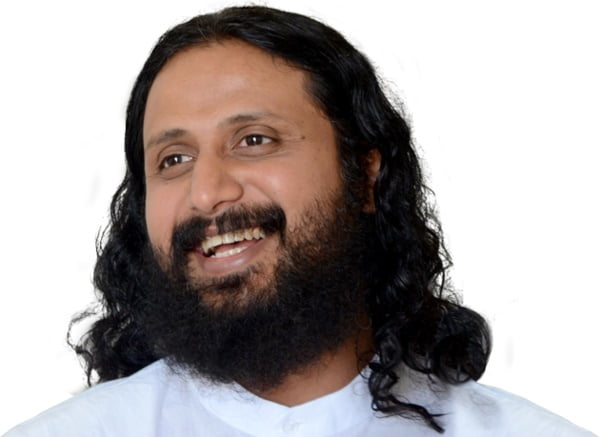 This campaign includes the balance recovery programmes for psycho-physical for the unemployed, both adults and youth (Universidad Autónoma de Madrid, Injuve Alcobendas, Infojob), programs in prisons to reduce aggression in domestic (Soto del Real, 2 Ocaña), workshops in schools in low-income areas, programs post trauma in reception centres for women who have suffered violence (House of the woman of Alcobendas (, Amnesty International) and emotions management programs for patients (Spanish Association against Cancer, Hospital 12 de Octubre), among other associations, as well as large companies.
The work of The art of living It is recognized not only at institutional level but also at the social level. Numerous well-known faces of the politics, culture and art have shown their support and interest, as for example, Bryan Adams, Julieta Venegas, and in our country, Cayetana Guillen Cuervo, Paloma Gómez Borrero and Verónica Echegui, among many others.
As part of "Be happy", the art of living will invite specialists in management of emotions, mindfulness, and mechanisms of the mind techniques throughout the year.
Swami Jyothirmayah, in Madrid
Swami Jyothirmayah next week will be in Madrid. The day will give the open workshop Wednesday, July 1, at 20 pm how to build your own happiness, in the Círculo de Bellas Artes.
Swami Jyotirmaya He was born in the North of the India in 1972 and grew up in a Christian family. From an early age he began to study the Bible. After finishing his education (is graduated in literature at the University of Calicut, India) at the age of 25 years conducted breath of the art of living.
These courses and the Foundation's work impressed him so that began to collaborate with the Foundation and prepare as instructor of these courses. Formed directly by the humanitarian leader Sri Sri Ravi Shankar (nominated 5 times for the prize Nobel Peace Prize), today Swami Jyothirmayah, is international director and prominent instructor of the programs of the art of living, charges that performs pro bono.
It has transmitted are both techniques to thousands of people in more than 40 countries, professionals in the health, communication, businessmen, parliamentarians, politicians, as in prisons and the most remote villages of India.
As speaker has represented the art of living Foundation and Sri Sri Ravi Shankar at numerous conferences around the world (Europe, United States, Africa and Nepal, as in India, the country of origin), among others, the international forum, economic, Social and Cultural of United Nations and in the international forum of cultures (New Delhi).
Sri Sri Ravi Shankar has granted him the title of Swami due to its elevated state of consciousness. Today, dedicated his life to social service and volunteer.
Swami Jyothirmayah 7 tips to achieve inner peace and prosperity
1 take some time for you.
Often, the day to day activities we absorb, we accumulate more and more information, and we do not take time to think and reflect.
A few minutes of quiet are the source of creativity. Silence heals and rejuvenates, gives us depth and stability. At some point in the day, to and sit for a few minutes with your eyes closed.
Taking time for yourself improves the quality of life.
2 be aware of the impermanence of life
Millions of years have passed and millions more will come. Nothing is permanent. In this context, universal, what is life? Not even a drop in the ocean.
Just open your eyes and ask yourself: "who am I? What am I on this planet? What is life?"
Awakens and becomes aware of the immensity of the existence and stop worrying about little things and you will be able to live every moment to the fullest.
Looking at life in a broader context, the quality of life improves.
3. you perform selfless acts
It takes commitment to making this world a better place to live. Do acts of kindness without expecting anything in return, service, only can bring joy in life. Creates a sense of connection when we are able to alleviate someone through selfless service.
4 make your smile cheaper
Every day, every morning, look in the mirror and give you a nice smile. Don't let anything or anyone take you your smile. Usually, we get angry so easily and smiled from time to time, as if the smile face. Make your smile cheaper and anger expensive!

5 get the meditation part of your life
Stress and anxiety can be released with a few minutes of meditation and introspection. Meditation gives you deep rest. The more deep, more rest and more dynamic your activity.
What is meditation?
• A mind without agitation is meditation.
• A mind in the present moment is meditation.
• A mind that no doubt, without anticipation, is meditation.
• A mind that returns home, to the source, is meditation.
6 be always a student
There is always something to learn. Do not underestimate anyone. Knowledge can reach you from anywhere. The world is your teacher. When you're always willing to learn, you stop underestimating others. Then humility will dawn in your life.
7 feel grateful
Gratitude can help you to overcome any obstacle. When you're aware of all the blessings you have in life, the complaints disappear, all the insecurities disappear and you become grateful, happy and peaceful.
Life is a gift!
More information: pulled Jesica

Coordinator Spain. the art of living Foundation

T + 34 616483401 | jesica.tirado@elartedevivir.org |