The summer school Sivananda
This year the Centre de Yoga Sivananda in Spain is dumps in the school of summer. It will be in its traditional retirement of Madrid (Zaragoza), from August 17 to September 13. This new approach spoke with its director, Swami Sivadasananda, and Gopala, charismatic Professor well known and appreciated by all who practice yoga in this country.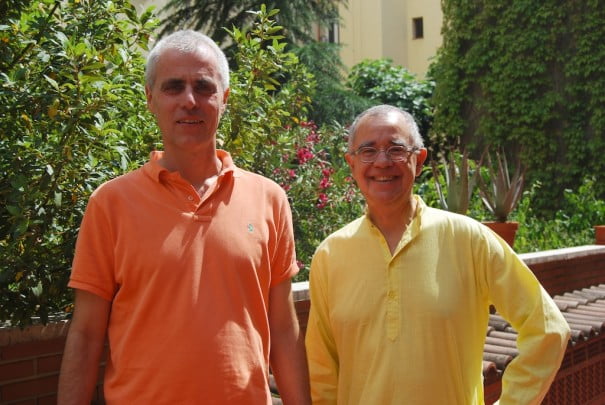 As we have just celebrated the International Yoga day, comment on your sense with Swami Sivadasananda:
"I see it as a very positive sign from the own India, which has become aware of their own values. And we all that we practice yoga in the West, feel a great admiration for the culture of the yoga. Sometimes was sorry see how in the own India, the class average that works a lot to achieve Western living standards, was away from the values of the yoga. Now at last comes a chance to pay tribute to the India and the India deserves it."
Ask to Gopala, one of the main drivers of the spirit of partnership on the international day of Yoga, if the convergence between different schools of yoga can expand and thrive in the future.
"I am sure that Yes. The school of Yoga Sivananda has participated in the three last years in the event that is called day world of the Yoga, that at least symbolized the union of which us like share the yoga. We were a good group of schools, which we had interest in doing something; those who do not, obviously did not participate. The participation of twelve schools this year on the international day of Yoga, on June 21, has been a breakthrough. All those who wished to participate have been able to do so, and the doors are always open."
Summer school in Madrid
Swami Sivadasananda is the director of the School of summer's Yoga Sivananda. A novelty within the traditional retreat of the course of training of teachers?
"Training is never equal to another, because people change, and every year is like a new flower." The extraordinary thing is do a course, a whole month to see how it works in you yoga physically, mentally, how to evolve your state of mind, how influences in your life, the philosophy of yoga... Every year we have a few special guests helping to complete the program."
Gopala continues:
"What if we want to incorporate this summer is the convergence between those who are immersed in this experience of basic training of teachers of a month (remember that not only training is a month, but that there is an initial training, an advanced and then a practice that we call intensive Sadhana, which gives as a result enough over a thousand hours of work inside) with whom they have already completed their training as teachers at any school and wish to delve into different" fields.
This summer school four certified courses, will be taught to give you a bit of formality, on topics that currently have gained much interest. At Sivananda we have always taught yoga, but now it seems that there is a need for training in the teaching of yoga for children, yoga for pregnant women, etc.
There will be a certified course to teach the mechanics of the advanced asanas (meaning not contorsionismos but deepen the mental calmness that require this type of positions). Another course will consist of how teachers teach to teach yoga to pregnant women. The third course certificate will be the learning and teaching vegetarian cuisine. And the fourth course will be who teach teachers to teach yoga to children.
This year, in addition, we will incorporate a Festival called 'Yoga and consciousness' with Sivananda teachers who come from outside and a special guest who is Fernando Díaz, who will give us a couple of lectures and a concert of sitar".
All detailed information: http://www.sivananda.es/curso-de-formacion-de-profesores-de-yoga-en-espana