Train you in Ayurvedic medicine?
This Ayurvedic medicine course and training in massage and Ayurvedic therapy is especially recommended to lovers and practitioners of integral health, yoga teachers, therapists and masseurs. In Madrid in August, with great bonus if you register before June 30th!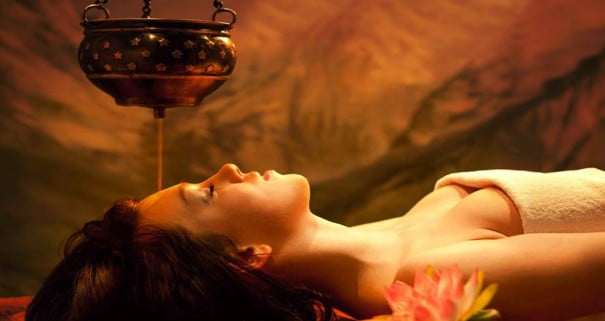 A course also aimed to searchers who want to take responsibility for their health, preventing disease or simply deepen in this ancient science of life is Ayurveda.
Duration: 65 hours (45 hours + 20 hours of self-study).
Classes: of the 2 to the 8 of August in time of 10 to 17:30 hours. (Can spread a little classes)
Teaches: Violet Arribas (see resume below)
Where: Padmasana Center Madrid, C / sea of Oman, 34 www.padmasanacenter.com tfno. 91 3822733
Content and agenda
1. introduction & origins of Ayurveda
-Definition and objectives.
-Origin and history of Ayurveda. Classical texts.
-Samkhya, Yoga, Ayurveda and philosophical concepts
-Specialties. 8 branches of Ayurveda
-Ayurveda as first system of Psychosomatic Medicine
-Differences between ayurveda and other medical systems.
2.teoria of Ayurvedic medicine. Basic concepts
-Theory of the big five elements (pancha mahabutha shiddanta).
-Concept body-mind - soul.
-Theory Tridosha, Vata Pitta-Kapha and subdivisions. Features and functions.
-Concept Prakruti and Vikruti (body Constitution, balance and imbalance).
-Equilibrium of the doshas. Characteristics of each Prakruti.
-Concept Salud-Equilibrio Enfermedad-Desequilibrio.
-Three Gunas (qualities), attributes, and physical, psychic and mental actions. Sattva, Rajas and Tamas.
-Mental Constitution (Sattvic, rajasica and tamasica).
-Six flavors (Rasas) and its relations with the mind and the emotions.
-Biotypes, types of people.
-20 attributes / gunas of substances.
3 Evaluciacion of your Constitution
-Determination of the Constitution.
-Ayurvedic questionnaire.
-Recognised biotypes and differences.
-Constitutional characteristics.
4 Ayurveda and mind
-Subtle Anatomy of the mind.
-Parts of the mind according to Yoga and Ayurveda (Buddhi, Chitta, Manas, Ahamkhara).
-Thought-forms of the doshas)Prana, Texas, Ojas).
-Doshas and mind.
-Mental (mind Sattvic) Constitution.
-Meditation, Yoga, pranayama.
5 Anatomy and Physiology
-Dathus concept (7 tissue: lymph, blood, adipose tissue, muscles, bones, bone marrow and reproductive cells).
-Concept of evil (waste).
-Concept of Ama (toxins).
-Concept of Agni (digestive fire; key health and disease).
-Forms of Agni and the care of digestion.
-Treatment of disturbances of Agni.
-Concept of Srotas (channels of the body).
-Types of channels, importance of good condition and use.
6 approximation Ayurvedic health
-Concept of balance and imbalance.
-Regime Ayurvedic for optimum health.
-Immunity and longevity.
-Correct feeding.
-Differences in the concepts of health - disease medicine and allopathic medicine Ayurvedic.
-Causes of disease: misuses of body-mind - speaking, misuse of the senses, abuses, and effect of time.
-Stages of the disease:
-Weak digestive fire.
-Formation of toxins.
-Blocking of channels.
-Loss of tissue resistance.
-Worsening of the doshas.
-Localization and rooting of the disease.
7 food and Constitution. Nutrition and Ayurveda
-Six flavors and its relationship with the elements (sweet, sour, salty, pungent, bitter and astringent)
-Effects and qualities of foods and herbs.
-Meals favorable and unfavorable for each biotype V, P, K
-Ritual of the meal.
-Qualities of the food.
-Meals for each Constitution
-Fast
-Obesity, weight loss, weight gain.
-Dietary concepts of Ayurveda.
-Flavours for Constitution.
-Properties of each food.
-Combination of ingredients.
-Origin meals and appropriate schedules.
-Types of food not recommended. Appropriate amounts.
-Recipes by Doshas.
8. preventive health and healing
-Guidelines for a healthy lifestyle
-Daily routine (Dinacharya), will also be seasonal and annual.
-Lifestyle
-Ways of thinking
-Yoga, Hatha Yoga and meditation. Theory and practice, Asana for biotype.
-Panchakarma. Detoxification and rejuvenation. Procedures, previous preparation.
9 theory, Protocol, benefits, indications and practice of massage and Ayurvedic therapies
(be taught each type of massage or therapy, so that disorders and pathologies is indicated, contraindications and the study of peculiarities and variations in technique and raw materials according to biotype, teaching the massage with a model and then the students practiced among them each therapy).
Therapies that will be trained in theory and practice, more practice each student:
-Massage Abhyangam (whole body with warm oils).
-Massage (therapeutic head massage) ShiroAbhyangam.
-Massage Mukha Abhyangam (face massage).
-Therapy of sweating with steam herbal Swedana
-Therapy Padabhyanga (of feet and legs)
-Navarakizzi (therapy with pindas) for various disorders.
-Therapy Udwartana, massage type peeling with herbal powders. Metabolic problems and other disorders, kapha.
-Therapy current oil head Shirodhara, pita and vata disorders.
-Pizzichil. Terpapias with medicated oil jets. Only theory and video
Prices and dates for the course of Madrid
(a) by 30 June 2015, registration bonus: €990, which includes €330 of registration, and can pay €330 / month during June, July and August.
(b) starting from June 30, cash: €1,190
More Info and reservations call T 620325071 or write to info@padmasanacenter.com
The programme of "Massage and Ayurvedic therapy technician" provides final exams. He is valued, at all times, the interest and participation of students as well as their personal involvement. The student receives a direct and continuous help of their trainers.
You can attend seminars looselearn only the techniques of massage and therapy. In this option the person only attend afternoon from 14.00 to 17.30 h (when given theory and practice of each massage and no you can practice, each module will have a cost of €80). 2 August (Abhyanga), day 3 (Shiroabhyanga), day 4 (Mukhabyanga and facial therapies, elaboration of masks, peeling, nutrition and treatment of skin problems with oils and natural ointments), day 5 (Swedana and Padabhyanga), day 6 (Navarakizzi), 7th (Udwartana), 8 August and last (Shirodhara and Pizzichil).
The trainer of the course: Violet Arribas Alvarez

Director of the Padmasana Center. Professor of Hatha, Radja and anything Yoga. Ayurveda therapist by Sivapriya Ayurvedic Hospital in Kerala India.
Ramiro Calle decided to form it as a yoga teacher and later moved to India to retreat at an ashram in Rishikesh (India) to carry out a course of teacher training and lessons with various teachers, deepening in the yogic techniques. There he met the Yogacharini Sadvi Aba Saraswati (Mataji) of Parmarth Niketam out his teacher of Hatha and especially of Vedic singing and Yoga of sound, discipline in which specialized and that since then practice every day.

Take contact for the first time with Ayurveda in the center of the Parmarth Niketan Ashram panchakarma, and began studying the medicine India's native therapists hand. He will travel to India on 14 occasions, to keep learning.

It is formed by the Sivapriya Ayurvedic Hospital, under the direction of Dr. Sabu as health consultant, Ayurveda and Ayurvedic therapist.

In 2006 he decided to create a center to share with all the lessons and benefits of yoga and Ayurveda, and in early 2007 Padmasana Center It is opened with great success.

Travels each year to India to never leave learn and follow as well offering and sharing the best in their classes. In the center boasts two Indian therapists and other practitioners of yoga and Ayurvedic health, with which makes consultation of health for all diseases, treatments, panchakarma, massages and Ayurveda therapies.
Other teachers of the course:
Jayesh James. Certificate in Ayurvedic and Panchakarma therapy at the clinic Kandamkulathy Vaidyasala of Kerala, India. Diploma in Hatha yoga at the Sivananda school yoga Vedantha. Trivandrum. Kerala.
Diploma
At the end of the course will be awarded a Diploma accrediting as massage technician If the tests have passed. The student may elect to the extraordinary calls for consideration in subsequent courses.
Participants will have a 25% discount in the Center yoga classes for a year.
And 20% in the Ayurvedic therapies also in one year.
More information: http://www.padmasanacenter.com/