June retirements
In these days of spring have been organized some beautiful, varied, full of incentive retreats. Here is a selection of the best.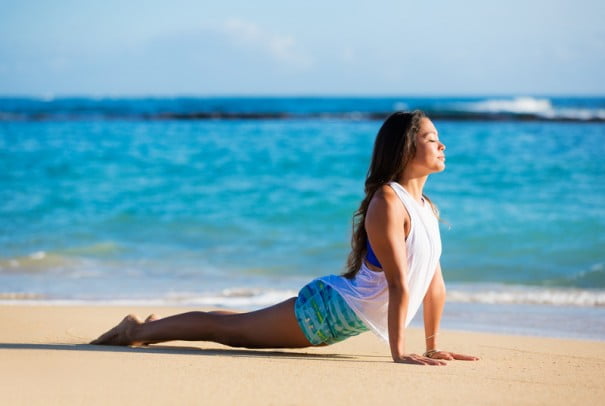 Removal of Kundalini Yoga with Inipi
From 5 to 7 June.
Where: CA la Tona (Santa Maria de Besora, Barcelona)
Again we go a whole weekend to disconnect to the beautiful "Ca La Tona". Deep purification with the Inipi, songs and dances, Kriyas Kundalini Yoga, vegetarian diet and awareness exercises ensure clean energy and releasing old patterns to be able to lead a life more full and mostly lighter.
On this occasion we will work our prosperity and our right to wealth. The Temazcal will be guided by the shaman Tona and fire man will be Jordi.
It teaches Kundalini Yoga classes: Sabine
No required knowledge of Kundalini Yoga, only desire to grow in your spiritual journey.
Price: all inclusive, €250
Contact: info@satyoga.es / T 630039098
More information: http://www.satyoga.es/
Yoga Retreat
From 5 to 7 June
Where: SENA de Luna (Leon)
The retreat has a duration of three days, from Friday afternoon until Sunday after lunch. Accommodation in single or double room. Vegetarian menu option. Working intensively on all aspects covering yoga vinyasa krama practice. Classes are practical, and there will be free time between sessions to relax and enjoy nature.
It organizes: Vinyasa krama Yoga
It teaches: Oscar Montero, Professor of Center Yoga Victoria
More information: http://centroyogavictoria.com/project/retiro-yoga/
Yoga retreat in English
From 12 to 14 June
Where: Valle del Tiétar (Ávila)
Total immersion. Improves the language at the same time you relax: Hatha yoga, kundalini yoga, meditation and connection with nature. All in English. This is the idea: https://www.youtube.com/watch?v=w7xBAI9TukU
Opening hours: Friday from 19:30 to Sunday at 17:00
You don't need previous experience in yoga or meditation. We recommend intermediate level of English.
Price: €200 (accommodation, homemade meals and vegetarian and included activities in English).
We will count with the presence of personal teaching native of the Atlantic Group of Madrid school. International Group.
Reservations: info@yogamente.com
Removal of yoga, meditation and hiking: "Connecting with the self that we are"
From 12 to 14 June
Where: Parque Natural del Montseny (Barcelona)
Connecting with the self that we are: sometimes we forget that we are a wonderful, being with infinite possibilities, with a great inner wisdom. These days dedicated to return to our interior and thereby exit outward from the security and trust, walking down the path that you choose from the inside out and feeling that it is an easy, cheerful and happy way. We will practice yoga, different techniques of meditation, breathing, yoga nidra, yoga thai massage workshop and will make excursions by this wonderful environment; charging us energy and feeling that we are part of the whole.
Price: €210. It includes accommodation in shared rooms (rooms from 3 to 5 people), full Board (menu ovo-dairy-vegetarian, made with products of the area and own production) and all the activities and excursions.
Contact: Mari / 658077914 T
More information: http://www.retirosdeyogaymeditacion.com/#!retiro-de-yoga-y-meditacion/c24i1
Yoga Retreat
From 12 to 14 June
Where: Costa Valencia, Dénia (Valencia)
AcroYoga - Vinyasa Yoga - Massage Thai - Yoga Nidra - Mantras - Community Yoga and more...
Price: €190 / person: 3 days and 2 nights accommodations, classes and vegetarian full Board
It organizes: YogArte Cultural Center
Five reasons to participate in the next withdrawal of YogArte:
Practice: Practicaras Yoga at various times of the day and with an integral work on Asanas (physical), Pranayama (breathing), Dharana, Diana and Samadhi (concentration, meditation and Ecstasy).
Meet people: you will meet new people and share your practice with Yoga friends.
Climate: June is the best time to enjoy the Valencian coast, with good temperatures and yet too many people.
The vegetarian full Board: You try a delicious vegetarian meals. You'll be amazed that everything is healthy, natural and at the same time tasty, no fat or cholesterol animal, with a balanced nutritional component, detox and energizing.
Price: hoping to have a good influx of people, we have adjusted the price so that it is economical and accessible. Even so, remember that places are limited.
Reservations: 656 543 201 t - retiros@yogarte.es
Retired with Brahmachari Shubamrita Chaitanya in El Escorial
From 12 to 14 June
Where: El Escorial (Madrid)
Only annual retreat taking place in our country's Envoy Amma and coordinator of its programs across Europe. Spiritual retreat in the countryside of the Sierra de Madrid which can assist all persons wishing to do so, upon registration. Lectures, Colloquium, singing, meditation, environmental activities.
Opening hours: entry, Friday, June 12, from 6: 00 pm; departure, Sunday, June 14, after the midday meal.
Contact: T + 34 650 853 147
Puente de San Juan: Yoga, meditation and hiking
From 20 to 24 June
Where: Saw, parque Nacional de Ordesa y Monte perdido (Huesca)
You breathe... Relax... Recharge passes the San Juan bridge in the hustle and bustle of nature, breathing pure air. It takes a break, breathe and reconnect with nature. Recargarte of energy and improves your physical and mental health. We offer a program designed so each soak in the experience of interior removal, beyond the mind and emotions. Learn and live the essential principles of yoga. Come and walk in a paradise of calm and beauty, to practice yoga and meditation daily and develop the consciousness of the here and now in all action and all times.
Yoga retreats are a holiday designed to get rid of stress exhaustion and connect with ourselves through ancient practices that achieve deep relaxation and recharge of vital energy. In the middle of the activities, you will have time to rest and enjoy the present, alone or in company. A comprehensive experience of the practice of Yoga, connecting with our true nature. Listen to your body, change your habits and recharge with a yoga retreat.
Address: House Cuadrau, 11 unique street. She saw, at the gates of the National Park of Ordesa and Monte Perdido (Huesca)
Contact: Katya and Daniel T 622 016 648 and 645 830 346 / info@casacuadrau.org
It organizes: House Cuadrau Yoga art and nature
More information: http://www.casacuadrau.org/
Removal of San Juan: healing with yoga and nature
From 20 to 24 June
Where: In the Comademont (La Garrotxa) rural farmhouse.
We suggest you spend a St. Joan different and consciously, in the countryside, away from firecrackers and noises.
A long weekend of calm, relaxation, tranquility and connection practicing yoga in nature, with the power of nature in this season. The program also includes excursions, creativity, techniques of massage, open River expressive movement, yoga with trees, etc...
And in the verbena we invite you to explore your own essence, to get rid of masks and dare to be yourself / to. For this reason we have prepared a magical night of fire, games, dance, song and celebration, recovering the original essence of this party which wants to welcome the summer solstice.
Led by Alex Costa, Monica Calvo, Joan Jorro and Monica Costa, team d'El Yoga Workshop of Premià de Mar.
More information: http://vacacionesdeyoga.blogspot.com.es/
Ashtanga Yoga Retreat: summer solticio
From 26 to 28 June
Where: Jabierans, village of withdrawals. Sarratella. Castellón.
The main objective of our Yoga retreats is to practice; practice asana, pranayama, meditation, with the goal only awaken the peace, love and the Luz de el Creador at our spiritual heart.
Taking advantage of a spectacular environment, Let's enjoy together a dive in the practice of Ashtanga Yoga according to the traditional teaching of K Pattabhi Jois and his teacher, the great Yogi, Sri Tirumalai Krishnamacharya.
We hope that more and more people are sumea our large family of "ashtanguitos" to enjoy this fantastic practice.
Complete removal price: 220 euros. Special price for those who participated in our previous retreats: 190 euros. The price includes food, accommodation and practices.
The food is vegan, and organic seasonal produce.
Reservations: 667 815 377 - to book your place have to pay half of the total amount.
Jabierans Art Centre: www.aldeaderetirojabierans.com
More information: http://www.yogavlc.com/retiros-intensivos-de-yoga/
Removal of yoga and kirtan
From 26 to 28 June
Where: Villanueva de la Vera (Cáceres)
What you'll find in this recall?
Practice: Hatha Yoga, breathing (pranayamas), technical relajación(Yoga Nidra), meditation and Kirtan (singing of mantras).
Soft trekking in the surrounding area.
Nature: free time to discover and enjoy the environment.
It includes two nights in a room with a private bathroom. Homemade vegetarian food.
It teaches: Aksara, Professor of hatha yoga and meditation formed in the school of Satyananda. Susana (Subhadra), Professor of hatha yoga and meditation formed in the school of yoga G.F.U and Satyananda school.
Contact: info@vrindayoga.com / 615475750
It organizes: vrindayoga
More information: http://vrindayoga.com/es/
Removal of yoga and pranayama
Of the 26, 27 and 28
Where: in Kayzen Valley, Sierra de Madrid
It organizes: Yogarati
In this third recall the theme will be breathing. We will do Hatha yoga, breathing, Kundalini Yoga, Osho dynamic meditations workshops...
More information: http://www.yogarati.es/
Dynamic air Yoga training
From June 29 to July 5
Where: The seed of Bologna. Tarifa-Cadiz
The fabric is a great tool to deepen awareness of the asana, alignment, as well as the decompression of the column by the suspension of the body and the force of gravity generates a unique wellness. All the practice that is made in the fabric will be always from love and immense respect to Yoga.
What is it that differentiates us from other formations?
It is the first training of air dynamic Yoga, vinyasa approach, this training transitions will be integrated into the fabric.
First air training residential, where live the formation of an intensively living together with your classmates.
It is necessary to be a Yoga instructor, is a formation of more than 200 h have, or be finalizing the Yoga instructors training course, will be a purely practical course, we want to you are as long as possible in the fabric so we need to know the Biomechanics of the body in the asana, that you may know the asana, thus respecting the precepts of Yoga and of course the welfare of the student.
Taught by Rosario Belmonte
Price: €1250.
The price includes: training. Material didactic and manual. Gift of a fabric. Rustic shared accommodation in traditional cottage of stone, wood and grass roof, and an authentic Mongolian yurt. Vegetarian food-organic
Places are limited.
To make the registration, more information and content contact Rosario Belmonte at 655476688 or email rosarioyoga@hotmail.es