Books / the mind beyond death, Dzogchen Ponlop Rinpoché
With a very deep understanding of the Western mind and a warm and informal style, Dzogchen Ponlop Rinpoché introduces us to the mysterious Tibetan teachings on the bardos: the intervals of the life, death, and more beyond. Edit Kairos. Price: €20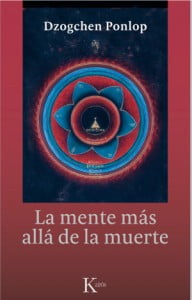 Clearly, the great meditation master It provides knowledge that allows us to transform the biggest of obstacles, death, in the most genuine opportunity for awakening. Working with the Bards It means to take real care of life. The secret of a good trip through and beyond death lies in how we live.
Through the practical aspects of meditation and a bright exposure techniques, The mind beyond death draw a map of enlightening and provides a vehicle that is safe to transport us with firmness through the transits of this life and the dangerous Bards Apart from the death.
The author
Dzogchen Ponlop Rinpoche It is one of the scholars and outstanding teachers of his generation in the Nyingma and Kagyu tradition Tibetan Buddhist schools. Great meditation master, is also an accomplished calligrapher, poet and visual artist. Rinpoche is the author of several books, including Rebel Buddha o Wild Awakening.