Yoga for kids: method SuryaKiranam
The methodology of Yoga for kids SuryaKiranam starts its journey about 20 years ago. At that time the Yoga had already begun timidly to way. Writes Elizabeth Cervantes.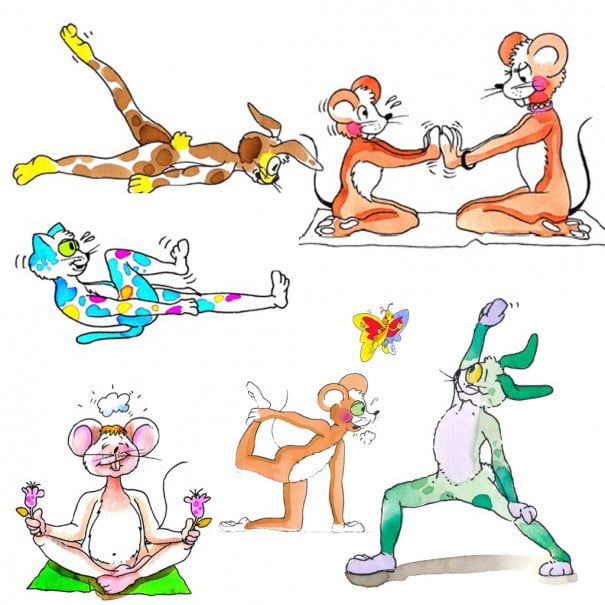 I remember the first time I offered a kind of yoga in family, at that time, I felt like a fish... "out of water". He deeply loved children but he felt that I needed to find a way to bring them a fun way to yoga and who was able to maintain his enthusiasm for a long time.
And so began my journey with the children. I was testing ideas until I finally got to see that in later years would be brewing as a methodology.
Throughout all this time I have not stopped investigate, try, discard, improve, evolve... continuously. The children, who I've followed giving kind of continuously during all these years, have been and are my great masters. Thanks to them I have molded my ability of tolerance, flexibility, understanding, observation... and much more. But mostly my sense of humor has been overflowing.
My deep interest in children helped me to observe your needs and develop a way to teach yoga that stimulate them and which at the same time feed your children's world. Nowadays children grow up too fast, much information bombards your senses of constant, excess of duties, ipads, iphones, computers, television... generated in them a feeling of vertigo that makes them often fall in nervousness, lack of concentration, anxiety, etc.
It is clear that have to live in an era of continuous technological upgrading, which consoles and virtual games retain their bodies nothing healthy postures and collapse their children's minds, generating little social behaviors.
SuryaKiranam method
Maturing needs of children I was creating all a large family of animals that mimicked yoga postures. The positions have been refined throughout the years, seeking not only to draw the attention of the child, stimulate their curiosity, generate interest in learning more about yoga, but also to give them the bases of alignment and postural correction.
The SuryaKiranam method not only based on yoga poses, from the beginning has included a correct and deep learning breathing, techniques of pranayama, concentration, meditation, relaxation, games, stories and mandalas.
At the moment I can say that I have more of 300 positions and variations. This allows me to be very creative in classes, show variations of postures, through which children can go deeper, in a fun and entertaining way.
I finally submitted the method, already matured and well structured, the Generalitat de Catalunya, and after a time of review I could register the methodology in the Department of culture.
However, I am still researching, growing and improving continuously, because children are an endless source of information and working with them each week, allow me to update and review.
In recent years introduced the Vinyasa. I started with simple scripts and always keeping in mind the ages of the children. Little by little I was creating different levels of vinyasas, from simple to complex, and I was including them in classes with great success.
Although love children practicing yoga at a yoga school, as the experience is very rewarding - since may perceive odors, atmosphere, music, decoration..., It is absolutely necessary that Yoga in the educational system as one subject more. And not only as a tool to introduce classes to help children to focus and to dissolve tensions, or as extracurricular activities, but for the teachers themselves.
Today, more than ever, our teachers and school teachers need tension, improve breathing, be aware of your body, and transmit from the experience, his feelings to children. Because kids love to share, feel part of a common with adults learning, be they teachers or parents.
It is not for a return to childhood therapy; is trafficking in which educators feel well-being, reconnect with deep and pleasant sensations that help them understand the wonderful effects that Yoga can provide.
Benefits for all children
Yoga is a fun way of developing the creative potentials of the children. It is beneficial for all types of children, from the restless to liabilities, the anxious to the curious, the flexible he feels awkward with his body... Everyone helps them to awaken the body language, to connect with the breath, with emotions, to recognize their skills and talents, to accept the obstacles and learn from them, to respect their differences and embrace what unites them. And to do this they need a space where feel comfortable and free to express themselves.
Before commented on the importance of educators involve children and themselves in the practice of yoga, but parents are the cornerstone. Family yoga, although parents do not practice regularly, is very important.
In these years of teaching with children and their parents have seen the deep links that are generated in the yoga room and beyond. Many parents are who tell me that their children, facing a situation of conflict in the school, after a hard day or in preparation of a review have... asked yoga practice and sitting down to meditate together. That wonder, right?
There are no words to thank the children for their enriching presence. See them grow and maintain the connection with Yoga is one of the great gifts given to me. Each one with their pace, each setting its form... from freedom, from loving and professional escort.
The result? That already 8 years it ask you what pranayama can do to calm down before a test; or that after a year or more of disconnection for family issues or change of school, they come back and comment how much they need stretch the body, feeling your breath, because they have realized how it changes your attitude, of how it helps them to feel more relaxed.
There are many anecdotes that not only I, but to all persons who work with children could explain right now. Children are our future, but We are the land on which they grow and it is our responsibility to take care of her.
SuryaKiranam, 200 hours a year of training, program

The programme covers all areas of the child, from anatomy to psychology and education. It offers practices in school Kalyaiva, as well as practical assistance in public and private schools where teachers trained in the method are already working. More information here.
The children are
as the rays of the Sun
bright and shiny...
The children are
seeds of potential...
We give the children
the fertile Earth
in which grow
and become...
in what their hearts desire!
Elizabeth Cervantes She is Director of the school of yoga Kaivalya. Professor of Hatha Yoga by the AEPY. Training of teachers of Yoga by the European Yoga Alliance. Training of teachers of Yoga for children method Surya Kiranam. Master in Vedic chant by the Krishnamacharya Yoga Mandiram. Singer-songwriter of Mantras, Adawis music group.