Book / the Enneagram of Mullah Nasrudin, by David Barba
To know ourselves only need three ingredients: a good map, search spirit and sense of humor. A good map of consciousness is the Enneagram, which sometimes has been described as a type of personality, but is actually a door towards the deep awareness. Edit publishing platform. Price: €19.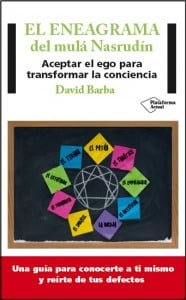 Nobody is a number or a label. But if you know that part of you that makes you act like an automaton, you'll be able to «hold the dog by belt» rather than be carried by him. This book will help you get it.
The spirit of search depends on the heroism of the reader, while the sense of humor runs on the pages of this work carried out by Mullah Nasrudin, the wise fool sufi tradition who, with tales of wisdom, reveals to us our defects of character.
The Enneagram of Mullah Nasrudin reconstitutes the original map of this system from the teachings of Claudio Naranjo, traces a truthful history of the Enneagram from its origins, and represents a salutary lesson against «sugary Enneagram»: one who, vitiated by Psychology positive and the new age, intended to disable the transformative potential of see yourself without frills.
Two reasons to read it:
1 it is a manual of self-awareness without euphemisms and with humor.
2 it is a guide to different Enneagram, where is presented as it really is, no additives, no quackery, without false theories, without speculation...
The author
David Beard is a writer, Publisher and cultural programmer, and has practiced journalism in various media such as La Vanguardia, El Periódico de Catalunya, black label and Playboy. He is a literary director of Getafe Negro and directs The key issues. University Professor of cultural journalism, created the subject theory and practice of meditation. It has also formed in Gestalt Therapy, body therapy and art therapy, as well as the prestigious SAT program of Dr. Claudio Naranjo, who taught him Enneagram.