Books / peace. The art of aging, Wilhelm Schmid
This book has been a bestseller in Germany, with several months between the three best-selling books of non-fiction. It is a concise manual of philosophy for the growing - and demanding - population of more than 60 years. Edit Kairos.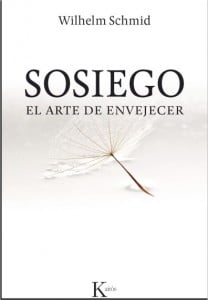 Modern society denies aging process. It is compared to the aging with a disease that should be eliminated. The philosopher Wilhelm Schmid, on the other hand, describes aging as a harmonious and necessary process which is consistent with the natural cycle of things. Nature is wise; so that in this phase of life gives us sufficient time to transmit the experiences and support to young people; but also to aaccumulate new experiences and celebrate life in a more conscious way. Schmid believes that calm is one of the ingredients needed for aging with sense.
Schmid is not seeking eternal youth or want to ignore the slow passage of time, that introduces us in the art of aging and what we really won with aging. And it does, with surprising clarity and amenity, describing their own ten-step search process.
We share a few paragraphs of their responses to an interview for the newspaper for your interest Süddeutschen Zeitung on where will our energy after death:
"All the atoms and molecules of the body going to other atoms and molecular structures. The power of the spirit could behave in a similar way. If the law of conservation of energy is certain, nothing is lost this power. After death, the person power flows back into the ocean of cosmic energy to fill her new life forms. Life is recycled in life.
(...) The energy is always a possibility of something happening. They are not the same events, but its potential. (...) What can happen in the death - am right now thinking about it - is that we return to this state of pure potentiality. "This would not be the death of being, but only its transformation into a new being".
The author
After working as a typographer four years this farmer's son studied philosophy and history at the University of Berlin, the Sorbonne and at the University of Tübingen. Her dissertation wrote it about Michel Foucault. He continued his training in Leipzig, Berlin, Erfurt, Jena, Riga and Tbilisi. From 1998 to 2007 worked regularly as a philosophical consultant at the hospital in Affoltern am Albis. His books on the art of living have been translated into 14 languages.