Book / Yoga for runners
Every runner hits the ground more than 600 times per kilometre, with a force of two or three times their body weight. You may feel this impact in the muscles, ligaments and bone structure of his body. Fortunately, Yoga for runners It addresses both the physical demands as mental sport. Author: Christine Felstead. Edit: guardian. Price: €19.95.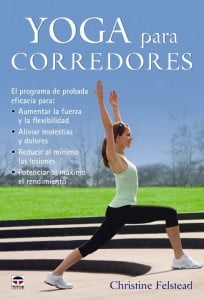 So if you are starting with yoga as if you practice it for years, this book offers you the most effective positions (more than 80), described in detail to ensure its proper implementation and achieve physical benefits, reducing the risk of injury. You will learn to develop a global programme incorporating simple yoga techniques in your sessions and career routines.
Discover how each posture can be sequenced to address a specific, as for example need:
strengthen and stretch the hamstrings,
strengthen and increase the mobility of the hip joint,
eliminating troubles lumbar and upper train,
speed up the recovery process after a career of training or testing,
maintain a middle zone (core), or
you simply restore with in preparation for an imminent test.
These sequences are focused on all problematic muscle regions.
Yoga for dealers It will help you to stay healthy and keep practicing the sport you love.
Christine Felstead
With a long history as a bottom runner and yoga instructor, Christine Felstead has joined their passions in a program pioneer for runners. She teaches yoga and teaches workshops for runners and endurance athletes. His teachers Yoga for runners training program offers certification to a growing number of instructors who are currently working in the United States, Canada, Mexico and the United Kingdom. Christine Felstead regularly gives talks on Yoga international exhibitions and conferences of Canfitpro (Canadian Association of fitness professionals) and has produced two DVD best seller about yoga for runners.
For more information, visit www.yogaforrunners.com. It has been cited as featured in numerous publications, including the Runner's World, Women's Running, Yoga Journal, Women's Health, Library Journal and the National Post of Canada. Resides in Toronto.