Violet and the Wolf
We share this beautiful picture and its corresponding text of violet Arribas, founder of the Padmasana Center's facebook. Violet called him "my brother Wolf and I", and reads as follows...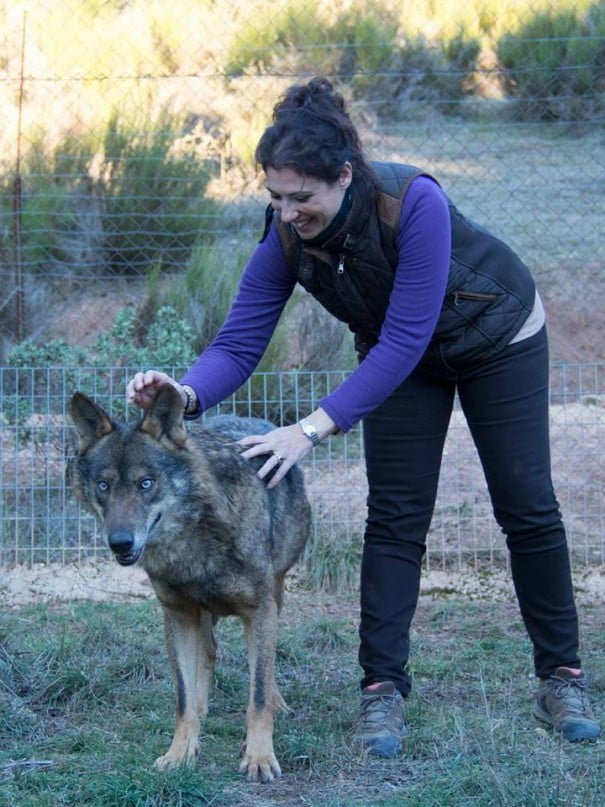 Thanks to Jorge Escudero and his daughter Marta, owners of the wonderful Centre of education environmental La Dehesa, in Alcaraz, Albacete, for allowing an exception as this beautiful "re-encuentro" that I have had with the most beautiful sentient of "Iberia".
It was magic falls short, there are things that transcend words, but "I" felt more about this animal than of any other material thing on Earth, it all makes sense in those momENTs... In addition, share all that time in a unique location in terms of biodiversity and learn both of nature and of man by the hand of Jorge had no price.
The development of consciousness through more time to hear the perennial wisdom underlying the mother earth (mountains, animals, plants, etc.) , and also in the elderly, who as they have already glimpsed the purpose and meaning of life, become great teachers with a lot to give us.
You will have opportunity to discover that almost "Celtic dream" in the Albacete, because we will make a removal in the bridge of San Isidro (15, 16 and 17 May) there in the La Dehesa CEA, within the Parque Natural Los Calares del Rio Mundo, discovering the birth of this spectacular course of water in the Sierra de Alcaraz, attending yoga and meditation classes, making beautiful routes, re-discovering the Iberian fauna that inhabits the mountainous area within the Centre itself La Dehesa, Mouflon , wolves, deer, wild boars, genets, etc., learning about them and the delicate ecosystem in which together we are engaged, with the same objective pursued yoga: the understanding of the unity and interdependence of all, that emancipate us from the chains of the ego.
Soon will be the information, let us take care of that team in family which makes the stay there a human experience invaluable. Get ready for big surprises in a single withdrawal of consciousness and nature.
More information: https://www.facebook.com/violeta.arribasalvarez?fref=ts