Against the Mindfulness
I am in favour of the mindfulness and pilates. As I recognize that these position papers tend to be controversial, I ask the reader gives me the opportunity to explain. Mostly because I'm in favor is the "mindemptiness", a brand should go running to register before any merchant of the spiritual branding me later. Joaquín G. Weil writes. Photo by Victoriano Moreno (reporter Jorge Zapata to the zen monk Francisco Benítez).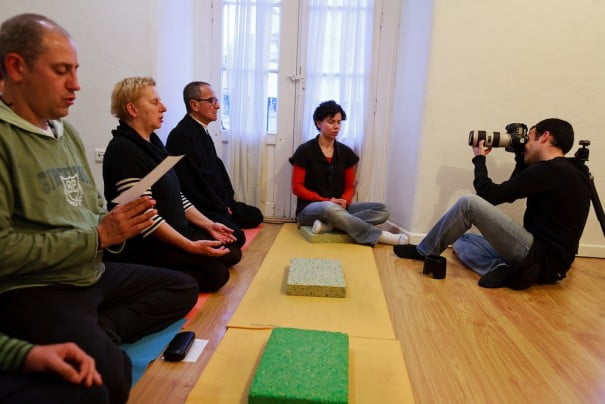 Up to the writer and journalist Arcadi Espada, defender of the nineteenth-century scientism, becomes digestible meditation if it is packaged as mindfulnes. Someone who known this and that as "magufo" (category in which I guess come from Sanchez Drago to the Dalai Lama) however accepted the Eastern philosophy if it is accompanied by its corresponding electrodes turned on the body and connected to galvanic encefalocardiogramas monitors.
The controversial mindfulness-if vs. mindfulnes-no is in the air. Enough that more than two or three Yogis meet or meditators so turn it on the theme. Recently I attended an educational foundation breakfast Claudio Naranjo, and the rapporteur Assumpta Mateu He talked about how much that was irritated when he heard for the first time this term associated with its corresponding conception: "what they are doing is to sell the meditation of life simply wrapped in an English name to make it look modern catetamente". (I quote from memory). Then he turned and saw that, in any case, this fashion any would do, and that would connect in some degree the person herself, as meditation, and perhaps even attract it to the true meditation.
Same argument can be used on the pilates in his relationship with yoga or the yogasanas. But disabuse us: Pilates and mindfulness are directed to an audience different from the parishioners of yoga and meditation. For that, and this is the positive side, sparsely you can settle among them struggle or competition. Neither consider that there is a significant shift or of one to the other, or as another one. Here we have another issue worthy of a statistical study.
Objectively the mindfulness and pilates are beneficial (for more than one objection that we want), and far more benign than thousands of other activities that people can use their time.
Somehow, pilates and mindfulness are yoga and meditation modified and presented so that people that, by some strange mental reservation, they would never practice, can with the new packaging practice them. In this sense we can say that they provide a good service.
Also occurred recently which, by Fernando Fernández de Castro Council, saw the video of the lecture "Meditation, Buddhism and Social Transformation" of Adam Lobel, Acharya of the Shambhala meditation. In addition to the also hot topic of meditation in relation to social transformation, topic that we will deal with in coming articles, makes a rather exhaustive critique of the ersatz how mindfulness meditation. Predictably, points out that the mindfulness and meditation have little to do, and in addition prevents this fashion, within the culture of effort, can be one factor of stress. As a kind of fitness of the mind. It is not enough with being handsome, muscular, young and slender; each is also responsible (or guilty) if not removed off that excess fat mental (the phrase is mine).
The definition of the mindfulness as "a meditation with electrodes" is my friend the philosopher and journalist Jose Antonio Montano.
A lucky brand
That took more than one decade in this courses, workshops and classes of psychophysical practices, personal development, etc., already we have seen on more than one occasion how a branding (incidentally also in English) lucky has its cycle up and down. Someone invents a brand, registers it, makes fortune and then gradually popularized it and lapses. As I said that great Empordà genius, Dali, "fashion is what moves fashion." Today any coach (another damn word in English) the first thing you recommend is to create a brand (or at least join one that is in vogue). Unbranded aren't nothing today.
And the word "mindfulness" is without a doubt one of these lucky brands. Apart from being in English agrees completely with the sign of the times: "mind-fulness". Anyway, which seems desirable that have a mind full or full. But, I'm sorry, what the great masters come remembering is to mind first thing we have to do is empty it, because a full vessel already there is no nothing. And because what we have been doing so far is to fill the mind with this and that, so it now plays a little empty mind and leave it at your own pace. Why not jokingly said at the beginning that I am rather partisan the "mindemptiness", the ideal vacuum, the "sunyata" of thousands of generations of Buddhist meditators.
Without being a specialist, which I also appreciate all of this phenomenon is the purpose consciously or unconsciously use meditation, or turn it into a tool to get this or that, previously proposed achievements and, in short, to assist us in achieving success, whatever this that we want to understand. This is the new factor of stress we talked about Adam Lobel. On the other hand meditation is unconditional. Obviously we started in yoga and meditation, motivated by different goals or desires. But then the process and the result of meditation are not conditioned by those premises and initial guesses, because it is a degree more in our development and it can not be submitted or bound by the previous own inquiry and practice approaches. This is logical.
Given that, as the philosophers, science has replaced religion as predominant ideology in our culture and society, any kind of theory or almost human action wants to be "blessed" by science. In this framework already annexed the doctor studies is characterisation Tomio Hirai (Zen meditation as therapy), and doctor Hiroshi Motoyama (Chakras, Kundalini and the subtle energies of the human being) and the hundreds or thousands of studies that give the prized label of "scientist" to the practice of yoga and meditation.
What does seem somewhat daring is that you people with little personal experience in the study of his own mind, more "masters" (or masters) who have completed, and more titles (academic or otherwise) that support them, intending to guide others in the study of their respective minds. I think that it may be advisable for any monitor, Professor or teacher of meditation (or any other name that you want to give) have one personal experience of assiduous practice at least twenty years before you begin teaching. Twenty years is precisely while the doctor Tomio Hirai, with its electrodes and monitors, declared necessary to enter the advanced stage of meditation. Something we had to serve this scientific research applied to the meditation.
Who is

Joaquín García Weil He graduated in philosophy, yoga teacher, Yoga room Málaga director. Practice Yoga for 20 years and teaches it since makes eleven. He is a student of Swami Rudradev (leading disciple of Iyengar), with whom he has learned in Yoga Study Center, Rishikesh, India. He has also studied with Dr. Vagish Sastri de Benarés, among other masters.

More information: