Jam Session of Yoga by shelter
The week of 22 to 28 December Beshanga Yoga launches the "Yoga for shelter" call all the students and schools of yoga of Spain. It's the first Jam Session of yoga organized to collect warm clothes to homeless people who pass these Christmas on the street.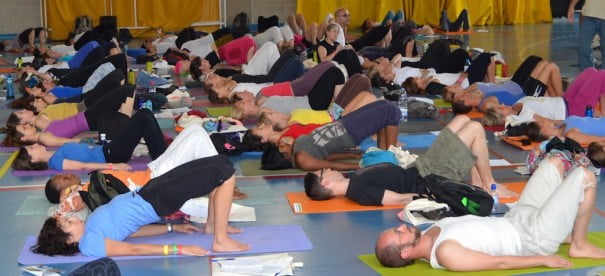 Although it is not easy to post them, only in Spain is estimated about 30,000 people living in the street, joined by other 273.000 occupying substandard housing. Beshanga Yoga they believe that most effective to improve the situation of these people is to put an end to exclusion and blaming people, rather than provide them with tools to cope positively with their situation.
In "Yoga for shelter", you are invited to change things from the practice of yoga. The entrance to the yoga session is free, but calls for participants to contribute a donation in the form of outerwear, that will be distributed that night among the people who sleep on the street.
How does a Jam Session of yoga?
"Yoga by coat" is a good way to build community while connecting to different people. Sign up to share your practice without formal instructor. Flowing from the listen, Beshanga Yoga monitors will accompany silently in your practice, correcting your posture very subtly, without interfering in the concentration level of the class.
What you need to bring?
-Wear comfortable and a towel in bathroom. We have mat for you, but if you want, you can bring your own.
-A donation in the form of warm clothing (blankets, gloves, hats, socks, jackets, sweaters, anoraks,... etc.).
Program
Arrival at 17:45 to Beshanga Yoga, street the street of the 15 head, second left (circle harmony yoga space). Metro Tirso de Molina, Madrid. After changing you, go barefoot to class, choose a mat and we started in total silence. A Professor Beshanga Yoga will mark a rhythm and sequence with the body, but you invite to immerse you in your own yoga. You can stop at any time to observe, meditate or relax. Several professors will be near you, to support you and correct you where you need it. End to the 20:00.
Involve yourself
December 28 to join this wave of actions and feed your spirit of Karma Yoga in the collection of outerwear, to get your support and commitment with the homeless. Both the yoga centres and individuals who want to participate, you can find how to make yours this cause.
Sign up if you are particular: http://besangha.com/inscripciones/
Sign up if you are Center: http://besangha.com/centros-colaboradores/
Help us to spread the campaign through social networks Twitter, Instagram, and Facebook.