Plans for the weekend
You can celebrate the arrival of the holiday season in the Centro Sivananda de Madrid, or make a foray into Sanskrit, zen, the sound of the gong in Kundalini Yoga or Yoga Nidra practice... Proposals are not lacking for this weekend. And for the next few weeks, you know, please send us the activities that organize in connection with yoga, meditation, spirituality and personal development to info@yogaenred.com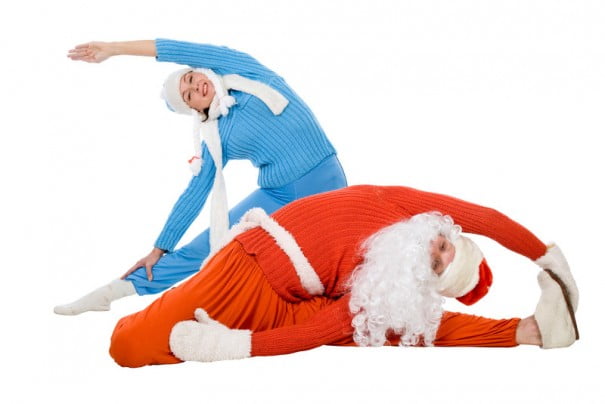 Friday, December 12
Seminar: Sanskrit for the practice of Yoga
12, 13 and 14 December. This seminar of introduction to the Sanskrit is designed for those students, practitioners and students of yoga, as well as teachers, that want to know them bases of the language in which are compounds and written it most of them texts of yoga, the language in which named them technical that practice, the language in which express them concepts philosophical that teach , the language in which recite them ' mantras' and the language in which sing them ' bhajan' and them ' kirtan': the Sanskrit, the language classical and sacred of the culture india.
Of the same form that if were learning ballet would use concepts and terms in French, or if practicaras karate taken concepts in Japanese, is normal and natural that in the Yoga use concepts and expressions in Sanskrit and, accordingly, consider necessary that both students as teachers is familiar with that language and its terminology, to while van increasing your vocabulary Sanskrit and in final their baggage cultural.
It teaches: Dr. Francisco Rubio Orecilla
Contribution: €90
Contact: 976 239 706 T
Where: Centro de Yoga Satyananda. Gran Via 7, 1 ° to right. Zaragoza
More information: http://tirthanandaji.blogspot.com.es/
Winter of Kundalini Yoga Retreat
12, 13 and 14 December. This year will explore the concept of transformation to delve in it question of our constraints and how transit its tour progressive or its leap to mutation. Take some sutras of Patanjali as base of the study, but we will focus on some of them experiences motivating of changes and stability in the process, that are treasures of Kundalini yoga. This removal you will come well both if need to mobilize you as if need to stabilize you before changes that already have or are happening.
Contact: T 665 161 829 / mukandeyoga@gmail.com
Where: Godelleta. Valencia
More information: http://mukande.blogspot.com.es/
Yoga Nidra
Only can be happy if we reach the present, if us left of all that noise mental that us generates suffering, discomfort, concern and us pulls out of the here and now. To achieve it the most effective way is meditation, the only one to reach our inner potential. Yoga Nidra can be translated as "psychic dream" or "conscious dream". We learn to relax in a conscious way, between wakefulness and sleep, in that moment in which the mind is stilled and becomes an ally who increases our capacity for concentration, knowledge and creativity.
During the class will have moments in which the consciousness is will lead towards the outside through them senses and us will awaken, and others in which is slide towards the dream and us sleep. With the practice, it consciousness tends to stabilize is in the level of "Nidra", level of the "dream conscious" can observe and clean subconscious e unconscious, finding solutions to our problems and conflicts, opening us to the possibility of perform and find our true purpose in the life.
It teaches: Enriqueta Abbot, teacher of Hatha yoga and Ashtanga yoga in space organic.
Price: 10 € / 1 hour of duration
Contact: Info@espacioorganico.com / 91 657 25 15.
Where: Organic space. Carretera de Fuencarral, 1. DC River North. Alcobendas. Madrid
More information: http://www.espacioorganico.com/
Saturday 13 of December
Great holiday of the Christmas
Meditation for peace, singing of mantras and carols. Performances surprises. Great dinner party. You hope that day to pass some hours cheerful and inspiring with all them teachers, students and friends of the Center. Entrance free, registration prior.
Where: Centro de Yoga Sivananda
Address: C/Eraso, 4. Madrid
More information: http://www.sivananda.es/index.htm
Removal of a day of Mindfulness
A day of attention fully to observe the body and the mind. A removal of meditation is an opportunity to deepen in the practices of meditation and, through them, enter in contact with the body and the mind. Usually, the inertia experienced by our way of life does not provide the direct contact with our body and our mind, but an introspection that allows the observation of self and consciousness development occurs in a meditation retreat.
Opening hours: 10.00-19.30
Price: the will
It teaches: Mario Carrillo
Contact: T 647512278-915044429
Where: Anandamaya removal. c / Alcalá 68, 1 ° right. Madrid
More information: http://www.retiroanandamaya.com/2014/11/30/retiro-de-un-dia-de-mindfulness-2/#more-1941
Intensive of Yoga for teachers
"Adjust positions", 10:00 - 14:00 h
Price: 40 €
It teaches: Igor's grace igordegrc@yahoo.es
More information: http://akasayoga.com/
Family constellations workshop
"Put order to the puzzle of your life." This workshop is will work personal, family and special issues of labor, business, organizational problems, etc. are interested in who this workshop? To the people that want to work with Affairs problematic of his life, already is of nature relational and family (Affairs of partner, relations parent-child, etc), or diseases, disorders serious, losses and duels, behaviors difficult or destructive, scripts and guidelines of unhappiness, etc.
It is also interesting to all persons who are engaged in the professions of support and are aimed at affective sanitation of persons (therapists and psychologists, social workers, educators, judges, mediators, doctors, priests, etc), so that they can learn the approach and the teachings of Bert Hellinger in situations which affect them every day. You want finally to anyone with a desire to increase the understanding of themselves and their loved ones, while to understand the systemic nature of the relationships and discover the creative forces involved in our family network.
It organizes: Esser Institut of Constel.lacions family i pedagogy systemic
Opening hours: 9:30 to 14:00 and 16:00 to 20:00 h.
It teaches: Angel of Lope
Price: €70, includes guest companion
Registration: T 965 446 674 / info@esserinstitut.es
Where: Room Espígol, Elche. Alicante
More information: http://esserinstitut.es/2014/11/taller-de-constelaciones-familiares-con-angel-de-lope/
Workshop of introduction to the Zen
Four hours (10:00 to 14:00) to learn the basics of Zen practice. We will see:-position /-how and where you focus /-the sitting and care walk
Where: Mayor Sainz de Baranda, 3 bis. Madrid
It teaches: Jose Cruz Igartua
Price: Donation
More information: http://www.retiroanandamaya.com/2014/11/29/iniciacion-al-zen/#more-1970
Use of the Gong in the classes of Kundalini Yoga
13 and 14 of December. Module 1: what is the gong? / types of Gong / can choose what gong? / how and when to use it in Kundalini Yoga classes / learning curve / practices.
Module 2: developing a link gong / Mantras related to TomTom / the gong and the chakras / use of the Gong: in kriyas, relaxation, meditation / practices.
This workshop is aimed at teachers of Kundalini yoga and all the Yogis who want to introduce the use of the gong in their practice. It can also be done by anyone who wants to engage in the practice of this sacred instrument. Brings your gong and if you do not have to provide one.
Schedules: Saturday 13 of December from 10:00 to 14:00 and from 16:00 to 19:00 / Sunday 14 from 10:00 to 14:30
Inscriptions: hola@vikreative.es / T 619781744
It teaches: Vikrampal Singh
Price: 150 euros. (5% discount for members of Aeky).
Where: Vikreative. Crossing of Costa Rica n ° 14, 28221 Majadahonda. Madrid
More information: http://vikreative.es/KundaliniCursos.html
Workshop power aware
Feed us is something that we do to daily. But eat according to the needs of the body? Have been a feeding right? The purpose of this workshop is explain and give some bases simple of a correct feeding. It also aims to raise awareness of the importance of food in our physical, mental and emotional bodies. To do this, in this workshop we argumentaremos how we feed ourselves. We'll talk about food in our diet affects us negatively in our day to day and how small changes can help to feel better. It gives special importance to put awareness, attention to how us feed. To the know what effect have the food in our body, think well at the time of choosing them.
It teaches: Isabel San Sebastián Oyón, nutritionist, Naturopath and kinesiologist of our Center.
Price: €20
Where: The path of Elan C / Sant Quintí 18 local. Barcelona
More information: https://www.facebook.com/LaSendadeElan