Yoga as a means of constant improvement
We asked Swami Sivadasananda and Gopala, hosts and participants of the Festival "get ahead yourself!", by the sense of that improvement and its relationship to yoga. It will be at the Centro Sivananda de Madrid, on 22 and 23 November.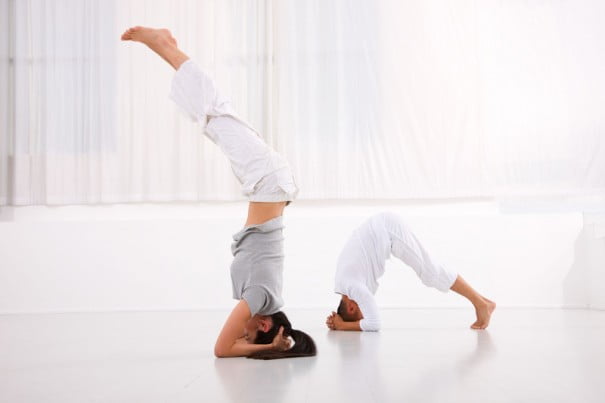 Sunday, November 23, Swami Sivadasananda will give a lecture entitled "The power of thought: instrument for overcoming". It will also participate in other acts, as in a class to overcome the ability to stretch in the asanas and an interesting symposium where you will talk about "outside the yoga Yoga. "Instrument for the overcoming of the difficulties", in which participating teachers and students that share the yoga in residences of elderly, in centers prison, in hospitals and in environments professions stressful. (See program)
We discussed with Swami Sivadasananda the sense of this "improvement":
In what sense thinks that you one can overcome himself? What noble meaning must give you to the word "improvement"?
Yoga teaches that one can change their way of thinking to overcome ancient ways of thinking that they can harm to oneself and others. This is the challenge that life offers us every day.
What is the most needs to overcome the human being of our time?
We are immersed in a culture of the material benefit at all costs which also penetrates every fiber of our personal visa. Overcome this culture of greed and profit is a good target for yoga students.
Based on their personal experiences, what values or resources have helped him more overcome adversity?
The patience and the adaptation are two great friends. Help to pass by them narrow of the adversity and keep the faith of that it divine has a plan and a method for the development of every human being.
Can you give us a preview of what you want to convey in his speech at the Festival of the Sivananda Centre of 22 and 23 November?
We want to create a situation in which each person can connect with the message positive of the Yoga. We hope that this connection is achieved in Asana class, during a Conference, in the singing of mantras in group, or simply meeting with her friends and the friends of yoga and meditation.
Gopala and yoga in stressful working life
The Saturday 22 Gopala will participate at the Colloquium: "Outside the yoga Yoga. "Instrument for the overcoming of the difficulties", as well as other teachers and students who share the yoga in nursing homes, prisons, hospitals and environments stressful professions. Gopala also taught a class entitled "mental strength through concentration: Yes you can". (See program)
Ask to Gopala on the meaning of that overcome in life:
How do you think that Yoga can help overcome difficulties inside and outside of one's own?
By redefining the way in which we breathe, we eat, we move, we rest and think. Transforming experiences that generate anxiety in which give us calm and silence. Swami Vishnudevananda taught us to transform ourselves every day using yoga culture. Many consecutive days of yoga makes a life of balance.
What do you think of the work of teachers and students who take Yoga to nursing homes, prisons, hospitals and environments stressful professions?
Yoga is an experience that will help you to pass through this world. Once you enter it in the everyday of your life, full of happy, santocha, of balance and of peace and calm.
Is logical that them teachers, as students experienced, want to take the yoga to the environments in which the life smiles in lower intensity. It is very rewarding to help to smile. Residences of elderly, centers prison, hospitals and environment professions stressful are places perfect to demonstrate that the yoga is a tool handy for transformation and overcoming constant. Pure service.
From your own experience of give classes to your own colleagues of work in the Council General of the power Judicial and in the career judicial, what you provides that work of karma-yogui, as helps to overcome within you same and out of you same?
Bringing yoga to my coworkers and especially to judges and magistrates is one of projects that has more filled me satisfaction in these years.
Despite the popularity of Yoga in our days, it is not easy to bring to people who work in environments stressful, such as judges, magistrates, prosecutors and lawyers to the centres of yoga. Why we adapt it in their offices. These workshops, which already have children some 700 judges and magistrates (more than the 10% of which there is in Spain) they are very practical and direct. Advocates see that fits to the judges and claim us workshops.
We forget how to sit and keep the spine erect in front of a computer. We forget to breathe consciously and relaxation State is the natural human being. Yoga works in these environments. It is a surprise for attendees to check that small changes in breathing, postural habits and above all the precious practice of close your eyes, you filled with calm and energy.
How arose the idea and what waits is contribution in these days of Festival of the Center Sivananda?
Yoga is a way of life that will help you to develop your potential in a comprehensive manner, as we present in the Festival programme. We are accustomed to practice mainly in yoga centers or similar. But yoga is so adaptable that it can be practiced in any environment.
We have realized in recent years that the yoga teachers shared their experience in hospitals, nursing homes and prisons, among others. In other words, in places where the energy level is not very balanced. Now We want to share these experiences so that others can share them.
Improving ourselves and ourselves, in any place and at any time, what could be better than sharing yoga?