Charity concert of Cyril Marie
Sunday, November 16 at 12:30 hours at the area round in Madrid the virtuoso pianist Cyril Marie will give a concert. In addition to vibrate with good music, it will be a perfect occasion to meet people with similar concerns. A snack will be served after the concert.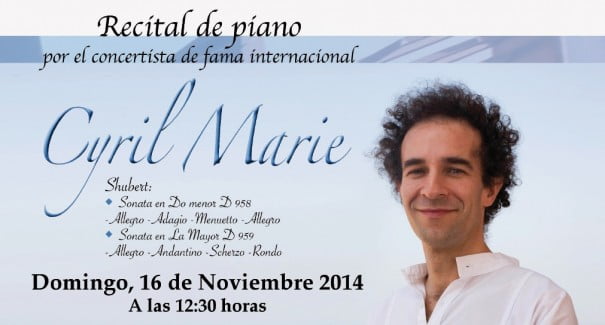 For the benefit of the Social and humanitarian work of the NGO Embracing the world, will take place the recital of piano the performer by solidarity Cyril Marie. Immersed in music since childhood, Cyril Marie begins as a self-taught piano at six years of age. After he finished brilliantly at the National Conservatory of music of Paris, obtained several first prizes in piano, among them the piano of 1982 in the class of maestro Aldo Ciccolini. The following year, win a first prize of Chamber music in the class of Professor Jean Hubeau.
Cyril Marie continues his studies in United States during four years in the Aula of music of the University of Bloomington, Indiana. There receive the teachings of professors of recognized prestige, including Nicola Rossi - Lemeni, who choose you as a student and see his baritone voice. She also works the song with Margaret Harshaw. His piano teacher is the internationally renowned Leonard Hokanson.
What about all contact with Geörgy Sebök, great piano pedagogue, brand and orients his music career. With the help of the exceptional talent of this teacher, Cyril Marie gets a concert "Artist Diploma" diploma, and more importantly, see the spiritual depth of the music. From this moment his artistic evolution will be marked by a fervent inner search, that expressed through their concerts around the world. Eight years Cyril Marie resides in India, source of inspiration for him, in a way that deals with Indian and Western music with the same joy.
Cyril Marie currently teaches system song "Mantra, Yoga, Ópera" in workshops throughout Europe, has recently recorded several CDs enshrined Indian devotional music and of the West, and another devoted to Shubert and shares his experiences with enthusiasm through concerts and seminars in Europe, United States and Asia.
Sunday, November 16 at 12:30 hours in the round spacec / Ronda de Segovia 50, Madrid. (metro Puerta de Toledo).
Suggested donation: €16.
Information and reservations: 91 859 56 64 / 652-982-252
Sponsor: Filokalia - friends of Amma Foundation
www.amma-spain.org
fundacionfilokalia@yahoo.es