Interview with Michael J. Stewart: "the appearance physical is that attracts to the West to the yoga"
Michael J. Stewart is a Professor international of yoga in continuous pilgrimage for the world. Has been in Madrid teaching a course of Tantric Hatha Yoga in the school international of Yoga. It is a Yoga network interview.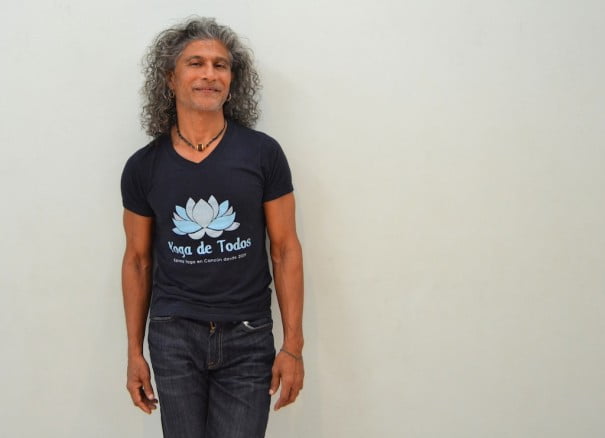 It has formed in the famous Studio Jivamukti in New York and also with teachers Iyengar Sharat Arora and Rajiv Chenchani in the India. Also has studied with Sri Dharma Mittra, and currently is forming is in Rajanaka Yoga with the Dr. Douglas Brooks.
His teaching is inspired by the spirituality of Swami Sivananda and the deep knowledge of Patanjali. Michael is passionate about the practice of mantras and kirtan. It does so in a peculiar style that allows you to combine your love of African music and its connection with traditional Sanskrit mantras.
It is also known internationally as a teacher of African percussion, choreographer and theatre director. Are you contact in lokavidu.com
Was recently in Madrid to offer, for the second consecutive year, a course of specialization of Tantric Hatha Yoga in the School international of Yoga. One occasion that allowed us to find us again:
What ever taught in the course intensive that has made in the school international of Yoga? What is what more you has interested transmit?
The Tantric Hatha Yoga has elements of the Hatha Yoga, as asanas and pranayama, and also other elements themselves of the Tantra, as mudras and mantras. The workshop has been very intensively, because in today's world our time is limited. I try to get better results in less time by integrating all of these elements, in order to all aspects of the self, as we are physical beings, mental and above all spiritual beings.
But the practice of yoga is not something that one has to believe, they must experience.
What provision have found students?
This is my second intensive course at the international school of Yoga, and I can say that the preparation that students receive here is perfect for practices such as mine, because Open your mind. Here I found very receptive students, unlike at other schools that are very closed and it is very difficult to remove them from practice that are used to make rigid form, a day Yes and another also.
Last year I found the people very open, but this year there have been more people and with an attitude of openness. I am very satisfied.
I am interested to continue exploring the evolution of these students. Again a third time whenever they also continue working. I am that introduces a series of concepts but the work depends of each student; If the student is not working and not explore for yourself, it is not nothing. When I want to continue where I left work, not to start again.
What do you think of the evolution of yoga in the West? In Spain there is much concern about more gymnastics practices of yoga and if they can adversely affect e future l of this ancient discipline.
This issue has been there always. A few years ago I was very reluctant to these very physical forms of yoga; considered that the practice only physical of the yoga not was yoga. But over time my thought has evolved.
Now think that the appearance physical of the yoga is which attracts to it people of West to the yoga, and when are already within that routine physical, there is a percentage of people, a 10% perhaps, that is interested in by deepen slightly more because is gives has of that the yoga is much more than its dimension physical and that there are many others aspects subtle in which can be interesting deepen. Get 10% of people who give there thanks to that first part purely physical account of these subtleties, it is a wonderful thing.
In our society Western have a life very active, and our mind is permanently in State of emergency, with a lot of stimuli outside, of problems, from stress. Then the practice physical is very necessary to attract the mind, focus it and avoid that is distracted. Because when you do a strong physical practice, your mind is not distracted; is in the practice. Then, the work physical is as a filter needed to train the mind in not disperse is in so many points at the same time. The mind is like a child who's distracted by everything, and concentrate it in the physical aspect allows that you can continue to explore the subtleties of yoga.
On the other hand, is certain that today the yoga moves money and business, from the varied offer of centers that exists until the clothing or them mats, but so is as works the world and have that accept it instead of consider it something completely negative. Always do not lose awareness of what yoga is and its true essence.
What are your projects more immediate?
Right now I'm engaged in a joint project with the international school of Yoga. I am recording videos so the students can follow my classes online although I not is present. I travel a lot; now I'm going to Morocco, then to Berlin and to New York... But although can give classes online, also need to know the practice of the student and see what grade of commitment has with its practice, and that have that make it live.
The practice of Tantric Hatha Yoga requires much commitment, It's not something you can do in a day and then quit; is something that requires a work daily and an effort large, and despite this, if know well it practice, the mudras, them mantras, them asanas and the pranayama correct that need in a time concrete, not makes missing that you spend four hours to the day, but can remove you party with 20 minutes. But why is it so important to commit and get it to know, to be able to take real advantage to practice.
That 10% of people who are interested in the subtle aspects that go beyond the physical practice of yoga, there is a 1% of people who wish to deepen further in the exploration of themselves. These people, being few, they are what make me feel so motivated in my job with yoga. In that sense, these days in Spain have been wonderful, because it makes me happy having met so many people who has come to the workshop and who asks "who am I". And when I'm in front of these people is when I discover again why am working in this.
The experience of Sara

Sara Mingo kindly assisted us with the translation of this interview and also brought us his experience as a participant in the workshop of Michael Stewart Tantric Hatha Yoga.

"Not knew nothing about Hatha Yoga Tantric and has been an experience incredible, as a door that is open and agree to a world new of knowledge, of conscience." The workshop has been very intense and you have to assimilate too much content in a very short time, but when they pass the days leave you a footprint that is very large and you feel desire to continue investigating.

What where is the difference as regards other courses or workshops? I never had deepened both in the mudras and the mantras; its integration with the practice of Hatha Yoga gives a very interesting dimension".