What is www.canalbienestar.com?
There are many new developments in the sector of well-being that people don't know or don't understand what are for. One of the missions of www.canalbienestar.com is to provide that information. In this portal you will find products and practical content to the integral well-being of the person, meaning welfare state of equilibrium between physical vitality and Mental serenity.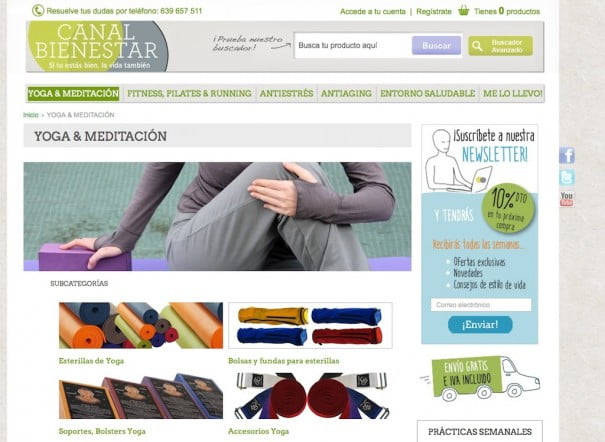 The families of products that work in canalbienestar.com to get that this objective are:
-Yoga: this is the strong point of canalbienestar.com. Here you will find all the items necessary for the practice of yoga.
Accessories: from non-slip socks without fingers, passing through limpia-esterillas lotas nasal, towels, belts...
-Meditation: this is the second strong point of canalbienestar.com
They offer a wide variety of cushions, chairs and benches of meditation
Also Accessories as bad, bowls, cups for tea... And variety of incense and blankets for yoga, relaxation and meditation.
—Therapies, as phototherapy, aromatherapy...
—Nutrition
—The environment of our homes)air purifiers, water filters, light, radiation etc.)
The families of practical content (propose 8 practices each week) are:
Concentration mental relaxation
Body relaxation
Sleep better
Breathing

Display

Stress management

Increased mental capacity

Exercise

Ergonomics at work

Nutrition

Weight loss

Anti-aging

Constructive entertainment

Personal development

Learn how to organize

Couples communication (non-sexual)

Environment (light, air, water, electropolution etc)

Masajes-Terapias

Stop smoking
As you can see, it is a holistic view of the health of the human being.
The philosophy is to find and follow all international producers and the ultimate in practical contents, select it and offer it at the best price.
More information http://canalbienestar.com