Removal "Yoga, consciousness and creativity"
In the foundation it flat, them days 25, 26 and 27 of July, is made the module 2 of the training Yoga Educa. Consists of 20 hours classroom and is made in format of removal of weekend.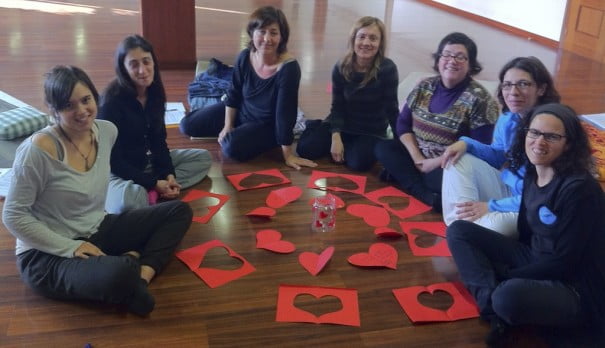 This experiential course accompanies us in the reconnection of the adult who we are and with the presence and awareness of every moment as key elements to learn and educate from the joy and fullness of life. The yoga, the meditation and the mindfulness we offer tracks for to follow this road.
The presence and awareness of what we do in every moment frees us at every step and helps us to grow and to consider every moment and every second of our lives as an act of learning and internal growth.
This course teaches:
The fullness and the joy of educating with presence and awareness from the experience of the yoga.
Meditation as a tool for learning and self-knowledge.
Physiology of meditation, effects and benefits, schools and systems.
Connections between yoga, meditation and the mindfulness.
Get ready to live and enjoy the fullness of yoga during a weekend: hatha yoga, relaxation, meditation, kirtan, yoga nidra... All a series of ingredients is combined during a weekend of contact with the nature where can reconnect our senses with the fullness of living and the pleasure of the presence.
It must bring towel for personal hygiene, comfortable clothes, socks, sarong or blanket, mat, meditation cushion, if you have. It can also bring towel bathroom and bathing suit to go to the pool.
Days: 25,26 and 27 of July.
Where: The flat, Santa Maria d ' Olo. Barcelona
Start of the stay: Friday, July 25 at 18:00.
Termination of the stay: Sunday, July 27 at 15:00.
Price: €165. Includes pension complete and the course. The diet is planned which is-dairy-vegetarian diet.
They offer: Lidia Serra López and Ramón Muntanyola snakes.
More information and registration:
http://www.elyogaeduca.com/bloque-2-de-la-formacion-el-yoga-educacion-estancia-en-la-fundacion-la-plana-los-dias-25-26-y-27-de-julio/?lang=es
People who have done the complete formation of the Yoga educates can enjoy a 10% discount on the total price of the stay.
Training recognized in the Plan of training permanent of the teachers of the Education Department of the Generalitat de Catalunya. (20 h).
Training the Yoga education

Is structured in 3 modules that are can study of form independent in the order that suits and each one of them has its own certification.

* Module 1, Yoga to educate. I reconecto me with my inner childrenthree. 48 hours, one Saturday per month in Aura Ioga Manresa and Yogaia Barcelona.

* 2 module, Yoga, consciousness and creativity. Educating from the fullness of the yoga. 20 hours, residential in Fundació it flat.

* Module 3, Yoga and pedagogy. School from the respect, the presence and the love. 30 hours, one Thursday per month in Yogaia Barcelona.

More information: http://www.elyogaeduca.com/?lang=es