Yoga Sannidhi Krishnamacharya
As well as messages from the Bhagavad Gita they are universally applicable to any human being anywhere in the world, the many forms of yoga practiced today are directly or indirectly related to T. Krishnamacharya. Book your place at the seminar on the principles of yoga as the legendary Yogi taught them.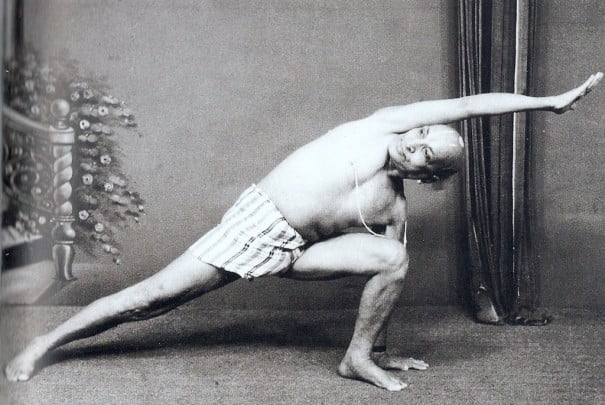 The seminar Sannidhi of Krishnamacharya completo yoga be held in Begues (Barcelona), from 5 to 8 December 2014. In Sanskrit Sannidhi means 'be very close' (a sacred, auspicious place) and also 'a great treasure'. Sam is, by far, and nHDR, wealth, treasure, purple.
It says Luisa rope, Professor of yoga and translator and local coordinator of the meeting: "this is one of the most rigorous course that I know and a much-needed teaching for a yoga teacher, whether it is a beginner as a veteran, who wants to deepen their knowledge and acquire" useful tools to address their classes with security. Spain Krishnamacharya school is a great opportunity and the success of this seminar depends on that in the future it can receive in our country other courses and training postgraduate that now have to move with the corresponding expenditure of money and energy".
Sannidhi of Krishnamacharya completo yoga is characterized by an excellent pedagogy, intelligently alternating classes, breaks and practices, which makes students are concentrated a large part of the time and however you experience not just fatigue .
Although December appears far away, it is suitable for everyone not to leave for last-minute decision. A reservation can be made already, don't need to pay until October 31 (with discount) or up to the own course (non-discounted).
Details of the seminar
It begins December 5, 2014 at 18.00 hours and ends December 08, 2014 at 14.00 hours
Teachers: Mrs. Radha Sundararajan and Ms Anupama Das
Place: Centre d' Espiritualitat Josep Manyanet, in Begues, Barcelona
Cost: €240 if paid before the 31 October 2014 (by advance registration); €265 if paid between 1 November and 5 December 2014.
Translated to the Spanish by Luisa rope. For more information please contact the local coordinator: Luisa rope T: + 34 649 801 025 E-mail: luisacuerda@yahoo.es
Contents
The seminar will include practical sessions of asana, pranayama, meditation and Vedic chant. There will also be conferences on the Yogasutra Patanjali and the philosophy of yoga according to different texts.
This intensive will offer attendees insight into the fundamentals of yoga of Krishnamacharya that will put them in touch with an age-old tradition practical, simple and evolutionary, while firmly attached to some authentic teachings in this world modern changing.
It is suitable both for those that have just started yoga to yoga practitioners who are looking for a rich source of teachings from the original lineage.
Yogacarya T. Krishnamacharya
The ancient tradition of yoga originated in the India and was a way of life for the Yogis and spiritual teachers. T. Krishnamacharya It was one of these teachers and revived significantly this ancient system of yoga so that it could be applied to each person in the current era.
He renewed the wonderful art and science of yoga by carefully selecting their most appropriate tools to apply them properly to every individual and every life situation.
Yogi, healer, linguist, scholar of the Veda-s, an expert in the schools of Indian thought, researcher, author... T. Krishnamacharya was and is nothing less than a legend. Its originality lies in its ability to forge a bridge between yoga, related philosophies and the changing values of modern lifestyles. It created so precise and powerful as relevant practices of yoga and a style that is unique and different from any other, where practices of yoga is designed tailored to each individual according to their needs.
The teachings and the tradition of Yoga
The teachings of Krishnamacharya apply a integrative approach connecting body, mind and spirit, a basic meeting in which we found ourselves both conscious and subconscious aspects. The tradition of Krishnamacharya's yoga, as it is known today, focuses on the adaptation and application of the ancient discipline of yoga to the lifestyles of contemporary, thus improving the health, longevity and quality of life.
Krishnamacharya Yoga (SKY-Yoga) of Sannidhi
The continuation of this tradition of yoga under the name of Sannidhi of Krishnamacharya Yoga (SKY-Yoga), ES Sri T.K.V. Desikacharhis son and disciple. Founder of SKY - Yoga (together with his spouse, Mrs. Menaka), was Desikachar who introduced the term 'viniyoga' in the world of yoga, in reference to the approach of "individualized yoga" in the context of health and the
cure.
In this approach is the uniqueness of the tradition of Krishnamacharya. SKY Yoga specializes and strives to preserve the true meaning that lies behind this concept through the fitness yoga principles appropriate to different people.
The teachers
Radha Sundararajan
The instruction is one thing and the experience is another... With 25 years of experience, it is not surprising that the song is the second nature of Radha. That helps students raise their level of awareness giving importance to the smallest details in order to make them absorb the finer nuances of the Vedic chant. He has travelled extensively to expand the teachings of Krishnamacharya yoga tradition and has taught in various seminars, training programmes and workshops
in many countries. Its training programme in Vedic chant is much appreciated.
Radha is Yoga therapist and teachers of Vedic chant. Former teacher, is very much at home teaching yoga in French. Warm, happy and committed, it is able to establish a bond with their students that becomes the basis of a long relationship. He is currently the Director of Sannidhi of Krishnamacharya Yoga (SKY-Yoga) in Chennai, India, and is responsible for the operations of the company.
Anupama Das
Yoga teacher, coordinates the teaching aspect and the administrative. Teach yoga to children is one of their main interests, in addition to teaching yoga in general and therapeutic Yoga and teaching in seminars and training programmes. Also engaged in the curriculum development of projects related to programs as training in therapeutic yoga teacher training yoga, etc... the tradition of yoga of Krishnamacharya, i.e. non-standardisation, amending the asana-s scripts and components of breathing to vary the effect on the individual.
Holder of a master's degree, Anupama left his job in advertising by yoga. After having been in the Organization almost from the beginning, their orientation in the company's daily activities and their contribution to a professional organization is invaluable.
The place
The Centre d' Espiritualitat Josep Manyanet, located in the neighborhood of the rectory of BeguesIt belongs to the religious order of the Holy Family and offers accommodation and meeting rooms for courses and seminars; the place has access to nearby forests.
Begues is a charming village situated 400 metres above sea level in the Garraf Natural Park. With 6,000 inhabitants, is 30 kms. Barcelona, 20 kms. from the international airport El Prat and 12 kms. Gavà and Castelldefels beaches.
The Center has 38 rooms (with bathroom) that can be used as single or double rooms. Several meeting rooms available for seminars, as well as kitchen, dining room, bar and two chapels.
Price
The cost per person for three days of accommodation with breakfast, lunch and dinner (does not include room cleaning) is:
€117 per double room €135 for a single room.
More information: Luisa rope. T: + 34 649 801 025 luisacuerda@yahoo.es