Everything is ready for the macroclase of Madrid
El próximo sábado a las 10 de la mañana los practicantes madrileños tienen la gran cita con el yoga. La organización del Free Yoga by Oysho ultima los preparativos en la Plaza Mayor para clase magistral, multitudinaria y gratuita que se celebra anualmente. Se esperan más de 2.500 practicantes.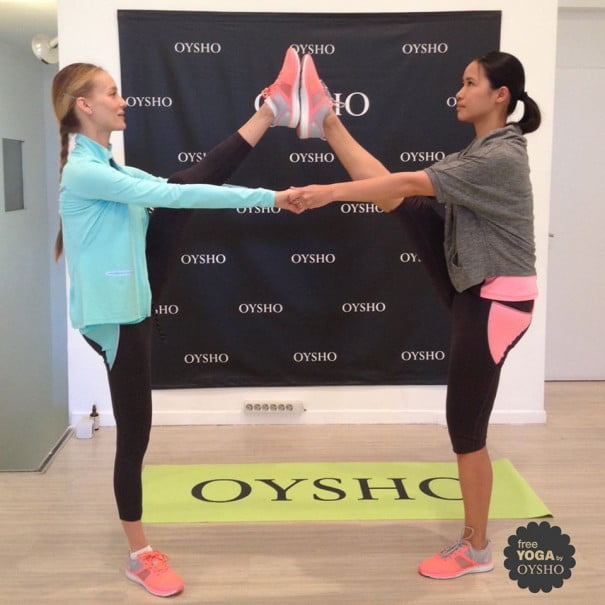 La Plaza Mayor, volverá a transformarse, una vez más, en el centro del yoga de la capital gracias a la 2ª edición de Free Yoga by Oysho Madrid. Vanesa Lorenzo, una de las modelos más reconocidas a nivel internacional será la embajadora para el Free Yoga de Madrid y Barcelona. Recientemente madre, Vanesa ha practicado yoga hasta el último día de su embarazo, ayudándole también en su recuperación postnatal.
Vanesa Lorenzo acompañará en el escenario a Xuan-Lan Trinh, quien impartirá la clase de yoga multitudinaria, que será dinámica, intensa, divertida y atlética, proporcionando bienestar físico y tranquilidad a personas con estilo de vida urbano.
Xuan-Lan Trinh, francesa de origen vietnamita, descubrió el yoga en Nueva York, donde residía. Durante años, combinó su pasión por el yoga con una práctica diaria de Ashtanga yoga y un trabajo en el sector bancario. Después de 13 años como ejecutiva decidió dejar el mundo corporativo para dedicarse a la enseñandanza del yoga. Realizó su primera formación de profesora de yoga en Vinyasa yoga y desde entonces sigue participando regularmente a cursos con profesores reconocidos considerando que la formación nunca se acaba.
Ahora Xuan da clases de yoga en centros de Barcelona y a particulares, tanto madres de familia, como deportistas de alto nivel, ejecutivos, etc enseñando un estilo de yoga dinámico adaptado a un estilo de vida urbano. Para compartir su afición y lograr difundir la práctica del yoga al máximo número de personas posible fundó el movimiento Free Yoga con Mónica Ponce y Mercedes de la Rosa en 2012.
Vanessa Lorenzo empezó a practicar Ashtanga yoga hace muchos años cuando vivía en NY. Era una práctica que se podía acoplar fácilmente a su ritmo de vida nómada. Después se fue enamorando de la práctica viendo todos sus beneficios físicos y mentales. Para la modelo internacional, el yoga es una manera de mantenerse sana, por fuera y por dentro. Practica tres veces por semana con su profesora Xuan-lan Trinh.
La inscripción para la macroclase, que se puede hacer a través de la pagina web www.freeyoga.es, es totalmente gratuita e incluye un kit de bienvenida exclusivo de Oysho para todos los asistentes al evento. La firma del grupo Inditex, también repartirá 700 esterillas de edición limitada a los primeros inscritos que lleguen a la Plaza Mayor de Madrid.
More information: http://www.freeyoga.es/entradas