VI Barcelona Yoga Conference
Del 3 al 7 de julio se celebra la cuarta edición de la Barcelona Yoga Conference. Un encuentro de personas, tendencias, estilos, alrededor de un yoga abierto y global.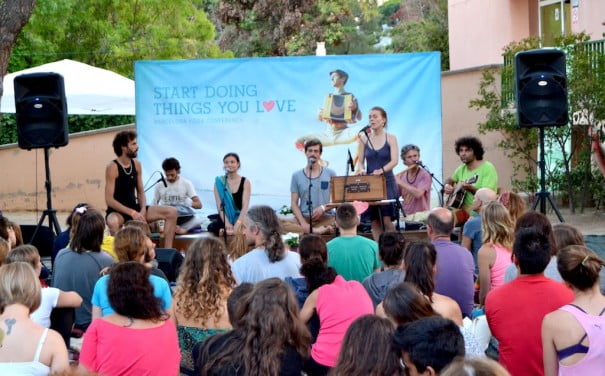 La BYC es una celebración yóguica que ofrece cinco días completos de actividades, con kirtans en directo, meditaciones matinales, satsangs, etc. Un encuentro inspirador, saludable y positivo con más de 600 participantes que ya consta en la agenda de las actividades más esenciales del mundo del yoga, con presencia de una amplia lista de profesores invitados reconocidos a nivel internacional.
Una de las Conferencias de Yoga más grandes de Europa.

5 días completos de Yoga, Música y Baile.

Actividades gratuitas cada dia.

20 estilos de yoga diferentes.

+ 50 profesores y artistas reconocidos a nivel internacional.

Más de 30 stands.

4a edición anual consecutiva con gran éxito.

Más de 600 participantes provenientes de los 5 continentes.

Entrega de 50 becas de 50% y 100% cada año para participantes que lo necesiten.
Durante cinco días Barcelona se convierte en la Capital Mundial del Yoga.
La Barcelona Yoga Conference contará como todos los años con muchas actividades gratuitas, para que nadie quede excluido y pueda participar. Un gran detalle por parte de los organizadores.
Profesores
Shiva Rea, Jai Uttal, KrishnaTakis, Leslie Kaminoff, Janet Stone, Arno L'Hermitte, David Lutt, David Lurey, Mark Darby, Joanne Darby, Mikhail Baranov, Keith Borden, Dayalu, Kerys Williams, Yiannis Andritsos, Daniel Anner, Bonnie Argo, Alex Baechler, Lorenzo Becchi, Lucie Beyer, Simon Borg-Olivier, Marcus Felsner, José Luís Cabezas, Adi Carter, Mireia Castellsagué, Pau Castellsagué, Jacopo Ceccarelli, Oliver Chamorro, Jiva Vare Dance, Deep Deka, Godfrey Devereux, Janin Devi & Kai Treude, Jeff Fisher, Sattva Giacosa, Coni Guevara, Paul Hardiman, Amir Jaan, Rita Joplin, Anastasis Koutsogiannis, Almuth Kramer, David Kyle, Pascal de Lacaze-Duthiers, Karlos, Eva & Mila, Lulu & Mishka, Jordi Martí, Boris & Nina, Salena Gissola, Felipe de Oliveira, Danny Paradise, Heeki Park, Sonia Peltzer, Arjuna Peragón, Ganga Puri, Cayetana Rodenas, Alexandra Ruiz, Nina Savidi, Daniel Scott, Hari Bhajan Singh, JayJayJay, Daphne Tatsou, Kilian Trenkle, Laura Velazquez, Mirjam Wagner, Julia & Pascal Weis, Ieva Wildlovebeamer.
Kirtans gratuitos
Jai Uttal

Kirtanyias

Janin Devi & Kai Treude

Lulu & Mischka

Marcus Felsner

JayJayJay

Jacopo Ceccarelli

David Lurey

Keith Borden

Ananda Sound

KrishnaTakis & the Freaks
BYC niños
Ven con los hijos y nosotros los cuidamos! Disfruta de un espacio para niños gratuito 9 horas al día.
Becas
Cada año la BYC ofrece más de 50 becas para la Main Conference, entradas de 3 días completos algunas de ellas con descuento completo.
Diversidad
Queremos acercar el yoga a personas que quizás tienen ganas pero no se atreven, y queremos animar a que los profesores de yoga abran sus clases a todo tipo de necesidades de diversidad funcional.
Yoga con los ojos cerrados

– Una sesión para desarrollar el resto de sentidos , experimentar la realidad de las personas con visión reducida. Todos los participantes deben llevar una prenda para taparse los ojos.

Yoga en silla de ruedas

– Descubre todas las posibilidades de vivir el yoga desde una silla y convertir las limitaciones en posibilidades . Puede venir con vuestra silla de ruedas o bien utilizar las sillas que pondremos a su disposición.
Solidaridad
El 3% de cada entrada va destinado a Amma Embracing the World. Una red mundial de proyectos benéficos iniciados por la reconocida activista humanitaria y líder espiritual Amma (Sri Mata Amritanandamayi Devi).
Inscripciones Online: www.barcelonayogaconference.cat