Kinds of Yoga Online 6: Hatha Yoga Free Style
We are pleased to present the sixth produced by the international school of Yoga than yoga practice Yoga network It offers like exclusive gift to his readers. It's an entire class of Hatha Yoga Free Style guided by Professor José Ferrer.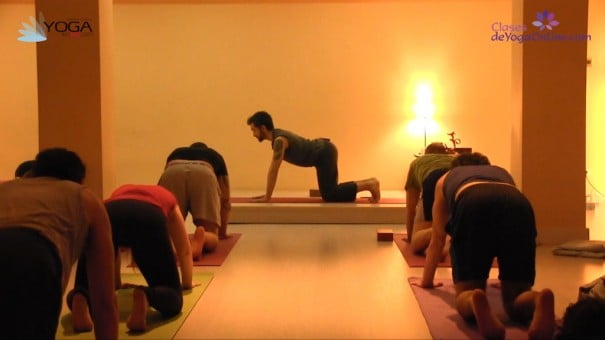 We began the practice of yoga with the Pranayama Nadi Sodana, a breathing exercise AC that is intended to cleanse and harmonize our body. It consists of breathing by a nose pit alternating the left with the right.
We will prepare the body with a few turns of Surya Namaskar with variants, to energize the body with some standing poses.
We will compensate the session with bending forward and reversed.
Hatha Yoga Free Style
These classes are the general proposal of the international school of Yoga. A yoga Integrator that has managed to combine the best of each style with their own form of understanding the practice from the sensitivity, awareness, precision and the respect to the gradual process of each person.
It combines physical exercise, relaxation, breathing and interiorization generating conscious States of profound physical, emotional and mental well-being.
Mira more classes of Hatha YogaFree Style in: http://www.clasesdeyogaonline.com/category/estilos/free-style/
Professor: José Ferrer
Has this Professor: "my Yoga experience is enriched by the contribution of different points of view, schools and teachers. Since the sensitivity of dynamic Yoga, the precision of Iyengar Yoga or the perspective and depth of Satyananda yoga, among others, help me enhance, integrate, and develop both my own practice as my way to transmit.
Live Yoga as an act of commitment, delivery, humility and acceptance, only. "So it is very important to my show students that, apart from the physical practice, Yoga teaches us, proposes and invites you to connect with ourselves and the way we interact with the world".
This kinds of Yoga platform has been created recently by the international school of Yoga to get the learning and practice of the Yoga wherever you are.

Each week it incorporates classes of different styles with different objectives, so that you can move into your practice.

You can choose practices short of 30 minutes and complete more than one hour classes, as well as several levels that adapt to your practice. Also you can practice meditation and Mantras.

Sign up for free to get access to complete various kinds of welcome. Click on: Free registration

Headquarters:
Calle de Fuencarral, 134
(input by * Albuquerque *)-28010 Madrid
Tel.: 914 16 68 81 - 648 07 88 64 / info@escueladeyoga.com
www.escueladeyoga.com

www.escueladeyogaonline.com

Madrid - Barcelona - Elche - Mallorca - Santiago - Cadiz - Latin America