Vegetarian recipes (28 tab / protein)
We propose two recipes rich in proteins. First, some chickpeas, essential in a heart-healthy diet, since they are rich in essential fatty acids and lecithin, as well as having lots of fiber. And the second, a cake of tofu, vegetable protein derived from soybeans.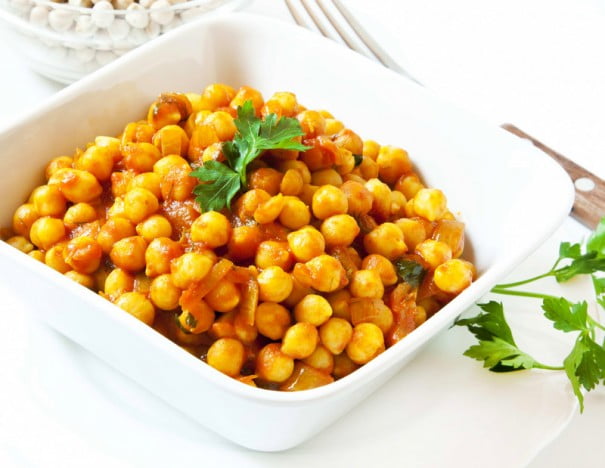 Chickpea Spanish
This dish is recommended for lunch as if consumed at dinner he would make difficult to wake up for the morning meditation. For 4-6 persons.
Ingredients:
225 g of soaked chickpeas
3 tablespoons of olive oil
a pinch of ground coriander
a pinch of freshly grated nutmeg
1 seeded green pepper chopped
1 red bell pepper, seeded chopped
1 fresh green chili, seeded chopped (optional)
450 g of chopped tomatoes
1 teaspoon salt
1/4 teaspoon pepper
Preparation:
Drain the chickpeas, put them in a casserole and cover with fresh water. Add 1 tablespoon of olive oil. Bring to a boil, cover and simmer one hour or hour and a half, until the chickpeas are tender. Drain and reserve.
Heat the remaining oil in a heavy bottom casserole. Add spices, peppers, chili if it is used, and the tomatoes and sauté until vegetables are tender. Add the chickpeas and mix well. Cook for 2 minutes, add salt and pepper and serve.
Carrot tofu mousse
I could serve with potatoes cooked in a steam and a fresh salad.
Ingredients:
2 tablespoons sesame oil
2-3 carrots, sliced
1 turnip
125 ml water
1-2 tablespoons of tamari
250 g of solid tofu
toasted sesame seeds or fresh parsley for garnish (optional)
Preparation:
Preheat the oven to 200 ° C, heat the oil in a pan and sauté the carrots and turnip or parsnip to fire medium for 5 minutes. Add the tamari and the water and cook over heat until the vegetables are tender.
Put the vegetables to a blender, add the tofu and mix until it is smooth. Pour the mixture into a source of 600 ml baking pan and bake in the oven about 30 minutes, until set. Let cool and garnish with parsley or sesame seeds before serving.