The Spanish mantra
I lived in an ashram in India, where every morning in harmonious satsanga sang successive fragments of the Gita. Was what I humorously called the "Holy karaoke" (sacred karaoke). Writes Joaquin G. Weil. (Photo: Jorge Zapata.) In the image Be Pryce, in the Center, along with Luba Pryce and Alain Wolter).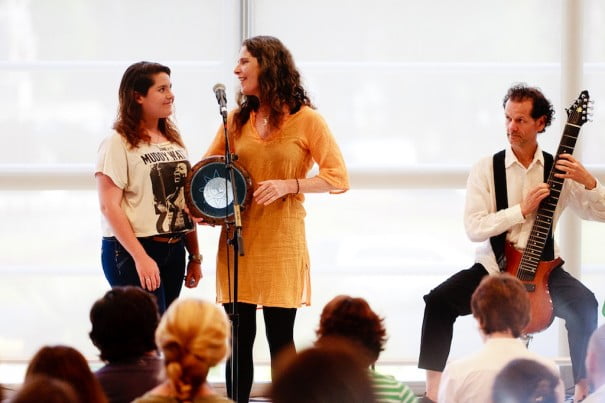 Indeed, the slokas or verses is were projecting before them devout in a large and white wall of the "mandir" (Temple) while a pointer of light us was guiding by them holy texts Sanskrit translated and transliterated. There will be who consider it a simple version hindi's litany, but I have to say in favour of this noble practice of the so called "bhakti" or devotion, leaving you in a good brain wave by the rest of the day.
In India there are people who have so much faith to the Bhagavad Gita that claim, recited in Sanskrit to the crops, making more fertile fields and sweeter fruits. In that country, I had so many occasions of the magical effect of mantras. Near Bangalore, this ashram I say, was built by tracing the shape of the primordial mantra OM. Good message cosmic released the bird, satellites and stars. There in my bedroom I used to hear strange noises. One day, at naptime, vi a serpent's head haughty peek through the slit open one of the drawers of the desk. I was a little fruit set, because I think all the time that share a room with a reptile's forked tongue. So I left, I went and told to Swami Dharmanishta, yogacharya holder of the famous Vedanta Forest School, which was then my neighbor in the ashram. Without hesitation, the young swami's immaculate skinhead and azafranados clothing came into my room taking a mudra of power with the right hand and began to recite a mantra to the snake. If I remember well, it was a mantra dedicated to Shiva Pashupati, Lord of the beasts. Reptile seemed to understand, because after some wiggling, she stuck her tongue out siseando a couple of times, and reptó quietly through the door open towards the garden where they walked away in the bushes. End of the story.
Intellectual seed in Spanish
We could continue anecdotes or indianerias regarding the mantras. But I will tell you that, without going any further, I would recite them with all the devotion of my soul when the terrifying nights of monsoon played to ride my old bike "Hero" of pure iron and brake rod, from the Yoga Study Centre to Dayananda Ashram in Rishikesh. With the level of the water above them swash cranks, them lightning as flashes, them deafening Thunder, them trucks throwing lights that made flashing the downpour, them cars playing the Horn crazed, equal them motorcycle, trying to sort them cows sacred and them potholes as craters horrendous where one could be engorged and disappear without anyone it notice, and appear floating upside down days after by the Ganges to the height of Calcutta.
Like so many millions of Indians and other inhabitants of the Earth in every place and time, I felt that my survival was completely in the hands of the superior powers whose designs are beyond human understanding. "Om nama Shivaya and Hare Krishna, Hare Rama". Whatever it is. Ok.
I have read several times that the sutras and mantras just exude its true meaning if written, read or recited in Sanskrit, pali, Tibetan, Chinese, or Japanese, depending on the vernacular of who said it. I've heard of the sacredness of the own language even to Brazilians with respect to noble Portuguese. Play now to launch the eulogies about the genuine and true mantra: The Mantra Spanish.
Same can be said of any other language in which people talk about or think, for example, when the great yoga teacher, Nikel here (Brother Nikel), who with his melodious voice singing that mantric relaxation and guided: "Your feet are relaxed, your toes are relaxed..." (your feet are relaxed, the fingers also), that me relaxing both as grace I made. And also: "This is not my mind, my mind is not mine, so ham, so ham" (this is not my mind, my mind is not mine, you-I).
In the ancient languages of sacred mantras are OK, no doubt. But taking into account that the mantra is the intellectual seed that blooms positive thinking and the charitable action, I also consider optimal thinking and recite the mantra in your own language: the Spanish, the Portuguese, tamazight, quechua or whatever. I am not referring merely to sing a simple translation of the ancient mantras, but call to invoke, told latinos, to convene the objectives and virtues that we want to achieve, or propose you: energy, peace, clarity, love, health, happiness, peace, balance, wealth, etc. Call in this way, through the recitation of mental or spoken, the values that you set out with determination is a mode used since time immemorial to tune in to mental and emotional, to trust and put you in a good way towards the best achievements. Millions of people have done throughout times. Try it. It works.
Who is

Joaquín García Weil graduated in philosophy, yoga teacher and Yoga room Málaga director. Practice Yoga for 20 years and teaches it since makes eleven. He is a student of Swami Rudradev (leading disciple of Iyengar), with whom he has learned in Yoga Study Center, Rishikesh, India. He has also studied with Dr. Vagish Sastri de Benarés, among other masters.