Concert of Mantras with Sunyata
For the first time the Sunyata group meets publicly to give a concert of free entry and price in Madrid. An opportunity not to miss the Saturday day 21.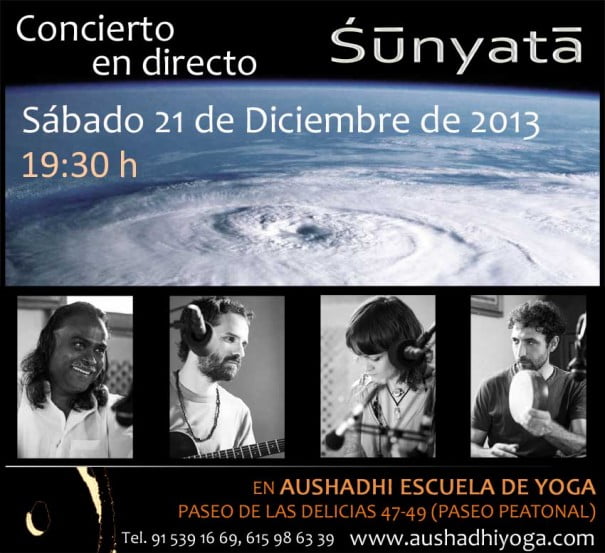 Sunyata is a multidisciplinary research project in which work with the sound as a tool for healing, harmonization and access to integration and expansion of the consciousness States.
Inspired by a diversity of traditions of Mystic sound (Vedic chant, Tantra, Bhakti, Kirtan, Bhajan, Dhrupad, Icaros, shamanic), the group tries to connect with this ancient tradition repeat hypnotic to reinvent it and generate, from music, collective events of circular loop that lead us to experience States of deep relaxation, mental silence, intense concentration, trance, and ultimately transcendence of the dual plane.
Sunyata form:
Nantha Kumar: Master of the table internationally. Table, Kanjira, voice.
Eva Espeita left (Swamini Radhananda Saraswati) Master Yoga Integral, singing Dhrupad and traditional song Indian, music India. Vocals, harmonium.
Victor G. Cruz (Aporia): Nada Yoga, singing Dhrupad, minimalism, music India. Vocals, guitar, fretless, Harmonic singing bass.
Jorge Lozano: Percussion, World Folklore specialist. Table, Pakawach, Kanjira, Moarsing, Oud, Kargyraa singing.
When: 21 December at 19:00 hrs
Where: Aushadhi Yoga school. Paseo de las Delicias 47-51 (pedestrian passage) Madrid
Free price
More information: http://www.aushadhiyoga.com/musica-sunyata.html
See video: http://www.youtube.com/watch?v=lsyjS7iu7g0