Plans for the weekend
As every Thursday, we offer you a selection of events distributed throughout the Iberian Peninsula. Retreats, conferences, workshops, kirtan, bhakti, meditation... All bright facets of yoga.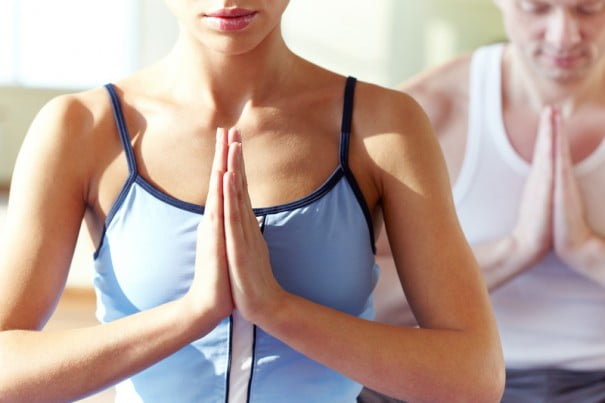 Friday 15
Yoga Retreat & creativity: The roots of the self
Restorative weekend and transformer to reconnect with your inner support. At this meeting you can observe your IDs, host emotions and recognize your essence from the discernment. A series of dynamic and experiences that will help you focus on a line of conscious and healthier life through art therapy sessions and practices of yoga and meditation.
Yoga & creativity retreats behind caring for the mind, body and spirit, to help you be closer to the free being that you already.
When: Friday 15, Saturday 16 and Sunday 17 November 2013 18:30 (Friday) to 16:00 (Sunday)
Where: Masia shovel, Santa Margarita i els Monjos (Vilafranca del Penedès) line R4 Rodalies Renfe (Els Monjos)
The retreat includes: Three days of full accommodation in the farmhouse paddle of Vilafranca del Penedès, in a natural environment. A temazcal purifying, welcome. Healthy and vegetarian food to regenerate your organism. Sadhanas (Kundalini Yoga at the exit of the Sun). Dynamics of art therapy and conscious movement, Yoga and meditation, to release and welcome your emotions. Yogic philosophy thoughts in common.
Price: 120 euros all included limited places, booking required: yogaycreatividad@gmail.com
They offer: Daniel Gomis, teacher of Kundalini Yoga and Integral Yoga training | Anna Charlotte, entitled art therapist and Professor of therapeutic theatre for groups.
Where: Santa Martarita i els Monjos. Barcelona
More information: http://yogaycreatividad.com/
Meditative concert Naad Yoga with Professor Surinder Singh
Professor Surinder Singh, Naad Yoga teacher and founder of Raj Academy Conservatoire UK, will be Friday 15 and his team offer a meditative concert of Naad, Yoga or spiritual sounds of ancient India, and also a workshop
We will join in a meditative concert to go into our being and having the experience of the depth of the Raags touched by Professor Surinder Singh and the musicians accompanying him. They will play with the India ancestral instruments specially designed to reproduce the sounds that take you to a State of deep meditation.
Price: €22
When: 20:30 hrs.
Where: Teatre de L' Avenç - Cultural Centre L' Avenç - C / Àngel Guimerà, 27 - 29 - Esplugues de Llobregat, Barcelona
More information: http://acuarioyoga.com/naadyogatour/?ajde_events=barcelona
Yoga Weekend, getaway weekend
Sadhana for a calm mind. Theory & practice. A very human team we will spoil and will serve to make us spend our: deepen and understand mental functioning to familiarize us with the practice of a calm mind.
Different practices (sadhana) that generate a mind observant, quiet, meditative; easy to 'look'. The (exercise) asanas and pranayama (release of vital energy through breathing) will be our "gateway". A naturally silent mind only fits in a harmonious body, so spend you your time. Mantras, music, walks, library... Cosy wooden cottages (with fireplace) and a majestic views, food delicious and good company, pure air that feeds...
They offer: David Garcia Avila and Eva Klimberg, who put his heart and preparation at classes, lectures, meditations, etc. Activities schedules will be somewhat genuine, habralargos times of practice... so long and deep time to rest, to stroll or to laugh, enjoying the surroundings.
When: From 15 to 17 November. Arrival Friday 15th Nov. from 18 h. Exit Sunday 17 Nov. After eating.
Price: €225
Contact: Tlf: 91 896 01 05 info@yogaartstudio.com
Where: Hotel Los Castaños health and rural. Cercedilla. Madrid
More information: www.yogaartstudio.com
Stretching of muscle chains. Level II
Physical impacts generated by the use and abuse of new technologies in our days is influencing the quality of life of a large number of people who remain long time sitting by adopting incorrect postures and making repetitive movements. This form of sedentary life and at the same time stressful is causing damage to important physical level, being in the majority of cases the most injured spine.
The proposal of this second theoretical-practical workshop consists of delve specifically into the spine. Learn to know its structure joint, ligaments, deep and superficial muscles, their natural curves, understand the meaning of the alignment and identify your muscles deep and superficial, paying greater attention to the two priority muscle chains, the rear chain and the previous chain. Learn about your relationship with the pelvis and the nervous system. Identify the most common ailments, as Act against them and how to prevent them.
The spine is the main pillar of our body, the structure that protects our central nervous system. Knowledge and understanding will allow us to have a priority care in our practices and our daily life, favoring the movement and postural integration.
When: From 17:30 to 21:30.
It teaches: Manoli Muñoz, Professor of the international school of Yoga
Price: €30
Confirmation: the 965 446 674 phone or mail info@espigol.es
Where: Room Espígol. Elche
More information: http://espigol.es
Lecture: what is the aura?
How to clean the Auric negative energy to find harmony, peace and love in one's self and others. Given by Pedro Lancaster, shaman and Mexican psychologist (psicoenergetica10@gmail.com) the days 16, 17 and 18 November, Pedro will do aura readings or healings and energy cleansing in Neomistic.
Price: €80
Ask for appointment in 91-391-3664 or psicoenergetica10@gmail.com
Where: Neomistic. c / Justiniano, 4. Madrid
More information: https://www.facebook.com/neomistic.cambiandojuntos
Musical journey
A monthly space to enjoy and heal with live music. The forks and bowls are powerful tools to help "tune" all being.
Frequencies stimulate, key and rank the energies and subtle bodies. The electromagnetic field of the body is recharged and the flow of energy is re, balancing the energy centers (chakras) and facilitating the same States of deep relaxation.
We will start with a guided meditation, will continue with the happy sound bath and will end up singing a few mantras and sharing with an infusion. A rich way to end the week and start the weekend, something more serene, more light and happy.
They provide: Barcelona Jordi Bargos)http://jordicondal.blogspot.com.es/) and Delphine Guermeur)http://yamuna-d.wix.com/yoga-terapias-retiros-bcn)
Contribution: €15. Limited places
More information: T.660070477 email: yamuna_d@hotmail.com
Saturday 16
Kirtan with Ravi Ramoneda
An opportunity to open the heart with songs devotions and healing sounds that we harmonize and balance, arousing a consciousness that reconnects us with the source. Accompanied by the harmonium, guitar and the hang, a wonderful instrument for melodic percussion, and artists invited, different cultures come together to express a message of unity, peace and joy with the music as a universal language.
The presence, the silence and the music of Ravi invites us to the experience of Bhakti, devotion, the expression of love as a divine gift.
Where: City Yoga.
Address: C/Artistas, 43. Madrid
More information: http://city-yoga.com/kirtan/
Yoga teacher training
We understand the formation of teachers as an intensive process in which the student has the opportunity to meet and evolve the tools that provides yoga, depending on their own capabilities, desires and experiences, without leaving aside the ancient tradition and the various aspects that make up a comprehensive vision and open.
The student has the support of the technique and theory, but fundamentally, training will also a practical and critical perspective. We have the Mission of accompanying the student in a process that will have you to form from the integration and expansion.
Registration: International School of Yoga. 965 446 674 email: info@espigol.es
Address: Espígol natural health. C / Federico García Lorca, 2 under. 03204 elche (Alicante)
More information: http://www.espigol.es
Nadd Yoga Workshop with Professor Surinder Singh
This special workshop is a great opportunity to receive teachings directly from the master of Naad, Yoga teacher Surinder Singh. The master in your communication together with the accumulated wisdom offers you a special occasion to receive firsthand sacred teachings, practices, and tools for your progress as a Yogi, person, therapist, artist, musician, singer, etc.
It will open the doors of knowledge to offer an approach and experience towards the science of Naad Yoga or also called Nada Yoga. We encourage you to come and share with us this special and unique moment to raise us, recognize us and enjoy with the sacred science of sound.
When: 10:30 to 13:30
Where: Shunia Yoga - Avd / Mistral 10, entlo Barcelona - 93 265 89 26 - info@shuniayoga.com - www.shuniayoga.com
Price: €30/40.
More information: http://acuarioyoga.com/naadyogatour/?ajde_events=barcelona-master-workshop
Intensive introduction to Sanskrit
Sanskrit is the classical literary language of India, which had been drafted most of the classical writings. To turn on to read the language of the mantras.
Includes 4 kinds of Sanskrit, 4 kinds of yoga, 4 meals and 2 satsang.
It teaches: Laksmi
When: Saturday 16th and Sunday 17th November, 10.00 h to 21.00 h
Where: Centro Sivananda. C / 4 Eraso. Madrid
More information: http://www.sivananda.org/madrid/
Zen workshop
This seminar is an opportunity to introduce you to deepen your meditation practice. For four hours is explored in practice the fundamentals that we direct to the meditative experience, given the necessary theoretical bases and shared the experience in each.
When: 10.00 to 14.00 hours
It teaches: Jose Cruz Igartua
Where: Anandamaya yoga. c/Alcalá Madrid 68
More information: http://www.retiroanandamaya.com/2013/10/28/taller-de-a-la-meditacion-zen/
Anusara Inspired Yoga Workshop
The axis of a practice of Anusara press environment to the three 'aes': attitude, alignment, and action. Yogi action, used to express your attitude through the alignment of the body. This is analogous to playing music: a musician (Yogi) creates music (performing an asana) expressing his heart (attitude) to the play (action) an instrument tuned properly (alignment).
The highest expression of an asana (the most beautiful music that a musician can potentially play an instrument in particular) takes place when the instrument's body is optimally aligned and action is strong and balanced attitude is spiritually pure and powerful.
When: Saturday morning from 10.00 to 14.00 h. investment: €35 / €30 if you come with a friend.
Where: The Gompa Yoga Triana
Address: C / the squirrel, 8 (next to Plaza de Cuba) Seville
More information: http://www.nataraya.org/eventos/taller-en-sevilla
Meeting of the delegation of the AEPY of Madrid
Topic: "Ergonomics in the yoga and mindful movement"
Program:
Learning to know the body
Introduction to Anatomy
Body structure: strength, flexibility, and body alignment.
Principles of the movement and breathing, remodelling of his body.
Therapeutic approach to Yoga
Care and adjustment of postures. Unlocking all the energy channels of the body allowing the balanced flow of prana (vital energy) and the harmonious activation of the chakras or energy centers
Breathing and body awareness. Developing concentration, internalization and mental attitude positive.
They offer: Txaro Palma, AEPY yoga teacher diploma; yoga Association Yoga Sananda teacher; courses since 1990 in Iyengar, Viniyoga Yoga of energy, Egyptian Yoga, Ying Yoga, chiropractor, massage therapeutic Amacvi school; Thai, Kalari massage, metamorphic, Reflexotherapy massage...
When: 10 to 13.30 hours.
It organizes: Delegation of AEPY de Madrid price: €15 partners / €20 non-members
Where: Christ's love, c / Rafael Finat 48 parish. Aluche, Madrid
More information: http://www.paquitamelgar.com/
Mindfulness workshop
The English term mindfulness comes from the pali Sati, awareness or mindfulness; in Spanish there is a word that contains the wealth of what is Mindfulness, for this reason we have chosen to translate it as "Mindfulness". Mindfulness is a teaching that creates the ability, through its disciplined practice, simplify the mind.
Mindfulness is focused on observation and acceptance of thoughts and emotions without judgment, rather than trying to change them, move them out of consciousness or ignore them. Which leads to greater well-being, happiness and creativity. It brings significant improvements in the capacity of practitioners to deal with anxiety, stress, and pain.
When: 19.30 to 21.30 hours
Donation: the will
Where: Anandamaya yoga. c / Alcalá Madrid 68
More information: http://www.retiroanandamaya.com/sobre-la-meditacion/mindfullness/
Training in Yoga therapy
This course will consist of three intensive weekends as a full course at the end of which you will receive a certificate of training. It may be loose independent modules; for therapists, yoga teachers, or anyone who wants to explore the therapeutic aspect of yoga and the application of physical alignment in asanas.
It teaches: Gisela Vázquez, a certified Anusara Yoga teacher.
Module I-16 and 17 November: feet, knees, ankles.
Module II - 18 and 19 January: hips, lower back and legs.
Module III - 22 and 23 March: back, shoulders, wrists and neck
Where: Sangha Yoga Castelldefels. c / Ginesta 14. Casteldefells, Barcelona
More information: http://www.sanghayoga.es/Terapeutico.pdf
Self-help with Jin Shin Jyutsu
It marce Hernanz and Juanjo Juanas will share with us his knowledge of Jin Shin Jyutsu. An ancient art for the harmonization of the total being. Simple, simple, profound and effective.
Teach us to know 26 locks of energy security and will explain how they help our well-being, to think better, with more agility and to deliver us from dependencies. A fun way to awaken our own wisdom. In this link you will find a very interesting information about Jin Shin Jyutsu.
When: 16 and 17 November from 10:00 to 19:30 with a stop of time and a half to eat.
Where: Centre Surya. C / Libertad, 36 B, 1º A portal. Collado Villalba. Madrid
Reserve: surya@surya.com.es / marce@surya.com.es Center Surya: 619-858-662 / Marce Hernanz: 630-764-750
Price: €150, includes three books of Mary Burmeister and other supporting documentation. If you've already taken the course and want to refresh knowledge or repeat the experience: €80.
More information: http://www.surya.com.es/
Yoga and stress
The key to proper relaxation. Recognition, control and prevention of stress.
When: Saturday, November 16, from 14.30 h to 18.30 h.
Where: Centro Sivananda. C / 4 Eraso. Madrid
More information: http://www.sivananda.org/madrid/talleres.htm
Family Yoga
A fun and healthy gathering for the whole family. Practice yoga family promotes good health, communication between adults and children, and affective ties. Come with your sons, nephews, godchildren...
It teaches: Delphine Guermeur
Price: 1 adult + 1 child €15, 1 adult + 2 children = €20
More information: http://www.zentroyoga.com/
Theoretical-practical workshop of Ayurveda: Chutneys dance of taste in the mouth!
The sense of taste is the gateway to a journey of sensations that informs us of what we are well or not so well comes to each one. Each bite transmits to the doshas relevant information. When this game of "shallow" and "gunas" starts to flow, feed us is transformed into the best natural routines for a balanced diet.
Flavors we wake up, we stimulate, calms us, surround us... along with their properties, their qualities help us keep our doshas in balance.
It teaches: Susana Fumis
Contact: sukhaayurveda@gmail.com - 630 84 66 71 - 636 93 53 05 57 43 780 T91
Where: Sukha Center Ayurveda C/Ibiza. Area: Retiro.Salamanca. Madrid
Price: €50
More information: www.sukhacentroayurveda.com
Sunday 17
Bhakti yoga workshop
In this workshop we discuss our experience of bhakti, a new path in our lives and in the practice of Yoga if you have it.
We enter singing in a journey to the heart, to reconnect with our be purer who relies on the extensive experience of unit.
It teaches: Ravi Ramoneda. Born in an Ashram, has lived in the path of bhakti (devotion) as something natural. Your workshops are very deep and liberating. Give us the opportunity to have an experience that can not be explained if not felt abriando the door to an infinite dimension, that of the heart.
Price: €40
Where: Yoga & art. c / Joaquín María López, 10. Madrid
Contact: 91 550 06 70 t / info@yogayarte.com
More information: www.yogayarte.com
Integral workshop, a personal session through yoga
There will be body work, breathing, meditation and exchange of experiences. Working with the mind and body work will help us to improve our way of life.
It teaches: Elizabeth Ward
When: from 11:00 to 13:30 hrs.
Price: €15
Where: Anandamaya yoga. c / Alcalá 68. Madrid
More information: http://www.retiroanandamaya.com/2013/11/04/intensivo-yoga-integral/
Yoga Music Experience in Biocultura
Yoga Music Experience It is a music show live created with a fundamental purpose: invite you to live an intense emotional experience, to develop a State of deep peace immersing yourself in a dimension filled with energy positive.
You'll find a sound universe full of beautiful melodies, unforgettable songs, rhythms and dances immersed in a multicultural context where World Music, Rock, Jazz, Ambient, progressive hand in hand with the color and the sound of East, Yoga and their philosophies.
BioCultura. International Organic products fair and Responsible Consumption
Feria de Madrid - IFEMA. Field of the Nations. Madrid
Day of full consciousness
in Altea la Vieja
The power of full consciousness It has the ability to heal and transform our lives. The practices taught by Zen Buddhist Thich Nhat Hanh, simple practices and observe the breathing, walking, speaking, listening, and eat in full consciousness - we can deeply touch elements which make us feel good and that nourish our ability to respond to life with clarity, compassion and understanding.
The next day of full consciousness, the proposal moves toward go preparing to bring light to the short days of winter.
When: We will begin the meeting at 1030 h with the practice of 'Touching the Earth'.
1. Meditation sitting (guided)
2 Thay talk
3 meditation walking
4. conscious food
5. Total relaxation and small meditation of the Pebble
6 share the Dharma and closing (more or less at 17.00)
'Touch the Earth' is a practice that allows us to connect with what we have received from our ancestors, family, social and spiritual. We chose are the attributes we want to retain our consciousness, and also chose to let go of our consciousness to the Earth, anger, jealousy, envy and loneliness, we have received. To transform land them.
Finally we will focus on loving virtues that we have selected to hold in our consciousness, and we send is power to those who love, and also have damaged those. This last step does not need a waiver of 100%, that would be impossible; just a small drop, 2% of our nectar of compassion is enough to start.
Where: Santa Barbara in Altea la Vieja, Alicante property
More information: www.interser-valencia.org