Yoga Workshop for children "Om 4 Kids"
If you want to start working with children from yoga, this course gives you fun ideas, games and tools to achieve balance physically, mentally and emotionally to the Group and each in particular, enhancing their skills in an atmosphere of respect and peace. How is it done? Interview with Beatriz Núñez, specialist teacher.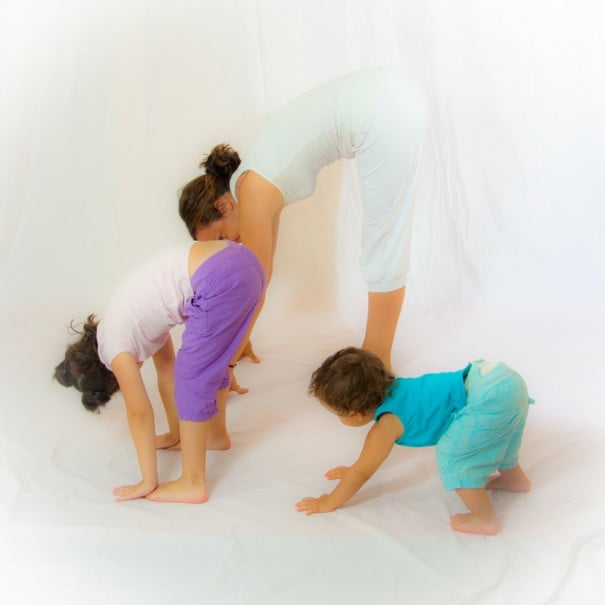 Beatriz Núñez bridges you have created a course of 14 hours into the world of yoga to children aged 3 to 12 years. The goal is to learn how to keep your attention, motivating them to participate and have fun.
Beatriz is Hatha Yoga instructor certified by the international school of Yoga, Kundalini Yoga teacher, tReiki level I erapeuta... and mother of three children! After the birth of her second child directs his expertise to the Yoga for children and family, then deepening the Teacher Training Program: "Om Shree Om" with Christine McArdle Oquendo, creator of the World Family Yoga.
We have spoken with Beatriz secrets of yoga for kids.
What are the benefits of children who learn yoga receive?
When I talk to mothers or friends who know little of this world, they believe that yoga is only for relaxing. And effectively help to release stress to children, because they learn to become aware of your breath, reduces anxiety and increases its ability to relax. But it is much more than postures and relaxation. Can you imagine how this world would be if everyone practicásemos yoga since childhood?
At the physical level, in general children have greater awareness and control over his body. And among the many benefits, child yoga practice stimulates the stretch, strength and natural flexibility of kids of their motors muscles, creates postural habits, power the coordination of their skills, abilities and agility, channeled the energy balance, improves digestion and circulation, strengthens the immune system, they sleep better.
To mental and emotional level improves attention, concentration and memory, gives children good self-esteem, encourages creativity and expression, promotes interaction with their peers, giving a proper channeling of competitiveness and their ability of overcoming. Increases confidence, compassion and teamwork.
What you taught yoga essentially?
We tried to is mainly, through games, keep yoga with them, not to lose the yoga within, that he is part of their day to day. All the children are stretched in the mornings, to stand up when they are lying to make the dog upside down, when they are with a lot energy fall, board feet and make the candle. Anyway, what I mean is that essentially we are all born with yoga. But we live in a world so in haste we forget for example assess breathing; Therefore, we educate the breath. Children can learn breathing exercises to help calm down when they are angry, when they have a review, to improve the performance and the 'good' competitiveness in sports. The practice of yoga consists of estiraaaar body and the formation of different attitudes, with a breath that have always been there.
Les also teaches through the practice of asanas, to exercise its power and flexibility, with group games and partner through postures of animals, numbers, stories, drawings, pictures, etc.
To increase the energies and channel them properly, a child needs to harmonize body, mind and spirit in unit, discovering, knowing. The body becomes in relaxed and energized at the same time. Yoga teaches them to relax, to have more control over their emotions and this color, draw, imagine, visualize. It is a great way to promote a healthy lifestyle as they grow up levelling the physical with the thoughts and feelings as an integration. Because stretch arms already generate a profit, but if in addition this action accompanied it with a release, with a visualization exercise, it is phenomenal. And it's amazing to see how they also work on a deeper level.
And as it is very necessary at this stage of experimentation to enhance their creativity and imagination, we move much, there are lots of body expression, because yoga also seeks to capture their drive and theatrical skills. It uses the game as a way of learning with tools such as voice, language, sound; while enjoying the practice. Yoga values sensibility and senses to capture the attention of children with tales yogic and teaching exercises.
And the values that promotes yoga are fantastic; a class of children breathe peace, joy. It's a patient environment that generates a climate of respect, friendship, tolerance, calmness, loyalty, generosity. All help!
That qualities must have a good yoga teacher for children?
Be very creative, have lots of energy and joy. Mainly enjoy a lot with them, have a good time, transmit enthusiasm to constantly motivate them and make them feel every one who is a wonderful, unique and unrepeatable being, listen, pay attention to them and respect them very much.
Yoga tools are more effective for children?
Everything that makes them connect with their insides with his heart, with what is inside, and teach them to love, to accept as they are. Because to follow learning it is necessary to be aware of what is the problem or no problem.
Mine is going to help them to express what they feel, to release that often are afraid to tell, because when we do it we feel light, free of charge and we can move forward. We can for example face fear and seek solutions.
"Yoguear" with the dwarves give much of themselves! And it entertains them much talk, talk, say what they think, in what they believe. Do you know why? Because do not hear it at school or at home, because the teachers have to meet targets on a quarterly basis and mothers run all day (especially when you have more than one child) because we want to give them the best, a good education, which go to the best school, having a good future. But what they really need is time, is that it gives them equal their future, because they do not want to be in a hurry, want to live their present and that is precisely the great lesson that give us..
How are it has to be a good child yoga course?
A great course of yoga for children is a place with many fun ideas, conceived from their magical world (up to age 6) and more real (from 7 years), with many games, songs, also with silence, relaxation spaces, stories. A rich environment where we can explore, share, feel, express. The rules put together so feel safe and respect us. To my perfect posture and alignment I don't care much, but I want to keep learning. And no doubt there is also an order with elements for a sequence of greeting and breathing, warm-up and postures, relaxation and guided meditation, although there are days when we improvise a lot.
Why choose your course, which you find in your way of teaching?
All say that it is difficult to work with kids and I tell you what! They are what they are, beings of light, transparent, with small backpacks (easy to remove), very flexible body and mind. It is true that they surprise you much, but adults are also each a world.
I only know to do it with all your heart. I decided to drop the journalism and live this passion from my knowledge of yoga, games for children, creativity and mine as a great combination, because it is a mutual learning. They finally make the class, the teacher is a guide. Of course, we learn more adults of these small "great" teachers.
Data of course OM 4 Kids

Dates: 19 and 20 October

Schedules: Saturday 19 from 10:00 h to 14:00 and 16:00 h to 19:00 h. Sunday from 10:00 to 14:00

Where: School of Yoga of tables.

C/ Isabel Colbrand 10-12 5th floor, local 131, access by Alfa III - A1 Madrid

Price: 150 euros

http://www.escueladeyoga.org/index.php/component/k2/item/155-19-y-20-de-octubre-taller-om-4-kids