Master Class / listen to the body and create space
Nueva entrega de la sección que profundiza en las técnicas, recursos y enseñanzas del yoga. Está a cargo de los expertos de la Escuela Internacional de Yoga, uno de los centros de formación de profesores más prestigiosos de España. Hoy Adriana Germano, formadora de Asanas, explica la importancia de crear espacio interior incluso dentro de plano físico.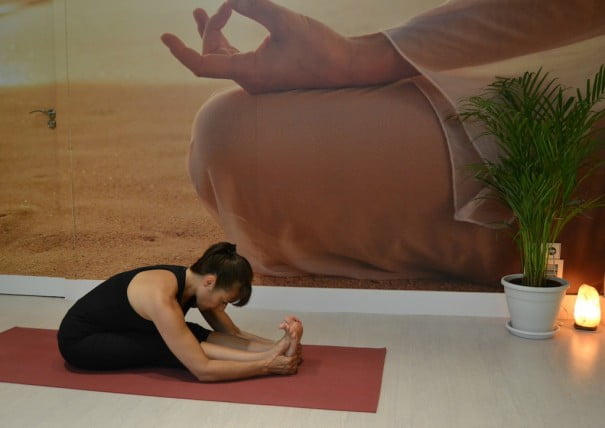 Adriana Germano, Savitri, es profesora de Hatha Yoga y máster en Yogas Modernos (Ashtanga, Vinyasa, Power Yoga y Anusara) titulada en la Escuela Internacional de Yoga y certificado por la Yoga Alliance, la European Yoga Federation y la Federación Española de Yoga Profesional.
Además, Adriana es técnica en Administración de Empresas y profesora deportiva titulada con 21 años de experiencia. Su trayectoria en el mundo deportivo la llevó a formarse en diferentes modalidades como: Rehabilitación, Tercera Edad, Embarazo, Pilates Mat, Pilates Reforme y Cadillac, Step, Body Balance, Body Vive y Personal Trainer.
Esta formadora de Asanas de la Escuela Internacional de Yoga basa sus enseñanzas en la armonía existente entre la consciencia, la técnica y la respiración como vehículos que conducen al estado meditativo.
Explica Adriana: "Como profesores de asanas, nuestra tarea consiste en guiar al alumno en estos aspectos y acompañarle en el proceso de 'escuchar a su cuerpo', proporcionando las herramientas necesarias que permitan la evolución en su práctica personal".
Adriana cita diferentes motivaciones en los alumnos, y todas deben ser respetadas y respaldadas por el profesor. "Hay quien se acerca a clases de yoga por recomendación médica, para mejorar una patología determinada, que puede ser una hernia discal en algún nivel de su columna vertebral o problemas articulares…. O puede tratarse de ese proceso tan bonito de un alumno principiante que comienza con muchísima ilusión y que busca una técnica que le proporcione alineación, a fin de crear espacios en su cuerpo. Y también está la gran motivación del alumno avanzado que quiere seguir creciendo en su práctica".
"Es importante -prosigue Adriana Germano- que el nivel de las clases esté regulado de acuerdo a las características físicas del alumnado, para así poder aportar en los diferentes horarios el respaldo necesario, que siempre será personalizado. Una de nuestros cometidos es sugerir la utilización de soportes, que se ajustarán de una forma muy precisa a las necesidades de cada alumno".
Progreso controlado: el ejemplo de Paschimottanâsana
Lo incorrecto, en opinión de Adriana, sería alentar hacia una segunda fase a un alumno principiante que aún no ha gestionado las bases que sustentan o requieren las posturas. Por ello la Escuela Internacional de Yoga nos propone una serie de alternativas en cada asana. Un ejemplo característico sería Paschimottanâsana, por la importancia que tiene en esta postura que prevalezca el espacio interior, también en el plano físico.



"Tratándose de Paschimottanâsana, es fácil que nos encontremos con una flexión excesiva de la columna vertebral, y esa situación comprimiría erróneamente los discos intervertebrales a nivel de la columna lumbar -explica Adriana-. Situación poco recomendable, ya que es una zona de muchísima demanda debido a diversos motivos, ya sea sedentarismo, problemas posturales, sobrecargas… entre otros, sin descartar el factor evolutivo como es la bipedestación. El porcentaje de hernias lumbares a nivel de L4-L5, L5-S1 es elevado".
Atendiendo a estas necesidades, vemos cómo en el desarrollo de cada asana se recomiendan fases, para que toda postura aporte beneficios tanto en el plano físico como en el plano sutil, comprendiendo la unidad en ello. "Y así -continúa Adriana- integrar esa buena actitud, de escucha y de respeto hacia lo que expresa nuestro cuerpo, con responsabilidad y asistiendo en la demanda del alumno".
Adrana Germano considera que "nuestra misión como profesores es ser el canal a través del cual poder transmitir ese maravilloso mensaje que yoga nos ofrece y que nospermite vivir la experiencia de la vida con agradecimiento, consciencia y salud".

Headquarters:
Calle de Fuencarral, 134
(input by * Albuquerque *)-28010 Madrid
Tel.: 914 16 68 81 - 648 07 88 64
www.escueladeyoga.com

www.escueladeyogaonline.com

Madrid - Marbella - Elche - Mallorca - Santiago - Cadiz - Latin America