Guide for your trip to Zinal 2013, high level yoga!
This year the international meeting of Yoga of Zinal (Switzerland) celebrates 40 years of existence of the European Union of Yoga. Dates: from 18 to 23 August. This time the theme of the meeting and the lead wires of the many activities and practices that will be held is: attention, awareness, awakening.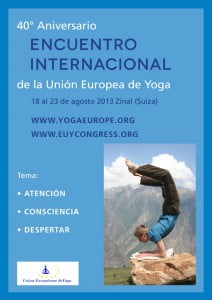 It is always a hit to choose this small village in Switzerland, Zinal, to deepen in the yoga and spend a few delicious days in August. Yoga is both a State and a practice on three principles: attention, awareness, awakening. So this year so special in which celebrated the 40th anniversary of the European Union of Yoga this will be the theme of the Congress.
From the AEPY (Spanish Association of Yoga practitioners) are organizing a group to attend this wonderful event, which this year is also more special if possible, as it celebrates its 40th anniversary of the European Union of Yoga.
The guests of honor:
– Swami Ambikananda Saraswati and Ravi Ravindra.
And among the Europeans, the Spanish part:
-SERG Castello and Maria Vicenta Server, Nelic Girones and Josma Coll.
Price: knowing it difficult situation economic by which crossed in Spain, is has decided do a great effort to be able to offer it to a price affordable: Before: Normal registration fee = 295 euros. Now: Special Group of AEPY fee = only 165 euros.
Accommodation in Villa or apartments: 200 euros per person for the entire week (does not include maintenance, or rental of bed linen or towels).
Total enrollment= 365 euros for members of AEPY (non-members: 392 euros = 365 euros + 27 euros fee 1 loose half AEPY partner) (not included travel and maintenance, to freely choose each participant; see below more detailed information).
It has never before been so affordable and so easy with organized accommodation. So cheer up! Ssran a vacation different and yogic, all a gift for your be.
You know languages or not, you will have presentations in Spanish throughout the day. This year, in its 40th anniversary, the tone will be festive and is a great opportunity to participate in the celebration.
The / as interested, contact urgent with the Secretary of AEPY, before the Friday 5 of July.
AEPY - Spanish Association of practitioners of Yoga
Tel. 932 374 241
C / Nil Fabra 36, esc B ent.2ª - 08012 Barcelona
secretaria@aepy.org- www.aepy.org
Zinal and its international meeting
For 40 years, the European Union of Yoga (UEY) held annually an international meeting in the month of August. Routinely will choose a topic, which is approached from the practice, with morning classes, workshops and courses of continuing education, conferences and lectures given by renowned teachers, both of Europe and of the India.
The participation of the teaching staff of this international meeting is completely selfless, pure karma yoga. The income obtained is intended for to cover costs of travel, accommodation, maintenance and rental of the rooms, and the surplus, if any, for the non-profit purposes of the UEY spread yoga. All the work of organizing the international meeting and the UEY is also performed by karma Yogis volunteer.
Each day and throughout the week classes, conferences and workshops are going happening from 7:30 h until 18:30 h in several languages, which in some cases and to the extent possible, are also translated into other languages.
Each participant has to his disposal to choose between seven u eight possibilities in them classes morning, others so many conferences during the week, and two workshops of training continuous (which is develop along them five days).
The theme that each year is chosen is is in depth, since a team specialized is has charge previously of select them proposed that best show your value practical, philosophical or spiritual.
Who attend of form regular to this find Recycle your training continuous and evolve on par and in tune with our fellow European.
But Zinal is also a place for entertainment, social relationships, and the meeting of cultures: every night after dinner takes place a holiday or cultural event where fraternal coexistence and communication are fully intercultural.
And the place where it is held is also exceptional by its landscapes, its people, the special climate that reigns at an altitude of 1,700 metres and that, walking through the peaks, they increase immediately up to 2,400 meters.
Zinal means, because a week of high level yoga and, if you personally want it - before or after the meeting-can also be quality tourism, it does not mean necessarily high prices (each one chooses).
Tourism
Zinal is located at 1.670m altitude, in the heart of the Anniviers Valley and surrounded by half a dozen of the highest peaks in Europe: Monte Rosa (4, 634 m), Horn white/Weisshorn (4 506 m), Cervino/Matterhorn (4 476 m), tooth white/Dent Blanche (4 357 m), Horn red of Zinal/Zinalrothorn (4 221 m), Força Superior/Ober Gabelhorn (4, 063 m); and many others above the 3,500 m. Although no direct access to them (except cruises to experts), walks there are other peaks or rises in gondola for all levels and tastes, and the views are breathtaking.
The activities are for all ages and range from miniature golf, panoramic cableway, hiking and climbing glaciers, waterfalls and lakes, indoor pool and tennis to paragliding jumps and downhill mountain biking (for rent).
Do not miss the opportunity to visit the Aletsch Glacier, the largest in Europe with its 23 km in length, 120 km2 of surface and a thickness of between 150 and 900 m. declared Natural patrimony of the humanity by UNESCO in 2001, you can access it by the North enjoying the panoramic tour of the train that leaves from Grindelwald to the almost 3,500 m , in the massif of Jungfraujoch (not suitable if you suffer from vertigo;-), or Ascend from Fiesch to the South with cable car up to the Eggishorn (927 m 2) and spectacular views of 360 ° facing the Alps and the glacier (region of Belalp and Riederalp, Bettmeralp, Fieschalp).
It plans an extra day of travel, it's worth the joy of seeing him! Suggestion: make night in the close and pretty town of Brig (to 18 km from Fiesch) or directly in Belalp, real portal to the glacier with their precious views. Brig is located only 60 km from Zinal (1 hour by bus to Sierre + 30 min. by train).
And how, visit to the famous Cervino/Matterhorn in the adjacent Valley of Zermatt (also accessed by train from Brig). Well, uploading directly in cable car until those 3.883 m, or enjoying of the railway panorama Gorngergrat Bahn, surrounded by 29 mountains over 4,000 m, including the highest in Switzerland (Dufourspitze, 4,634 m) and by the third glacier in the Alps (Gornergletscher) length, offering an incomparable mountain panorama. Across is the highest Cog Railway in Europe and on his way breathtaking bridges, it passes through galleries and tunnels, idyllic forests and gorges and Alpine Lakes. And you'll always have the Cervino mount as to the view, you will want to be able to touch it.
Finally, other interesting options in the region are the train between Zermatt and St. Moritz (7.5 hours www.glacierexpress.ch), the baths hot springs and Park water of Leukerbad ()www.leukerbad.ch/en/welcome.cfm) or the castles of Zion ()www.siontourisme.ch).
Travel
Flights very cheap from Barcelona and Madrid to Geneva, with www.easyJet.com
Also affordable options from Madrid and Barcelona to Geneva and Zurich with www.Swiss.com, www.Iberia.com and www.vueling.es
Train: from the airport of Geneva or Zurich, take the train to Sierre / Siders, approx. 2-2, 5 hours. Connections every 20-40 minutes. www.sbb.ch/en/index.htm
Bus: from the station of Sierre / Siders, directly to Zinal. Care!! Last departure at 19:10 h
Our recommendation: the ida by Geneva, and the return for Milan, doing there one night to visit the city and take the next day direct flights from Ryanair to Zaragoza, Madrid, Valencia, Alicante, Barcelona, Gerona, Santander, Seville, Malaga, Santiago de Compostela, Ibiza and Palma de Mallorca. www.Ryanair.com
Bus from Milan-central station to the airport of Bergamo (1 hour) www.orioshuttle.com, www.autostradale.it/interna.aspx?gr=2&sez=60&sot=2&ae=14
Cisalpino train from Sierre / Siders - Brig - Milan, tour beautiful through the Simplon tunnel and bordering the Lake Maggiore (Italy), which takes 2.5 hours, the same thing go to Geneva: http://mct.sbb.ch/mct/en/
View the information on the portal of the Congress www.euycongress.org