First meeting of Hindus of Spain
The first meeting of Hindus of Spain was held in Madrid on 8 and 9 June. The meeting took place in the Jhulelal Temple, a temple hindu that maintains the sindhi community, majority among the resident Indians in Spain, and which he selflessly gave their facilities.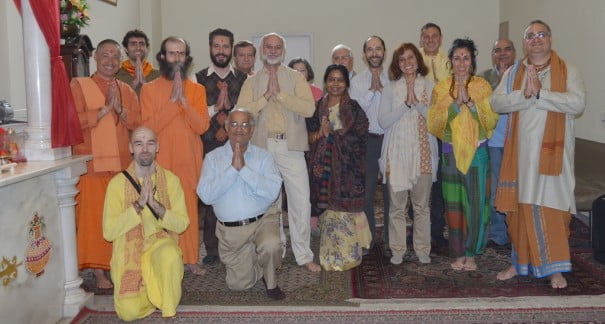 The meeting was organized by the hindu priest Juan Carlos Ramchandani (Krishna Kripa Dasa), son of Indian father and Spanish mother. The Board was composed of six people, belonging to several streams within Hinduism: Juan Carlos Ramchandani, Swami Omkarananda Saraswati, Swami Satyananda Saraswati, Javier Ruiz Calderón, Oscar Montero and Alvaro Enterría.
Hinduism is characterized by admitting in their midst - where coexist in peace - many streams different, with different conceptions and practical but with converging visions. Hinduism also fully supports the validity of other faiths as paths to approach the ultimate reality or God.
In meeting various papers were presented and discussed various issues and problems concerning Spanish Hindus. It was stressed that, while Hinduism comes and is rooted in the India, many Western people are currently seriously this spiritual path, so it is necessary to distinguish between hindu or Hindu (follower of Hinduism) and Indian) inhabitant of the India).
The objectives of the meeting include:
Create a Federation of Hindu religious organizations and entities.

Get the official recognition of Hinduism by the Spanish Government, together with the certificate of "notorious rooting".

Be a point of encounter between the Asian Indians and Spaniards.

Promote a correct vision without distortion or prejudices of Hinduism.

Create a platform for common work on various topics related to Hinduism.
Contact person: Juan Carlos Ramchandani (hindu priest)
Mobile: 638-738-662
E-mail: ramchandanijc@gmail.com
Blog: http://jcramchandani.blogspot.com.es/