Interview with Isabel Ward: "yoga teachers have it hard"
A few months ago that Isabel Ward has managed to reopen its Center AnandamayaAfter many battles and difficulties. This summer had to leave space of union that had been created in the basement of the parish church of the Blessed Sacrament in Madrid, because the ecclesiastical authority, instigated by the ultra-conservative Intereconomía chain, closed the site and brought a new pastor,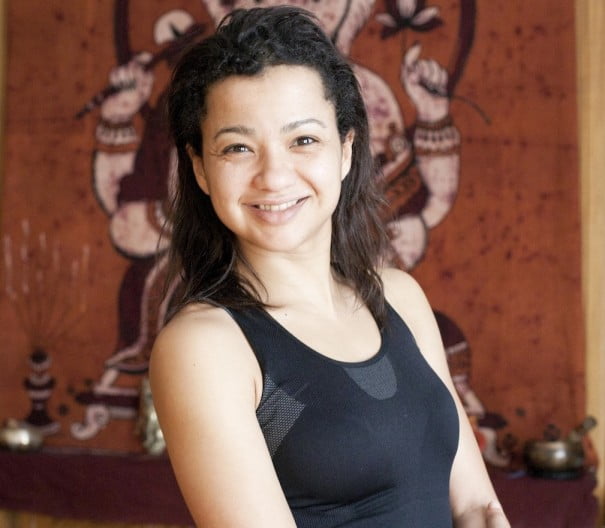 It has nearly 12 years giving yoga class. Was formed with Jose Manuel Vazquez, then with Friendly Diaz for five years "Is a specialist in pedagogy, and with her I learned a lot". And continued researching methods, styles, teachers, both in India as in Spain: Yoga of the energy, Yoga Egyptian, Kriya Yoga, seminars in Madrid, Barcelona, Switzerland. "I learned a lot of Danilo Hernandez, "both Radja and Hatha yoga". Today, in addition to their own classes in Hatha, Ashtanga Mysore House practice and study Yoga Sutras with Lula Reed.
Isabel Ward has managed to open a new center of yoga in Madrid, Yoga AnandamayaAfter having to close, which is housed in the parish of "The Blessed Sacrament", removal Anandamaya, which was a partnership in which in addition to yoga and meditation, offered concerts and spiritual enrichment activities.
Isabel, did you realize that dream of unity of the yoga on different spiritual paths. How did retreat Anandamaya?
I've never considered a Catholic person, as either I part I in no creed. But for me, a very close person was José Cruz Igartua, a good Basque, exparroco of the parish of the Blessed Sacrament (known as the Blessed Sacrament), a wide-open being that welcomes anyone in any condition, religion, category or thinking within their faith and try to induce it, by the way of respect and knowledge of one's self, towards respect and understanding of others. Thanks to him and to that courage is one of my "skills", I created the Association in the basement of that fantastic Church opposite the retreat, a place of a wonderful spirituality.
There I started to work, with a group of friends, a technical architect, engineer, decorators, electricians, to create a holistic space that live barriers created by "this is my creed", "this is my truth", to find a unique sense among all human beings, the union in the duality you have inside.
We opened the space for the music, such as inducing to the interior space where everything is calm and that you connect with a conscience and let us question things to let us be, flow. The Tibetan bowls, the tampura, the bansuri, the hang, the voice, the dance... And also invite Sufi teachers, vishnuitas, advaitas, zen, Dervishes, master vipassanas... Because each of these aspects speak of the human being and are not different just the one from the other, as all looking to reach that inner space where thoughts flow without becoming entangled.
How much the experience lasted and how finished last summer?
The experience lasted three years. For me it was a nice time, but also hard in some ways. Went in the space of the Association and was a disconnection absolute with the city, as pass from a world to another. Jose, the pastor, was a pilar strong in its fortitude internal, in its true sense of what is the faith and the confidence. Because when we started there were radical Catholics who disagreed with what we were doing, and every morning we had to clean the graffiti that made us on the boards of the schedule, with phrases like "This is not of God", etc, etc. When you brandished to the seven of it tomorrow to go to meditate and got there and you were with that... my fortitude not was it of Jose. But he was there to remind me: "us all we have to do is to meditate, our work is silence". Until one day let appear the graffiti, but always was people who followed the view that we did wrong, that we not respected the place. Between that and that some were expecting small failures to cast them in face, disputes were on the rise.
Began to criticize all the work that we did. A sign that we had put in the entry saying "take care of your mind, takes care of your body, take care of your spirit '' raised the ire of a commentator of Intereconomía. Between that and we invite several Buddhist monks that came with his robe to teach meditation... had to leave the place. As everything in this life comes and goes, I looked for another local...
And how there is that face the search of a Center for to give classes and exit forward?
Well, the truth is that yoga teachers it have a bit difficult for various aspects. It is on the one hand not very well defined in what profession fits us: natural therapies, health and sport. Know that now is us is framing in sports, and this you complicates to the Professor of yoga at the time of open a local, because this has that meet the conditions of a gym, with which the budget economic to meet these conditions is increases quite.
Another option that you is to the Professor of yoga, if not has a degree within the health (medicine, physiotherapy or psychology) is it of associate is with a professional of these materials for to open a space in a first plant of a floor or a consultation to to give them classes of yoga. If not, is going to have that be subcontracted in gyms or others centers of yoga authorized.
Currently to them teachers of yoga not is les pays well in the centers public cultural, and normally have that be traveling of a centre cultural to another. Until they arrive at a private Center that is not theirs and should be sharing profits. With which a Professor of yoga to have a salary worthy is it has to work much, much, much. And that can sometimes go a bit against his own practice because you want to or not, spend all day from here to there in the long run cannot be maintained.
And another thing that also has to deal with a yoga teacher is that there are a lot of centers, types of yoga, and each one says that it is the best. Then it is hard for in Professor to know, be valued if not, as in all professions, from the hand of a godfather.
Many students have that have to to do facing them expenses of a center of yoga as the yours, very well located, nice and spacious?
To cover expenses (local, register as self-employed, VAT, advertising...) you have to have about 40 students. How to distribute them then depends on the rooms you have and the number of hours that you want to spend. I've opened more groups of class at different times of morning and evening to let me know in the area, and then I am more involved in classes. From 40 students you could already start to earn your paycheck. Now it is also working to cover weekend classes, but that requires much teachers. If you want to have a minimum of personal life, you should find the balance.
Do you think that today there is too much different yogas offer?
The human being always is looking for go more beyond, evolve, and that perhaps makes that the yoga right now is more demanding, more dynamic, more hard. Krishnamacharia formed three teachers who made three different yoga styles: Pattabi Jois with Asthanha Yoga, Iyengar with Iyengar Yoga and Vinyasa Yoga with Desikachar. Three disciples of the same master with forms completely different of conceiving the yoga. Dios me certainly free to criticise it.
Although currently, perhaps an exaggerated offer, I think that in time we will reach a balance and we will understand that there are so many ways to growth as people, that there's no better than the other way, but that one has seen and know what needs and resources at a time of his life, trying to hold them and know when those resources are exhausted. Is is of go looking for where is the balance of each one, and that is difficult because each one is its balance of a way different.
Not there are styles that are "the best", or "the panacea". And neither is is of making each time more: more hours, more asanas, more difficult. We must try to find that balance to this practice which is becoming "more", we do not remove instead of giving us.
More information: Anandamaya, calle Alcalá, 68. 28009 Madrid. T 915 04 44 29 and 647 51 22 78 https://www.facebook.com/isabel.anandamaya