Book: as we are, Jiddu Krishnamurti
As we are. Free the mind from conditioning It is the collection of eight lectures given by Jiddu Krishnamurti in 1955 in California. Your messages are still fully in force. Editorial: Kairos. Price: 14 euros.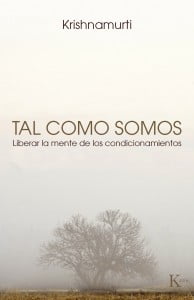 In these eight conferences, which Krishnamurti dio in Ojai, California, in 1955 - but whose message is still as current and fresh as then - the author shows that a series of habits, confusion and beliefs is hiding behind every act of violence.
In addition, Krishnamurti questioned this society in which increased the productivity and scientific advances promise a happy future, but do not provide it. Furthermore, it invites the reader to ponder if all the apparent progress of the individual is more illusory than real.
Jiddu Krishnamurti (1895-1986) is internationally recognized as one of the great educators and philosophers of our time. Born in the South of the India and educated in England, he traveled the world giving talks, talking, writing, and founding schools, until the end of his life at the age of 90. He insisted that he did not belong to any caste, nationality or religion, and that it was not linked to any tradition. The magazine Time He appointed him as "one of the five saints of the 20th century", and the Dalai Lama said it was "one of the biggest thinkers of the century".
Why what we recommend

Krishnamurti is possibly the most acclaimed master of the 20th century. Surely, the most cited.

His books are a compendium of eternal, timeless wisdom. Messages of this work, specifically, are now more current than ever.

Krishnamurti influenced personalities of first level and more diverse areas, such as Indira Gandhi, Aldous Huxley and The Doors.