Storms of Samsara
De vez en vez alguien en persona o por teléfono me pregunta si con el yoga se puede controlar la mente, nada menos. Sin entrar en el peliagudo asunto filosófico de saber quién es el que controla qué, entiendo que se trata de saber si el yoga ayuda a aliviar el sufrimiento. Escribe Joaquín G. Weil. Foto Jorge Zapata.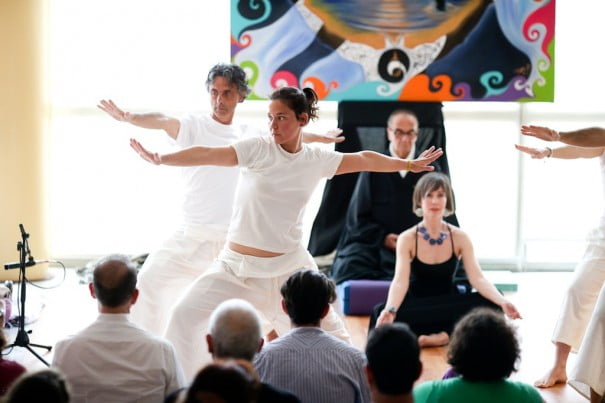 Claro, respondo "sí", después de aclarar un poco la respuesta.
Samsara es la ley de causa y efecto en su faceta inexorable. Pero el samsara no es tan inexorable como en principio pueda pensarse. Hay algunas personas, por ejemplo, que dicen: "Me duele aquí" o "Tengo una contractura allá", como si fuese una cuestión de mala suerte, como a quien le cae una maceta desde un balcón.
Me interesa que las personas que aprenden yoga conmigo me hablen de sus dolores y dolencias. Cuando un alumno me dice que le duele la zona lumbar, me dedico a observar durante la práctica de las asanas qué hace, qué posturas adopta que tengan alguna relación con la molestia en esa zona, para procurar ponerle remedio.
Contaba B.K.S. Iyengar en uno de sus muchos discursos que cuando algún estudiante le hablaba de un dolor en una determinada zona, al final le acababa doliendo a él mismo esa zona. Lo comprendo perfectamente, porque a mí, al principio, me pasaba lo mismo: se concentra uno tanto en el problema a resolver que al final uno acaba por interiorizarlo y, en el mejor de los casos, por resolverlo en propio cuerpo.
Generalmente no es tanto que uno "tenga" una tensión en tal o cual zona. ¿Cuál puede ser el origen de la tensión? No hay nadie más allí que lo pueda ocasionar. Igual cabe decir de numerosas contracturas, dolores, etc. La buena noticia es que si uno mismo es la causa, pues uno mismo es la solución.
Lo importante de los dolores es dejarlos pasar, no apegarse a ellos. Aunque parezca inconcebible no sólo hay apego a lo placentero. Nos levantamos por la mañana y, como por descuido, nos tanteamos la zona dolorida para saber si nuestro viejo dolorcillo sigue ahí. Si algún día desaparece, nos alarmamos y palpamos la zona con más ahínco, para dar con él, como si fuera un gato que encontramos en la calle, nos hizo compañía y luego se largara una noche por la tapia de la casa.
¿Y la mente? Pues un tanto de lo mismo
No vamos a hablar de "control mental", pero sí del ímpetu de las emociones o el ritmo de los pensamientos. Considero que sí, en efecto, la práctica del yoga ayuda a serenarlos. En el yoga se conocen una serie de "botones" o resortes que podemos accionar a voluntad para causar el beneficio requerido. Porque está claro que la mente no puede controlarse a sí misma y que, en ocasiones de agitación mental, los libros de sabiduría a veces lo que hacen es añadir más combustible al trajín del pensamiento. Por ejemplo, relajar la nuca en las flexiones profundas serena el ritmo de los pensamientos. Inspirar amplio y libre nos da energía. Relajar las mandíbulas y las sienes nos pacifica. Realizar arqueos nos infunde valor y ánimo. La concentración en una exhalación profunda y plena nos trae relajo, etc.
Aunque existen tormentas, no son la verdadera naturaleza del cielo, que es ante todo cambio continuo, lluvia, nubes, claros y cielo azul. Quien se acerca al yoga rara vez es para alcanzar el samadhi, lograr los sidhis o las variantes más complejas del loto. La mayor parte de las veces lo que se busca es sencillamente conocerse y conectarse mejor consigo, conseguir más equilibrio emocional, paz mental, alegría y, en suma, acercarse a la felicidad.
Who is

Joaquín García Weil graduated in philosophy, yoga teacher and Yoga room Málaga director. Practice Yoga for 20 years and teaches it since makes eleven. He is a student of Swami Rudradev (leading disciple of Iyengar), with whom he has learned in Yoga Study Center, Rishikesh, India. He has also studied with Dr. Vagish Sastri de Benarés, among other masters.