Book: Dharma, introduction to Hinduism
Do we really know what is Hinduism? Through his latest work, Juan Carlos Ramchandani offers some basics, and other deeper, about hindu culture, Yoga and spiritual diet.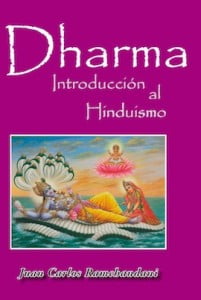 Juan Carlos Ramchandani conveys its messages from a rich perspective, based on have been formed in a former school (sampradaya). It is a book written in a language that is simple and fun, but with the rigour and the faith of a practitioner and scholar of Hinduism for more than 25 years.
The work reflects largely also the experience of the author in his numerous travels in India, visits to temples and ashrams, interviews with teachers, knowledge of the languages hindi and Sanskrit and have been immersed in the culture and hindu spirituality from a young age.
In this book they respond and explain some questions and doubts about Hinduism, and the culture of the India:
For that cow is sacred?, why is purifying dip in the River Ganges? How to behave when entering a temple what the major Scriptures? What are the origins and philosophy of Yoga? Does vegetarian Indian food?
With 150 pages and 100 illustrations and color photos, the book talks about the Dharma, the gods, the Sacred Scriptures, Holy places for pilgrimage, sacred rivers, temples, ceremonies and rituals, festivities, guru, social orders, and spiritual, arts and Vedic Science, Yoga, diet hindu yogic...
Price: 15 euros. You can order directly from the author by e-mail:
ramchandanijc@gmail.com
Juan Carlos Ramchandani (Krishna Kripa Dasa)

He is an expert on Yoga, philosophy and culture of the India who has written nine books and numerous articles in newspapers and journals. It is also hindu priest, initiated into the vaishnava tradition, and travels throughout Spain performing ceremonies as well as giving lectures and seminars. Considered one of the authors most is contributing to the spread of Hinduism in Spanish language.