Book: Yoga and Ayurveda
A superb Guide to advance between self-healing and self-realization through physical yogic practice and the medical knowledge of Ayurveda, written by Dr. David Frawley.
Publisher: Ayurveda editions
? Price: €17,00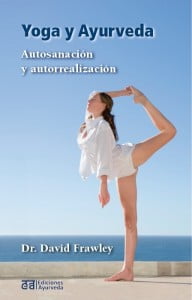 Yoga and Ayurveda reveals the secret of the powers of the body, breathing, the senses, the mind and the chakras and, what is more important, develops methods to improve them through diets, herbs and plants, asanas, pranayama and meditation. An indispensable book for understanding Yoga and its benefits for the mind and body.
«Once again, Dr. David Frawley demonstrates his ability to make the eternal wisdom relevant for the modern man. His new book shows why I consider David a true rishi or connoisseur of the reality. Yoga and Ayurveda should be in the library of every serious student of Yoga and Vedic knowledge». Dr. Deepak Chopra
Dr. David Frawley is recognized in India and in the West by his Vedic teachings, which include medicine, Ayurvedic, Vedic astrology and Yoga. It has reported their knowledge on these subjects in more than 20 works, which include half a dozen books on Ayurveda, as Ayurveda health: Guide practice of Ayurvedic therapies (Ayurvedic Healing Spanish Edition) and Yoga and Ayurveda: self-healing and self-realization (Yoga and Ayurveda: self-healing and self-realization), who has just published editions Ayurveda. Their translations of the Vedas and their historical studies about ancient India have been highly acclaimed by critics, as well as his journalistic articles about the modern India.
Currently, Dr. Frawley directs the American Institute of Vedic Studies and is President of the American Council of Vedic Astrology. He is also a member of the Board of Directors of Yoga International magazine.