Recommended: Documentary The Dhamma Brothers
"The miracles of Yoga are more than entire border, as it says the" Hatha Yoga Pradipika in the I, 12″, says Pilar Luna. And send us this interesting documentary, The Dhamma brothers, about the miracle of Vipassana Meditation in a U.S. prison.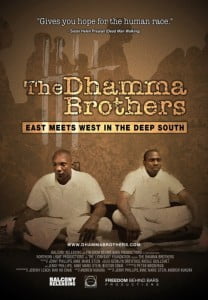 Pilar is a Yoga teacher and teaches it as a volunteer in the prison of Picasent. We recommend this documentary to make many who dare to "enter with Yoga to a prison, to get out of other invisible prisons".
Who not is captive? With the crisis, the projects that developed NGOs in these places are that most have been cut (over 60%). It takes more than ever volunteer to go to the aid of those who are even worse.
The organization that sends volunteers to teach Vipassana Meditation to inmates in the documentary is Dhamma Neru)www.neru.dhamma.org), which also has headquarters in Spain
The documentary
Behind the high walls of the maximum security prison of Donaldson, in Alabama, living more than one thousand men, all of them criminal serving life sentence in a prison that may never leave. But for some of these prisoners this situation has become more bearable thanks to the setting up in the correctional program based on techniques of Buddhist meditation and Vipassana (meaning "how things are").
This magnificent documentary us closer to the stories of 36 inmates who choose to undergo this unprecedented project, delivering to him emotionally and mentally. We exceed this maximum security prison walls to accompany them during the ten days that lasts the silent meditation program. At this time we will see how the prisoners manage to handle their feelings of anger and trying to cope with his life behind bars. In addition the documentary is questioned about whether the method of punishment in prisons is actually effective or whether, on the contrary, there are ways to rehabilitate these men.