Life and teachings of T. Krishnamacharya
Krishnamacharya would mark a before and an after in the teaching of the Yoga to the accept to a woman, and also foreign, as disciple. He was also master of the great masters: B.K.S Iyengar, Indra Devi, Pattabhis Jois, and Desikachar. Writes Juan Carlos Ramchandani.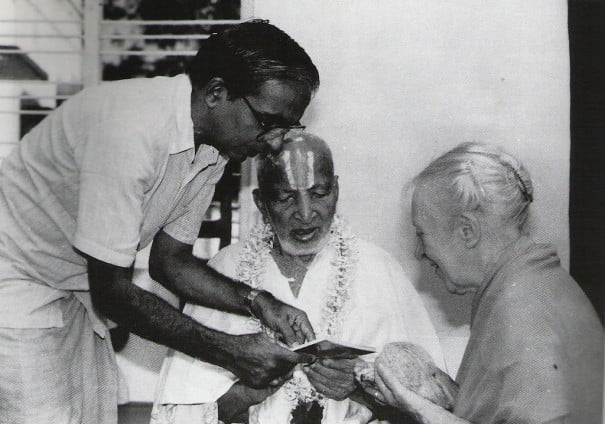 The Yoga has some 6,000 years of antiquity. Born in the Vedic culture of India as a holistic method of balancing body, mind and soul. In West the Yoga not came to know is until principles of the century XX, and not would be up to them years 60 when finally began to achieve popularity. Fortunately today the word Yoga (union) form part of our vocabulary and is practiced by millions of people in all the world.
In the antiquity the Yoga was a discipline practised by ascetics and vetoed women. Its deep change and opening to all without distinction of sex, race and creed is must in great part to one of them more great teachers of Yoga of it history: Tirumalai Krishnamacharya. Through these lines I want to make a humble tribute to the person that revived the practice of the Yoga and the rose to be recognized as therapy physical, emotional and spiritual.
Krishnamacharya, Yogi
On November 18, 1888, near Mysore, in the India, born Krishnamacharya, son of a great scholar of the period, Srinivasa, and his wife Ranganayaki. Krishnamacharya was educated by his father in the traditional system of gurukula, in which the disciple lived alongside the leader. With 10 years of age Krishnamacharya lost to his father and was sent to Mysore to learn Sanskrit and philosophy vaishnava. At the age of 16 he travelled to the Holy City of Varanasi (Benares), where full Vedanta studies and graduated as a Professor of Sanskrit.
In 1915 is proposed travel to the Tibet crossing it India and Nepal through the Himalayas, in Simla known to the viceroy of the India. Lord Chelmsford suffers a serious diabetes and you have preferred to practice Yoga. So I asked him to Krishnamacharya in challenging tone: "How much do know Yoga?". And he responds: "maybe I don't know all that the India need, but enough to teach a foreigner".
Convinced with the answer of the young Krishnamacharya, the viceroy began practicing Yoga and six months regained normal levels of diabetes. As gesture of thanks you facilitates the travel towards the Tibet making is charge of all them expenses and assigning you two people so you help during the arduous journey. After 22 days, Krishnamacharya became Manasarovar in Tibet where he found his master, Rama Mohan Brahmachari.
Krishnamacharya spent seven years and half in the Tibet, where learned of his master different techniques of asanas, pranayama and Ayurveda, and memorized texts yogic as them Yoga-sutras. After be all these years living with his master, finally this you said: "I am very happy with your progress, now returns to the society and" spreads the message of Yoga".
In 1922 returned to the India bringing I get a pair of sandals of wood, gift of his master, and a book with drawings of asanas.
Soon the fame of Krishnamacharya as master of yoga is extended by the India and was called to teach to different Princes and maharajas of the time.
In 1925 the maharaja of Mysore hired you to lead the yoga shala (School of yoga) of his palace. There he began to teach boys and girls separately, adults and special classes for those with certain diseases. Two of those children, today are on merit great teachers: B.K.S. Iyengar and Pattabhi Jois.
From Mysore, Krishnamacharya began to travel by all the India giving classes of Yoga accompanied by some of his disciples. His lectures and demos caught the attention of scientists and Western doctors.
On January 23, 1936, before Dr. Brosse, arrived from Paris, and the Professor Wenger of California, Krishnamacharya through yogic techniques got stop the pulse of your heart for two minutes to the amazement of the present.
In 1937 Krishnamacharya would mark a before and an after in the teaching of the yoga to the OK to a woman, and also foreign, as student in the school of Yoga. Before he had only taught his wife and their two daughters, but now he faced the challenge of a woman who was not a family and came from the West. This woman was of Russian origin and would later be known as the Indra Devi, who spread the Yoga in the United States, Mexico and Argentina.
In 1950, after 25 years of teaching in Mysore, the Government of the newly independent India closed the school of Yoga. Krishnamacharya was nearly 62 years and father of five children. Is moved to Madras, where began to give classes specific of in his own House and to train to their children in the discipline yogic.
Krishnamacharya began to receive more students in his house from across India and also from the West. He has published several books and followed with the teaching of Yoga until 1984. To the age of 96 years is retired of the life active and is dedicated more to the meditation and the study of the writings sacred. In 1988 Krishnamacharya was a hundred years old and held a great celebration, which was attended by disciples and students of Yoga from all over the world.
The 28 of February of 1989, with almost 101 years, Krishnamacharya died, abandoning physically this world material but leaving behind itself a great legacy that would endure for many generations of practitioners of Yoga.
Your legacy
In addition to his writings and direct teaching of how to teach Yoga, Krishnamacharya was the master of four of the most renowned teachers of Yoga in the 20TH century: B.K.S Iyengar, Pattabhis Jois, Indra Devi (who overtook his master, upon the death of 102 years in age) and his own son, Desikachar. Each one has developed a own style, but all are based on the teachings of Krishnamacharya. Although personally never came out of the India, their teachings have traveled by all the world.
Who is

Juan Carlos Ramchandani (Krishna Kripa) is priest hindu (purohit), yoga-acharya (teacher of yoga), author of ten books and numerous articles on yoga and philosophy hindu.