Book: Anatomy of Yoga
This is a new expanded and updated edition of a book that has sold more than 300,000 copies. The authors, Leslie Kaminoff and Amy Matthews, illustrated by Sharon Ellis.
Publisher: guardian
Price: €29,95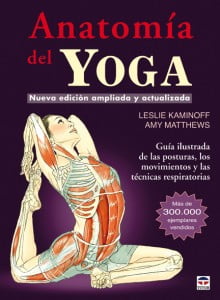 The success of this illustrated guide of postures, movements and the breathing techniques of Yoga surprised the authors and editors. Translated into 19 languages, have sold more than 300,000 copies of Anatomy of Yoga. This second edition features with a greater number of anatomical illustrations in color and more information.
With clear instructions for the authors, Leslie Kaminoff and Amy Matthews, and detailed anatomical drawings in full color, Anatomy of Yoga It represents the most common asanas to provide a deeper understanding of the structures and principles underlying each movement and the same Yoga.
From the breath to investments, through standing poses, we can observe how it works every muscle involved, how slight alterations in posture can improve or reduce its efficiency, and how the spine, breathing and body position are, all of them, completely connected.
For which begins in Yoga as the years practicing it, both Anatomy of Yoga It will be an excellent resource: a reference work that allows us to contemplate every movement from a totally new perspective.
The authors

Leslie Kaminoff is a veteran specialist in anatomy of Yoga and breathing, internationally recognized.

Amy Matthews is a specialist in body work, analyst of the movement, therapist and educator in these fields.

Sharon Ellis has been working as a medical illustrator in New York for more than 30 years and has been awarded several awards for this task.