Start the Maha kumbha mela in Allahabad
Álvaro Enterría, el apreciado editor y escritor de Varanasi, comparte está crónica sobre la Maha-kumbha-mela ("Gran festival del cántaro") en Allahabad (Prayag de nombre antiguo).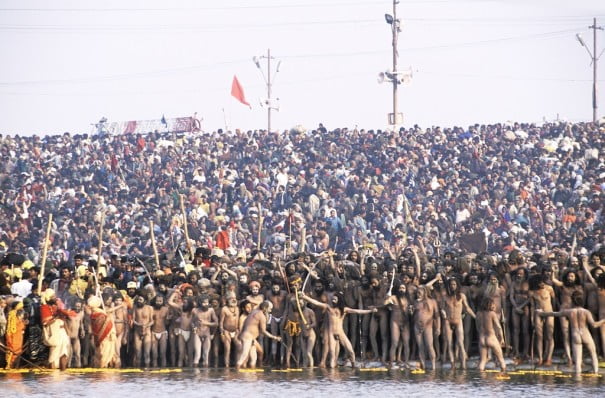 La Kumbha Mela es el mayor festival religioso en la India. Se celebra en cuatro ciudades alternativamente: Haridwar, Prayag (Allahabad), Nasik y Ujjain, con un ciclo completo de 12 años. La Kumbha Mela es considerada la mayor concentración humana del planeta. Durante el mes y medio de su duración, acuden allí por más o menos tiempo casi todos los sadhus (monjes y ascetas) de todas las tradiciones (sampradayas) de la India, y literalmente decenas de millones de visitantes: devotos, peregrinos, periodistas, curiosos y turistas. Allí -en un ambiente asombrosamente pacífico y libre de violencia dada la enorme concentración humana- se codea gente de toda condición, aldeanos y habitantes de las modernas ciudades. Unos se quedan semanas, otros van y vuelven en el día. Una auténtica ciudad formada por campamentos de tiendas de campaña se extiende a lo largo de varios kilómetros.
Hay varios libros (no muchos) escritos sobre este tema. Lo puedes ver pinchando here.
También hay varios libros ilustrados con numerosas fotos de los sadhus en estas ocasiones.
Indica Books publicó, con ocasión de la anterior Mela de Allahabad en 2001, un librito del renombrado periodista Mark Tully (inglés residente en India, antiguo corresponsal de la BBC): The Kumbh Mela.
De este libro son los siguientes párrafos:
"Donde el Ganges y el Yamuna se encuentran, se reúne gente de muchas, muchas y diferentes tradiciones del hinduismo. Habrá muchos hombres santos genuinos, algunos charlatanes y unos pocos oscurantistas. Pero la mayoría de los que vendrán a bañarse en el sangam serán aldeanos. La Kumbha es una demostración impresionante de la piedad sencilla y un claro ejemplo del poder del mito. Por supuesto, la Kumbha Mela es también un maravilloso espectáculo. Millones de personas concentradas en un mismo lugar, pintorescos hombres santos, sadhus desnudos, extraordinarias hazañas de asceticismo, una piedad sin precedentes en ningún otro sitio. Pero mucho más que un espectáculo, la Kumbha Mela es una experiencia; una experiencia para la cual deberemos dejar de lado nuestras certezas y nuestra seguridad en nosotros mismos para ser capaces de capturar su significado a través del poder de la imaginación."
Para más información sobre temas de la India (en inglés), mirad nuestra página en Facebook (Indica Books).
En España, Olañeta ha publicado con Indica Books un pequeño librito (adecuado para la cuesta de enero):
¿Quién soy yo? Las enseñanzas de Sri Ramana Maharshi. Prólogo de Swami Satyananda Saraswati. Olañeta, editor. Colección: Los pequeños libros de la sabiduría. PVP: 8 euros.
Se trata de las primeras enseñanzas de Sri Ramana Maharshi, contestando a unas preguntas que le hicieron cuando contaba con 23 años de edad.
Alvaro Enterría.

Did you like this article?
Subscribe to our RSS so you don't miss anything