Interview with Isabel Morillo: "To my query are not practitioners of yoga with injuries"
A yoga teacher with 20 years of experience and highly valued as an osteopath, Isabel Morillo is first and foremost a restless health professional who is always expanding her research to new territories. Photo: Thor Castro.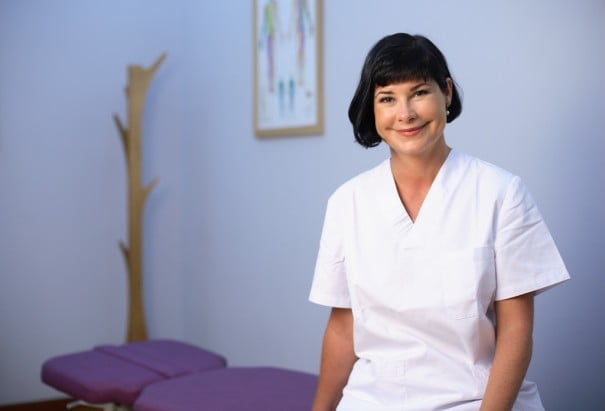 Today Isabel studies how and why yoga improves the aging process. And it also experiments in another even more unknown field: the relationship between Hatha Yoga and emotions, the physiological and energetic keys that open and close the emotional circuits triggering different affective and mood swings. An exciting topic where there are them on which you will soon publish a book.
Is it about modifying emotional states through different yoga physical exercises?
Yes. It is well known experimentally that yoga manages to improve depressive or anxious mood, but hardly anything is known about why it happens and how to handle it, for example, in class. I now dedicate some classes to working on a particular emotional state, and I value the results later.
You successfully consult as an osteopath, as well as teach each day. Therapeutic yoga is little known in Spain. There aren't many specialists, why?
Because the training of the yoga teacher cannot cover this field, because it would require a longer study and practice time.
In teacher training, should we insist more on the part of anatomy, physiology, postural correction, etc.?
Not necessarily, because a yoga teacher is not intended to cure anything or do any real therapy.
However, to yoga classes many people come in the hope of curing their back problems or different discomforts or pathologies...
Just like gyms, and yet a graduate in Physical Education doesn't have to be a physical therapist; are different careers. It's true that people with mild problems go more to yoga classes, because yoga itself is considered good for the back, like general joint therapy. What you can't pretend to be a 100 percent rehab class, either. Anyway, if a yoga teacher has a knowledge of therapeutic yoga, better for him and his work.
Aren't people with problems arising from a bad practice of yoga coming to your office?
No, es raro. Sin embargo, sí vienen de otras disciplinas (que prefiero no mencionar) personas con problemas de cervicales y dorsales. Y si alguien que practica yoga llega a mi consulta con algún problema pultual, me sigue sorprendiendo que con solo una sesión de fisioterapia se recuperación sea inmediata. Y eso es lo que asombrosamente sucede, tan bien mantiene el yoga los tejidos y sistemas musculares y óseos.
Hay muchas personas que no conocen apenas el yoga pero quieren cuidarse y se plantean una pregunta muy actual: ¿qué hago, Yoga o Pilates?
Depende de lo que la persona busque. El Pilates se basó en el Yoga, aunque ha cambiado mucho respecto al Pilates original, y ahora se centra más en la parte baja del abdomen. Claro, yo soy muy tendenciosa, voy a decir siempre que yoga. Pero depende de cada persona y su momento vital. Hay quienes prefieren un ejercicio más cardiotónico como el jogging o kick boxing, y luego cambian y buscan otra cosa.
Además hay estilos de yoga para todos los gustos…
Sí, y cada uno tiene sus aportaciones que ofrecer en un momento de la vida de cada persona. Pero algunos son anécdotas que, aunque se basan en el yoga no tienen mucho que ver con el yoga, pues este va más allá de lo físico. El Hatha Yoga, en el que estamos focalizados en mi centro, cubre todos los campos, pero lo que aquí practicamos es consciencia.
For more information: http://www.yogaarguelles.es/