Biography of silence, short essay on meditation
This book, written by Pablo D'Ors, us approaches this practice from the experience of a normal person.
Publisher: Siruela.
Price: €11.95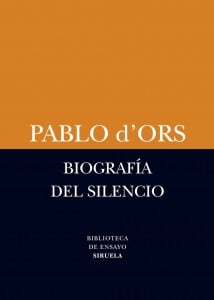 The work begins with a quotation from Simone Weil:
The desire of light produces light.
There is real desire when there is effort of attention.
The light is really what you want when any other
Mobile is absent.
Although the efforts of attention were for years
apparently sterile,
one day, a light exactly proportional to those efforts
It will flood the soul.
Every effort to add a little more than gold
to a treasure that nothing in the world can escape.
Simone Weil
A year of persistent meditation, or even medium, is enough to realize that you can live in a different way. Meditation we concentrated, us returns home, teaches us to live with our being, cracked us our personality structure until both meditate, the rift widens and the old personality breaks and, like a flower, begins to be born a new.
Meditation is to attend this tremendous and fascinating process of death and rebirth. Thanks to the meditation the author has discovered that there is no I and world, but that world and I are the same and only thing.