Interview with Ramiro Calle: "the aim of yoga is to humanize us"
How has yoga evolved in the 50 years that has been reporting Ramiro Street practice in Spain? What, in your expert opinion, the essential Yoga? Answers the most veteran and well-known teacher of yoga in our country.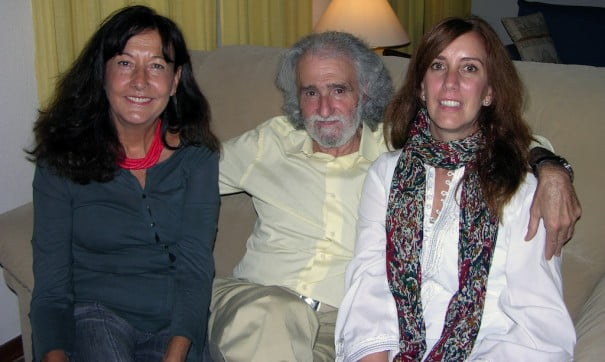 Ramiro Calle the Yoga Shadak Center opened in 1971. It has been by more than 500,000 students. She recalls that one day they took to the streets with a mobile unit of the National Radio to ask people what was yoga. And someone answered: does a soccer player?
At what point is now the yoga?
Change has been absolute, but as everything that it popularizes and it goes global, there is a very positive side and another highly negative. The positive is that practiced before 2,000 people in all Spain and now count hundreds of thousands who practice in all kinds of places, from private homes, gyms and specialized centres. He side negative is that is has given place to what I call yogas denatured, with all type of mixtures as the "salsayoga"; We have even tried to patent yoga (as Bikram) that until the Government of India put the cry in the sky. Have arisen pseudoyogas chains of hairdressers or Hamburger; This is the dark side.
Another problem of the popularization of yoga is that there are plenty of people who without being prepared to give kind of yoga and meditation, and that is because training teachers has become big business. And the false expectation is created that will be able to live it. But then not paid or are paid 8, 9 or 10 euros per hour, when a cleaning woman charged 15 euros.
How explain you to an outsider what is what you should not miss in yoga?
The first thing would say it is not yoga. Yoga is not a sport, not a religion, nor a doctrine, are not dogmas, is not hindu or Christian, or Mohammedan or sufi. It is the same for all, theists, atheists, or the transteitas (those who go beyond the idea of God). But above all yoga is not a cult of the body. It has roots that must be respected, and worse that it has happened (and don't we realize it) is passing through North America, that has the gift of distort, deform, commodify it all. Some other Yogis of the India moved to United States in the 50s and 60s, with all the boom of the new era and the hippies, and began marketing the yoga as a cult of the body. But yoga is not athletics. Which someone comes with this claim, I say: get swimming, do weights, do aerobics... A teacher from my Center that has practiced classical yoga, Asthanga, Bikram, said that the athletic yogas "you a very cute butt", but that is not yoga.
Then, what is the essence of yoga?
No one can hear off of the body and the mind; without consciousness, there is yoga. Yoga should always go to the mind, the spirit, emotions, energy and body. If only serve to train the body, we would have the Olympic Gymnastics, which is more effective for that. Yoga is basically ethics, and tells us that we have to be virtuous, compassionate, generous, indulgent... Today almost no one considers this fundamental pillar of the yoga that is virtue or ethics.
Yoga without a spiritual aspect can either be understood, but here comes another problem because this aspect should not be religious, philosophic or adoctrinante. You don't need to shave his head, donning robes, say mantras constantly. Since time immemorial, yoga is suprareligioso.
And the attitude to live yoga?
It is the most essential and what most forget. Yoga is a way of living. One can spend life doing asanas and pranayamas and not be a Yogi but a Fakir, a contortionist. I always tell my students that to do well the postures, Nacho Duato gives soups with waves. E true yoga is transforming the mind to create positive attitudes. That instead of being derogatory, we are constructive; instead of selfish, cooperating, and so on.
That is the great contribution of yoga...
Great contribution and what can change planetary consciousness, do better than anybody else the position of the clamp. The body is a tool but not the end of yoga. In the West have forgotten the more mystical side, high, emotional yoga, because as the cuerpo-escaparate is an obsession, then place all the emphasis.
But no point in practice and practice unless there is a resounding inner change. We have to take advantage of life when we are going to die we we think that something we have evolved, we've humanized and we managed to improve our quality of life. Every day more than distrust all that in this society we sold as values, that they are actually valores-basura or sub-values, and I'm saying on the idea that each one is its own master, disciple, therapist and patient. In recent years what am looking for is my inner master, the presence of be.
Two essential recommendations give practitioners?
One, that go to the sources of yoga, read and inquire in his teachings. And, two, that cultivate their inner life, using the tools of yoga for your development, but which finally each person has to take the reins of your life. That is maturity, that is yoga.
Meditation and the crisis

He said Ramiro Calle has jump on the popularization of yoga in recent years is in meditation. "We have realized that it is necessary because we run the risk of alienating us increasingly, end up being robots. Then we try again a little to our inner home". In time of crisis, continues Ramiro, this phenomenon is intensified because us is has of that not can trust in anything. "Buddha said: you are your own refuge, what other refuge may be".

That is the goal of yoga: humanize us. "Yoga is a technique of evolution of consciousness. In fact we are not human beings but homoanimales, but we can provide the means to humanize us."
Pepa Castro