Om&Bass Yoga Festival debuts in Spain
Om&Bass Yoga Festival arrives for the first time in Spain, with a beautiful combination of festival, retreat and holidays where all ages and skills are welcome. From 5 to 7 June, in Hervás, Cáceres.
< div>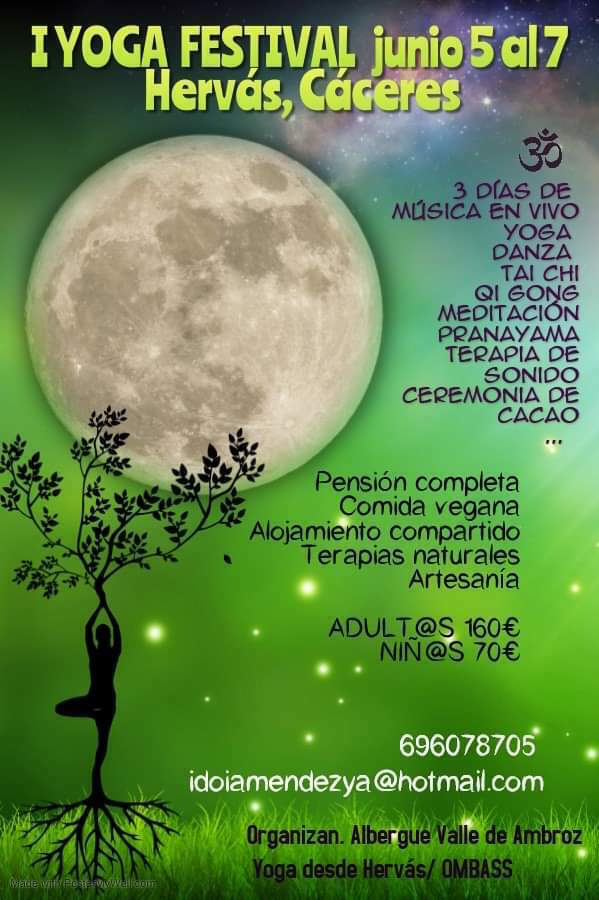 In Hervás, medieval village at the foot of the Sierra de Gredos, located in a privileged environment surrounded by mountains, forests and rivers. Limited to a maximum of 200 people, dormitories in cabins and vegetarian, fresh and local food. Zero single-use plastics. Of course you can stay somewhere else among the many offers of the village, but the final price does not change.
We have swimming pool, yoga room, meditation tent and craft area, ideal for the little ones. The space is next to a river where we will perform meditation and ceremonies. Conscious walks to the waterfall, pools where you can bathe in crystal clear waters. The place is quiet, intact, pure and dazzling.
Workshops will include mantras, meditation, yoga, pranayama, relaxation, dance, tai chi, qi gong, circle of women. Therapies and massages at the Eco Spa. Eco Market. We will have live music, hand in hand with DJ Fire, Kirtain, Live Reagee.
Languages in Spanish and English.
Rate adult@ 160 euros , which can make the payment in two parts. Includes 3 days and 2 nights full board and activities.
Rate niñ@s and young people (up to 14 years) 70 euros
If you come from afar you can get from Madrid in two and a half hours. There are regular Madrid-Hervas buses from Mendez Alvaro Station and Avenida de América. We can also create a group for you to connect with other participants and share a car.
Contact:

T 696078705/ idoiamendezya@hotmail.com