Countdown to III Madrid Yoga Congress begins
Del 18 al 20 de octubre se celebrará la tercera edición del Madrid Yoga Congress. Este año el evento ha crecido en días pasando a tres jornadas y en espacio añadiendo una tercera sala.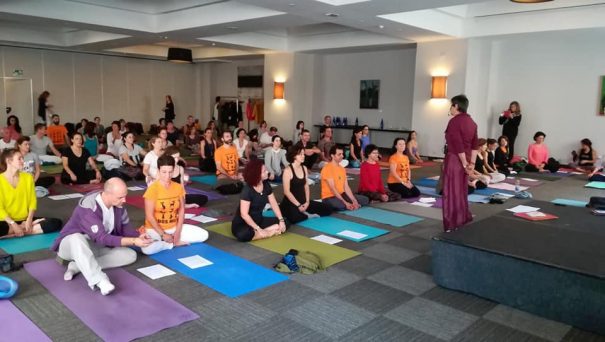 La tercera edición del Madrid Yoga Congress se celebrará del 18 al 20 de octubre. Tres jornadas que suponen un día más de evento que el año pasado. Asimismo, el espacio para expositores ha aumentado, pasando de 6 a 13. "Será un apasionante festival de yoga con talleres y clases de maestros del Yoga, venidos desde diversos puntos de España", explican desde la organización.
FEDA Madrid y Yoga Adictos vuelven a organizar el Congreso de yoga, un evento dirigido a profesionales de la actividad, alumnos y practicantes.
En definitiva, a todo aquel que esté interesado en iniciarse o reciclarse en la senda del yoga "a un coste asequible, ya que #madridyogacongress huye del elitismo y está abierto a todo tipo de personas", afirman.
Lots of new features
Las novedades más destacadas de esta tercera edición es el cambio de localización, pues ha crecido el espacio tanto para las clases, como para los expositores. Será en el en Hotel VP El Madroño, en pleno barrio de Salamanca, en la calle General Díaz Porlier 101. Se trata de una ubicación muy céntrica en pleno barrio de Salamanca, junto a las madrileñas estaciones de metro de Diego de León y Avenida de América, con lo que el acceso de los participantes será muy sencillo.
The Madrid Yoga Congress contará con tres grandes espacios para la práctica de las distintas disciplinas. Habrá una zona dedicada a expositores. En ella los participantes puedan obtener material, información y sobre realizar 'networking' con el resto de los participantes.
Esta edición de 2019 contará con 18 profesionales de la actividad. Además, se impartirán disciplinas novedosas como el Prana Vinyasa Flow, Yogathai, Yoga y Mente, etc.…
Desde la organización confirman la importante progresión que ha tenido este Congreso, superando sus expectativas. En esta tercera edición se esperan en torno a 300 participantes.