Vegetarian recipes/ Peach mousse with dried apricots
¡Aún seguimos en verano y podemos seguir consumiendo frutas de verano como los melocotones. Este es un dulce sin azúcar delicioso, fácil y rápido que puede servir como una merienda.
Write, share, and kitchen Gauri, Professor of vegetarian cuisine of the Sivananda Centre of Madrid and the affiliated Centre Sivananda Vedanta of Granada.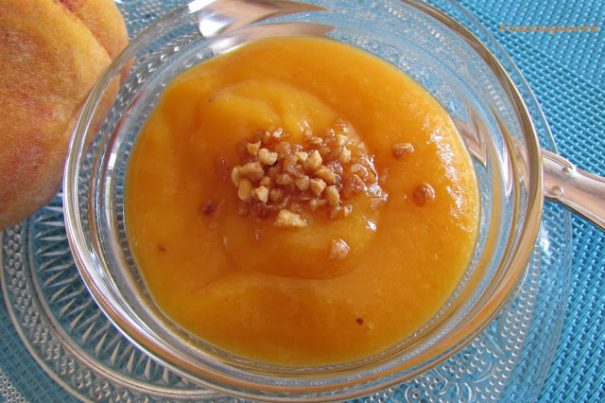 Para las personas que les cuesta trabajo digerir la fruta cruda este tipo de compotas son una excelente opción. La textura de mousse se la dan los albaricoques secos. Si te han quedado algunos del invierno pasado es el momento de utilizarlos antes de que puedas adquirir lo de esta temporada.
Ingredients:
500 g de melocotones (dos grandes)

100 g de albaricoques secos

1 palito de canela

4 clavos de olor

Fruto seco picado: almendra, nueces, etc
Preparation:
Lavar, pelar y cortar en trozos el melocotón.

Ponerlo en una cacerola junto con los albaricoques, la rama de canela y los cuatro clavos de olor. Cubrir de agua y colocar en el fuego. Llevar a ebullición a fuego medio alto y seguidamente bajar el fuego al mínimo y cocer por espacio de unos 20 minutos.

Cuando esté listo retirar el agua de cocción (no tirarla está deliciosa), los clavos y la canela. Batir hasta forma una crema.

Decorar con los frutos secos y servir frío o a temperatura ambiente.
Yoga Sivananda VedantaGranada-afiliado. Calle Angel 13, 18002 Granada
Phone: 660288571
www.sivanandagranada.es/
http://comemosparavivir.blogspot.com/