Lo + seen/ Interview with Isabel Solana
Fue una entrevista muy celebrada. Isabel es una mujer carísmática que sabe lo que quiere.Y lo que quiere es seguir volcada en el yoga. En su vida hay un antes y un después del descubrimiento del Kundalini yoga. "Es una escuela de vida: con yoga aprendemos a respirar, a hacer el amor, a estirarnos, a descansar en el trabajo, a dormir…".
Entrevista Yoga en Red.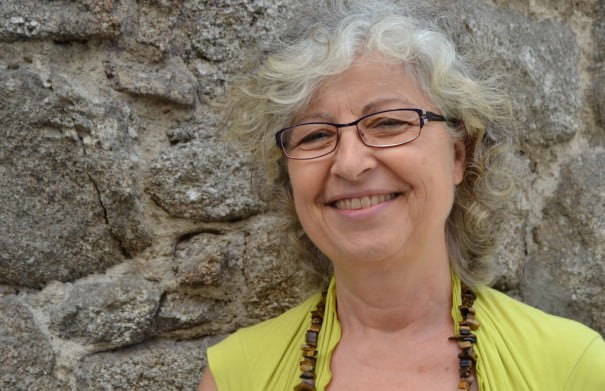 His spiritual name is Hari Dev Kaur. Nació en 1957, tiene tres hijos. Fundó y codirige HappyYoga en Barcelona. Da clases cada día de Kundalini Yoga y Meditación, cursos de crecimiento personal y kinesiología. Forma profesores de Kundalini Yoga desde hace años. Antes -y durante mucho tiempo- fue directora creativa de una agencia de publicidad, y ganó premios nacionales e internacionales. Es estudiante de Un Curso de Milagros.
I read somewhere that at a point in your life you decide to leave your present at the head of an advertising agency and change of paradigm. What about one for falling off the horse and decide to give a twist to your life?
In my case and many people, we fall from the horse falling; in other words, by a crisis. I had the crisis of the 40. Over 16 years I was in the world of advertising, had spent it very well, I had thought to be very happy (then I realized that it was not, that it had been very distracted with many challenges and satisfactions to the ego). But it was a moment that I started to ask me questions, and coupled with a relationship crisis. And then I began to consider what to do; already not serving me before things to calm my anxiety, my desire to cry. I searched and found. But it was because I was in a slump, a thick bump.
El yoga siempre me había gustado, y surgió una de esas 'casualidades'. Me encontré con una amiga, le dije que estaba fatal, y me empezó a ayudar. Era profesora de Kundalini yoga y me invitó a un curso que acaba de empezar. Fui y dije: ¡guau! Fue agua fresca, poesía, desbloqueo, vitalidad. Me encantó. Y empecé a practicar y practicar, y ella me mandó a su maestro, Hargobind (a quien mando un mensaje de mucho agradecimiento y amor). Me metí en las clases y lo entregaba todo, puro fuego, porque digamos que venía desde la desesperación.
El Kundalini yoga tiene eso tan directo, se trabaja con los chakras, los meridianos, la energía Kundalini. Y desde las primeras clases empecé a recordar la inocencia de cuando era niña, la esperanza que tenía en la vida, cuando pensaba que era algo lleno de magia y de oportunidades. Y me di cuenta de que no sabía amar, de que estaba hecha un desastre, y me dije: no quiero seguir así.
Al cabo de dos o tres meses fui a un retiro y en una de las meditaciones, cantando mantras, me dije a mí misma algo que no se me olvidará nunca: "Yo no quiero hacer otra cosa en la vida". Y no me estaba refiriendo tanto a Kundalini en concreto como a tener ese tipo de elevación, de vida plena, libre. Miraba mi vida y todo lo que tenía que hacer cada día, los negocios, las reuniones, y pensé: no, no, nunca más. Llegó el lunes y le dije al consejero delegado: despídeme, por favor, te lo ruego. Estábamos en reconversión, la crisis de publicidad empezaba, y me contestó: bueno, vale. Tenía yo 40 años… Hace de ello 16 años. Y todo ha ido bien. Yo nunca he mirado atrás. Me decían: qué valiente. Y no, lo valiente hubiera sido quedarme donde estaba…
You'd have another face today...
Surely; It would be all with botox, operated and depressed, not, not. I sold the House, car, mobile, met my children and told them: you finished the good life. And as he wore so many years running at 150 kilometers per hour, as I followed, and in year I studied Kundalini yoga, Chinese medicine, naturopathy, Kinesiology..., and still felt guilt by wasting time... But I enjoyed it; I looked for local to have a school and anchor my life because I thought that if I go not, did not know where. And then I met my partner Fedora and Jessica and look for local boards. Later we signed a Pact of love that is the root of the school, in which we underlined that we support unconditionally and not let ego enter our relationship.
What is Kundalini yoga that most of people loves him passionately or rejects it?
It is that it is so. At school we have Hatha and Kundalini. When someone comes to the school and ask me what is the difference between the two, I say that the Kundalini or really like or dislike anything, It has a very specifically to come and propose; It is a little intrusive, teacher is like a rock star who in the class takes you energy and takes you, and you put the mantra, and you come up, and you shake... This one may well not want to it, and I do not think anything strange.
My impression is that who attracts the Kundalini we tend to be pirates, we come from difficult lives, we don't meditate, our mind is made a mess, we have addictions. Then, if we put to do Hatha, all quietitos, it costs us much. On the other hand, a kind of Kundalini is move, climbing, low, jumps, calla, sings... It gives you time to bore you. This is the science of Kundalini. And while you're between asana and asana, there is a brief moment of silence and you, that you don't know what is meditation and your mind is a mess, you meditate. And that begins to generate in each different movements...
Also please a Kundalini Yoga class in sober, more like one of Hatha way. There are professors who prefer to do so, and there are moments when you sense that thats the best vibration for the group, but the way we aired Yogi Bhajan is a strong role.
And feel like a teacher of Kundalini in class?
The role of a teacher of Kundalini yoga is very unique; teach us to be teachers in the day and at night, as a way of life. And when we're on stage, we are taught that we are nothing, that we are channeling energy, and that our aura is detonating and accompanying the aura of the group, and you as a teacher you learn to project your aura in that group. In a kind of Kundalini yoga happens at a concert: the more people, better; all do it. Teacher takes charge of modular, but he only would do nothing if it had no 300 or 30 people open and delivered, moving its energy to be very present. You may not like, but if you like you say: Wow!
And there are also people who prefer a Kundalini class per week and two of Hatha. I recommend combining these two yogas that are very complementary. Hatha is silence, patience, sobriety, individuality, and the Kundalini is the aura of the group, strength, power.
You're a woman who is in the world, very active and full of capabilities. What you say you ask who do yoga?
I think that yoga, as it is a very broad technology, as holistic, has many things to offer us, almost to each person can offer you something. I like to see it as one School of life: with yoga we learn to breathe, to make love, to stretch, to rest at work, to sleep... at all! Yogi Bhajan said a beautiful thing: "what lucky you that you are an adult and are back to learn". And is that we learned to live in the 13 or 14 years old, and told them to parents: it's over, I already know it all. And normally there we started to make repairs and reached the final without even having learned how to breathe. But a Yogi or a Yogini who have a good lineage and teachers who teach them, are given another chance.
Then, lo que hace el yoga por nosotros es despertarnos a la vida, enseñarnos a vivir en plenitud, a ser felices. Leí en un libro que hay dos maneras de andar el camino del yoga; una es como un camino de higiene personal, y la otra como un camino iniciático. Y las dos están muy bien.
En realidad, las palabras mayúsculas del yoga encaminan a la iniciación, al despertar de la conciencia. Pasamos de estar zombis, dormidos, apesadumbrados, compensando, solapando, viviendo como podemos, a despertar a la vida consciente, a iluminarnos. El ser humano que ha despertado es un ser humano normal, solo que hay un deleite de vivir que está por debajo de los avatares de la vida.Es una relación con Dios, entendiendo por Dios al amor perfecto, que no es humano pero que lo podemos experimentar.
Entonces, para mí, yoga no es 'estar un poquito mejor'. Para eso me voy a ver una película bonita, o me voy a clase de yoga y cuando salgo estoy 'un poquito mejor'. Pero tengo que volver a los dos días porque vuelvo a estar caída. La finalidad es que, a medida que vas practicando yoga, van encajando tus centros, tus cuerpos, y pasan cosas que te hacen despertar. Y ahí empieza una vida consciente, feliz, plena, responsable.
This awakening is a gradual process, not a sudden click, right?
All have had experiences of awakening, what happens is that not we've internalized them, memorized, maintained. That the click... I think that you are having experiences of that fullness, even if you're not ready and you can not sustain them. And those experiences are full. And then, between experience and the other is that we learn in lineages, books, schools, roads, to go building a new nervous system capable of managing all that light.
Eso es muy importante porque una cosa es tu consciencia y otra tu sistema nervioso. Hasta que éste se hace cómplice de aquélla hace falta un proceso y un tiempo. Pero no estás perdido durante ese tiempo; cuando entras en un sistema solvente y potente como es el yoga, tú ya vas teniendo insides, experiencias de plenitud de verdad, que no son para menoscabarlas. No esperes que se abra un tercer ojo ni que el despertar sea solo para el Buda. Es para ti, y ya te está pasando.
And all this in real life, do not need to withdraw from the world...
No, la vida real es fantástica para eso, es un gimnasio a medida. Pero uno tiene que saber qué hacer, porque si no puede ser muy frustrante. Me gustaría que todos tuviéramos la oportunidad de conocer libros, maestros, caminos, escuelas que nos ayuden a hacer este proceso lo más rápido posible, para que no nos frustremos. Porque si no, podemos seguir con nuestras cervecitas, con los amigos que nos dan la razón y las películas para quedarnos dormidos sin tener que entrar en nuestros infiernos; con eso ya nos compensamos y podemos llegar hasta el final así, medio bien, medio mal.
Pero si cuando abrimos los ojos , decimos: 'No yo no quiero esta mediocridad en mi mente, yo quiero sacarle el máximo jugo a mi vida, honrarla', mejor que nos echen una manita, mirar qué camino nos viene bien, cuál nos resuena, cuál nos gusta, y ponernos serios y seguirlo más allá de las primeras resistencias, siempre más adelante.
Eso es lo que recomienda la disciplina del yoga, cuando crees que no te sirve, sigue; cuando te irías corriendo, sigue. Eso es lo que aprendemos en la esterilla, a seguir más allá de lo que al ego le gustaría. Creo que tenemos mucha suerte, que estamos de rebajas con el yoga y todo se nos va a poner bien, y debemos agradecerlo en buena parte a todos los que trajeron yoga a Occidente, por lo bien que lo hicieron.
Esta entrevista con Isabel Solana fue publicada el 14 de noviembre de 2013, y ha sido una de las entrevistas más vistas de la historia de YogaenRed.